format: cd-r / digital
released: september 16 2005
tracklisting
1.de lachende aardappel
2.mijn bevroren paard en ik komen naar je toe deze zomer
3.vet, licht geraakt, platzak en onverkiesbaar
4.hoe ik voorkwam in de beste families
5.draadjesvlees, gaat ie dat zeggen
6.alles jeukt en ik heb honger
7.koning van de archiefvernietiging
8.roderick en zijn dikke reet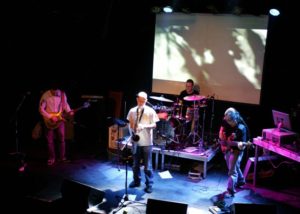 info
From the the ashes of the prematurely ended five-piece band Morbide Eenheid earlier this year the trio of Quarles van Ufford rose. With only the most essential tools for making a great rock album – a guitar, a bass and some drums – the lads from Quarles van Ufford locked themselves in their rehearsal room and later in a studio. Aurakramp is the thrilling result. Call it math, call it noiserock or just call it a swinging set of rock tracks; considering the musical background of Quarles' personel, it's all very possible. Guitarist Gabry de Waaij has become a household name here at Narrominded. He played on the 7″ release by noiserock band SGP and also on the mp3-album As When Lighted by Petrified Host. Jeroen Warntjes (drums) played drums in the great noise band Gone Bald from Amsterdam and he also produces a stream of grindcore 7″s and cassettes with the internationally renowned project Crowd Surfers Must Die. Bassplayer Daan de Bruyne worked in Amsterdam's crossover group Motherfed and the Dutch group Solid Rocket Boosters. Because of these busy musical schedules the band decided to make only one record and take it on stage briefly and then call it quits at the end of 2005. Aurakramp sees the musical tastes of the band members united. In the studio they were assisted by saxophone player Wiechert Warntjes (from Solid Rocket Boosters) and violinist Rob Hunneman (from Jack Nicholson Toilet Seeds). The result is a muisical treasure made out of swinging riffs, dazzling melodies and rhythms that knock you off balance. At first hearing musical reference points will probably make you dizzy ((John Zorn, Slint, Fantomas, Deerhoof, King Crimson), but in the end the only possible conclusion will be that Quarles van Ufford has found a truly original sound of their own. The line-up is as follows:
Drums: Jeroen
Bass: Daan
Guitar: Gabry
Sax: Wiechert
Violin: Rob
[youtube https://www.youtube.com/watch?v=dROkA7K8M_Q]
press downloads
hi-res image of cover
press release (english)
press release (dutch)
website
reviews
mashnote
december 7 2005
by jim
Quarles Van Ufford is ex-Morbide Eenheid, coming out of the smokey bassments of The Netherlands. 2 people less, an even wackier bandname (here's a list of some other crazy names they came up with) and a smoother sound. It's some sort of laid back jazzy math rock mash up. This sounds really academic and never gets really wild. The instruments stay really clean too. Bit of a fusion feel. The saxophone and violin pops up in some tracks and sounds good. "Mijn bevroren paard en ik…" is my fave track on the album. Such a laidback yet mathy groove. It has so many good hooks and stays well in line yet explores a lot of different levels & genres all at once. You can hear these guys are talented. If i have to make a comparison, it's Pele (the Polyvinyl band). A clean cut but exciting sound. I read that these have already planned to call it quits at the end of 2005. Too bad, i hope they'll ressurrect in another format, with maybe a suitable band name and songtitles to conquer the rest of the world.
Btw, you can download the whole album on the website!
oor
december 2005
by willem jongeneelen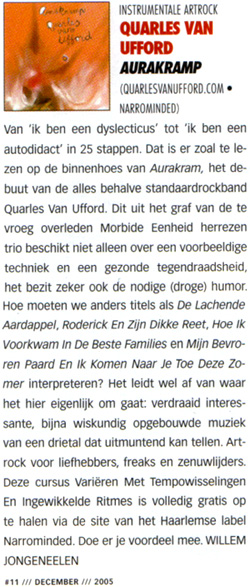 kindamuzik
november 6 2005
by rob van leeuwen
Betweters opgelet, bedank Narrowminded op uw blote knietjes. Dan doet ondergetekende fanatiek met u mee. Als recensent heb je op een gegeven moment alle woorden wel een keer gebruikt. Spannend, tegendraads, eclectisch (watte?), instrumentaal, spaarzaam, kaal, sfeervol, opbouwend, uitbarstend en apocalyptisch: het zijn allemaal omschrijvingen waar je weinig aan hebt als muziekliefhebber die het altijd beter weet. U wilt de muziek gewoon horen, zelf de nummers beoordelen en zelf uw mening vormen over een album.
Dus, laten we zoals gezegd Narrowminded danken op onze blote knietjes. Dit eerste album van Quarles van Ufford, met de tot de verbeelding sprekende titel Aurakramp, is namelijk in zijn geheel te downloaden op de website van het label. Gratis. U kunt dus verder lezen en erachter komen dat dit drietal voortkomt uit het eerder dit jaar ter ziele gegane Morbide Eenheid. Dat ze met de klassieke rockopstelling (bas, gitaar, drums) een schijfje vol stomende en dan weer ingetogen, instrumentale mathrock aanbieden en af en toe ook ruimte geven aan een saxofoon en een viool. Dat het gezelschap heeft besloten maar één album te maken, een korte tournee te doen en er daarna mee op te houden. Dat ze de nummers vreemde namen hebben gegeven als 'Alles Jeukt en Ik Heb Honger', 'Roderick en Zijn Dikke Reet' en 'De Lachende Aardappel'.
Maar wat is daarvan het nut, als u gewoon zelf kunt oordelen over Quarles van Ufford? En waarom zou ondergetekende dan nog enige moeite doen om u te overtuigen? Goede vraag eigenlijk. Het antwoord is simpel: mijn redacteur heeft graag dat ik een mooi stukje schrijf over deze plaat, om u toch een beetje op weg te helpen. Bij deze dus.
vital weekly
ocotober 5 2005
by fdw
Only recently, Vital Weekly 469, I reviewed the first release by Morbide Eenheid, a Dutch free rock combo, playing along the lines of people on Amanita and King Crimson. The band no longer exists, but as a fenix out of its ashes, here is Quarles Van Ufford (which in Dutch is the name of gentry), whose aim it is to make one 'good' rock record. Reduced to the core of guitar, bass and drums, Quarles Van Ufford is helped by a violinist and a saxophone player. The eight pieces sound powerful, with groovy drums, heavy rock riffs, all being played tightly enough. This is of course all highly arranged music – there isn't something happening that shouldn't happen. That gives the music, despite it's power and intention, also a somewhat clean character, a bit of distant and alien sound. But for those who love their music to be forceful, mathematically calculated, or those who think King Crimson is still king and Zorn didn't produce enough, know where to get it. It's available on a limited CD and free to download on the website of Narrominded.
haarlems dagblad
by peter bruyn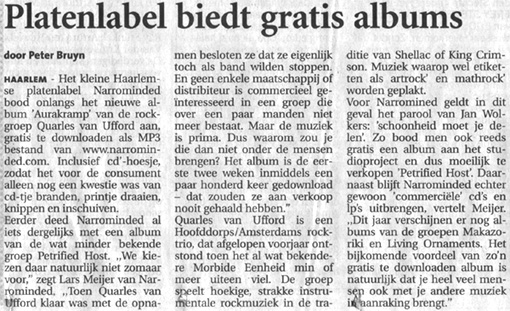 subjectivisten
october 1 2005
by jan willem broek
Het Haarlemse label Narrominded blijft verrassen en speelt in de tijd dat de pepernoten alweer in de winkels liggen ook nog eens voor Sinterklaas. De nieuwe release Aurakramp van het trio Quarles Van Ufford is namelijk in zijn geheel te downloaden (zie daarvoor de link onderaan). De muziek vertegenwoordigt het gevoel dat je krijgt als je ziet dat er nu al pepernoten in de winkel liggen, of het gevoel dat je krijgt als iemand met droge ogen tegen je zegt dat zijn/haar aura in een kramp zit. Harde muziek dus, maar met de nodige tact gebracht. De drie komen dan ook (onder meer) uit de smeulende resten van de band Morbide Eenheid: bassist Daan de Bruyne (Solid Rocket Boosters, Haggis, Motherfed), gitarist Gabry de Waaij (Petrified Host) en drummer Jeroen Warntjes (Gone Bald, Crowd Surfers Must Die). Met die drie instrumenten weten ze essentiële rock te produceren die nauw verwant lijkt aan die van Shellac, zij het niet zo gortdroog. Quarles Van Ufford maakt uiterst dynamische, puntige mathrock, waardoor referenties als Chevreuil, Slint, Tarentel, Deerhoof en Gone Bald al gauw boven komen drijven. En dat is indrukwekkend te noemen. Ze variëren niet alleen zelf heel veel, ze krijgen ook nog hulp op sax van Wiechert Warntjes (Solid Rocket Boosters, Rubbermade) en viool van Rob Hunneman (Jack Nicholson Toilet Seeds). Zo simpel kan het zijn om een goede partij herrie te produceren. De titels mogen er ook wezen; die lijken afkomstig uit een Gummbah-boekje. En dan wordt het ook nog eens op een presenteerblaadje aangeleverd. Ga het snel luisteren en trap nog wat pepernoten fijn!
boilingpoint
september 26 2005
by jorn van heesch
De wiskundige benadering van Quarles van Ufford
Het is opmerkelijk te noemen wanneer een band besluit om na het uitkomen van het eerste album er al de brui aan te geven. Het gaat hier dan ook niet om het clichématige verschil van muzikale inzichten tussen de verschillende muzikanten, maar over Quarles van Ufford, een band die is voortgekomen uit Morbide Eenheid dat na het vertrek van twee van de vijf leden, besloot haar naam te wijzigen. Het debuut Aurakramp mag daarom eigenlijk ook niet zo genoemd worden, maar is een logisch voortvloeisel uit wat de leden al eerder maakten. De theremin, de verschillende saxofoons en een extra gitaar zijn verdwenen en wat overgebleven is, zijn slechts drums, gitaar en een zessnarige bas, hoewel de saxofoon zo nu en dan weer even opduikt. Dat Quarles van Ufford er nu al mee ophoudt, heeft alles te maken met de drukke agenda's van de leden in andere bands; drummer Jeroen Warntjes speelt tevens in Gone Bald en Crowd Surfers Must Die, bassist Daan de Bruyne speelt bij Solid Rocket Boosters en gitarist Gabry de Waaij speelt mee in meerdere projecten waarvan de laatste Petrified Host is.
Het opstappen van de twee leden blijkt niet eens zo'n ernstige aderlating te zijn. De muziek van Quarles van Ufford wordt namelijk omschreven als zogenaamde math-rock hetgeen inhoudt dat er nogal gespeeld wordt met tempowisselingen en ritmes. Riffs worden eerst melodisch gespeeld op gitaar, zlefs vaak richting de jazz waarna een opstuwende drum en het intrappen van een pedaal de akkoorden de ruimte geeft om het nummer volledig open te laten barsten. Deze rigoreuze wisselingen zijn niet aan iedereen besteed, maar de kale bezetting heeft er wel toe geleid dat het geheel beter in het oor komt te liggen en dat men beter kan volgen wat de afzonderlijke instrumenten doen. Ondanks het ontbreken van zang (wat bij Morbide Eenheid ook al zo was) blijft het toch de aandacht van de luisteraar vasthouden. Vergelijkingen kunnen worden gemaakt met Fly Pan Am, Tarentel, Slint en een beetje Mogwai.
Quarles van Ufford gaat er echter niet zomaar met de stille trom vandoor. Tot een nader te bepalen moment willen de leden zoveel mogelijk spelen, want aan plezier ontbreekt het ze niet. En zodoende zijn ze in ieder geval nog op drie plekken in het land te zien, de komende tijd. Aurakramp is in zijn geheel te downloaden op de site van Narrominded. Luister daarbij vooral naar Hoe ik voorkwam in de beste families, Koning van de archiefvernietiging en Roderick en zijn dikke reet.