format: lp / digital
release: november 1 2017
tracklisting
1. pentachromacy
2. rangda
3. jackdaw
4. animalicule
info
Amsterdam-based duo Glice packed up their gear, went to Berlin and recorded a brooding new album with Alexander Hacke of Einstürzende Neubauten. Cielo sees Glice expanding their sound into the realms of post-classical, post-industrial music. In turns beautiful and menacing, Cielo moves past noise music and abstract electronics into strange new territories.
Ruben Braeken (Katadreuffe, Apneu) and Melle Kromhout (Fata 'el Moustache' Morgana) worked with Alexander Hacke to bring the music of Glice into the unknown. There is a new clarity to the sound of Cielo, one that reveals new detail and deeper musical undercurrents to their noisy pastures of sound.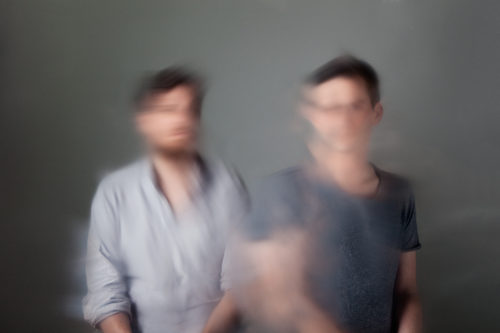 glice
Ruben Braeken is one of the hardest working men in the Amsterdam music scene. Last January, he performed with four different bands at the Dutch underground festival Van Onderen, held during 24 hours in the legendary Paradiso venue.
Melle Kromhout is researching the history of sine waves at the University of Cambridge, after completing his dissertation in Amsterdam on the importance of noise in sound recording.
Together they have been working as Glice for almost a decade. The last few years have seen them accelerate towards the new grounds explored on Cielo.
press quotes
'In Glice's Cielo, the effect is to humanise the cumulative brutalities of bruit – noise – which is not a bad thing.'
the wire
'But it is precisely that dissoluteness, subtlety, and emotional intensity that makes the music on 'Cielo' special.'
gonzo (circus)
'This is Nederpop that does not cling to an oppressive past, but has the unlimited future.'
frnkfrt
'A stimulating new chapter in Glice's discography and yet another challenging release on the Narrominded label.'
3,5 / 5
written in music
'This is an inimitable listening trip, which brings noise to a higher level.'
subjectivisten / schaduwkabinet
'With Cielo, the duo Glice has managed to make a beautiful, varied and impressive album.'
subjectivisten
'Subtle loud noise for advanced listeners.'
moors magazine
'Suited for home entertainment.'
vital weekly
'Four groundbreaking pieces that pinch and snare, but most of all daze you.'
cultuurpers
'Everyone can make noise. But just 'noise' is no music. Creating music out of melody, rhythm and harmony is a craft, sometimes even art. Creating music – music that thrills, touches, shivers – out of just noise is almost magic. And that's exactly what Glice does with 'Cielo'. Don't try to visualize or interprete. Just listen.'
peter bruyn
'I love noise, but Glice was really a revelation for me. These guys have a different perception of sound. They hear poetry where nobody does.'
alexander hacke / einstürzende neubauten
'Dutch duo Glice find a sweet spot between noise and melody on their upcoming record.'
the quietus