format: book + tape
released: april 16 2011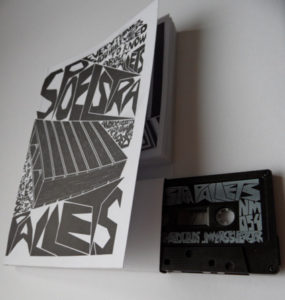 tracklisting
1.pallets
2.vagina shaped clouds
3.jimmy christ superstar
4.midget wolf
5.trashbin ein berliner
6 pilots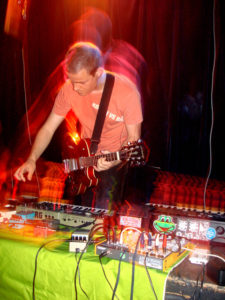 info
Nobody in his right mind has ever made a book about pallets. Spoelstra has made a book about pallets. Based on true rumours, this impressive collection of songs, art, cartoons, fashion, cliff hangers, flashbacks and what not provides an in-depth look on pallets, storage and transportation issues and other stuff you may never have wondered about. After plunging through the full 200 pages of this book, it will be very likely that all your questions about pallets will have been answered.
Pallets comes with an audiocassette tape with six tracks clocking in around forty minutes of riff driven electro country, melodic absurdism, ambient spasms and the occasional wall of noise. A guitar, a synthesizer, a sampler and a bunch of effects do the trick.
'I have read a lot of books about pallets in my life, but none of them managed to treat the subject with as much respect and true fascination as Pallets does.'
Nathan Burnett, dentist
'Spoelstra's clever wit and factual knowledge on pallets are only half the trick: between the lines, Spoelstra shows that in order to truly understand the pallet, you have to think like a pallet.'
Orlando Eduardo Amador Ruiz de Fez, writer
'The Da Vinci Code is the poor man's Pallets.'
Drunk man at bus station
'No comment.'
Owen Pallett, musician
press downloads
hi-res image of cover
press release (english)
press release (dutch)
reviews
unfold
december 15 2011
by steven mccarron
An alternative to the schmaltz of typical Christmas sounds, enjoy a dose of Spoelstra. He's a collaborator with Dutch experimental label Narrominded, which specialises in all sorts of fantastic non-profitable sounds, from full-on noise rock to electronic warbles. And Spoelstra is a perfect fit, as he's proven capable of both. His latest album Pallets was released earlier in the year. Packaged as a cassette and a book about everything you can imagine about pallets, it showcases a full rack of effects and a wonky mind. Part chip tune, part drunken country improv, part toy noise, this uneasiness is how Santa feels come Boxing Day.
gonzo (circus)
june 2011
by maarten schermer
Alsof hij zelf niet al idioot genoeg was, heeft Spoelstra het nodig gevonden om als onderwerp van zijn nieuwe plaat "pallets" te kiezen. U weet wel, die houten gevallen die zo lekker in de armen van een vorkheftruck passen. Deze cassette – geen vrees, er hoort een gratis download bij – zit op eenzelfde manier verborgen in een 200 pagina's boekwerk met daarin alles wat u ooit zou willen weten over die handige plankieren (en nog veel meer). Mogelijk vindt u het boek interessanter dan de muziek, want, we zeiden het al eerder over zijn album 'The Almighty Internet', Spoelstra kloot maar wat aan. Waar niks mis mee is, haasten wij ons er bij te vermelden, maar het dekt wel ongeveer de lading. Zes nummers die heen en weer wiegen tussen eigenaardige experimenten en plompe elektro-rock. Allemaal gemaakt met een sampler, goedkope drummachine en een gitaar waar de country-resten van de single 'I Got Issues The Shape Of Italy' nog aan plakken. Waarom juist pallets, eigenlijk? "Very important, yet always on the bottom of the pile," lezen we op de voorlaatste bladzijde. Een ode aan wat er echt toe doet dus, de dragende krachten die altijd buiten het schijnwerpers blijven. Toch? "Context is stom," staat er elders in het boekwerk. Niet teveel over nadenken dus.
oor
may 2 2011
by theo ploeg
De wegen van Jeroen 'Spoelstra' Warntjes zijn ondoorgrondelijk. Na een countryalbum – I Got Issues The Shape Of Italy – en een electroplaat – The Almighty Internet – duikt de Leidenaar ditmaal in de wereld van de pallets, het meest gebruikte houten stapelmateriaal in de opslag en vervoersindustrie. Een parodie op onze westerse cultuur die steeds meer aandacht heeft voor trivialiteiten in plaats van dingen die er toe doen? Waarschijnlijk. In het bijgeleverde boekje weet Spoelstra in ieder geval tweehonderd pagina's te vullen met afbeeldingen, achtergrondinfo en aanverwante interessegebieden.
Op de cassette (of digitale bestanden voor wie het cassettedeck reeds de deur uit heeft gedaan) gaat de pallets-bewondering onverminderd door. Geen country of electro ditmaal. Spoelstra experimenteert er lustig op los. Jazzritme hier, doorgedraaide drumcomputer daar. Chaos die herkenbaar is uit zijn eerder werk. Maar toch, in Trashbin Ein Berliner (ja ja, laat titels maken maar aan Spoelstra over) draaien dissonante gitaren en toeters de toegankelijkheid de nek om én klinkt het resultaat, eh, lekker. Ideaal voor een avondje op de bank hangen met een video van heftrucs die pallets verplaatsen erbij. En dan zelf het beeld versneld afspelen wanneer Spoelstra er weer een ritmeverandering tegenaan gooit. Intrigerend album, z'n derde al.
vital weekly
april 26 2011
by fdw
How often do you think about the world of transportation, of pallets? Maybe like me, never? Somebody does, and that is the musician Spoelstra, formerly in bands as Boutros Bubba, De Reizende Verkoper, Gone Bald, Quarles van Ufford and CSMD. He created a 200 page graphic book on pallets. "Pallets: very important, yet always at the bottom of the pile'. A great book of images, wisdom and silly jokes. The press text says we know all about pallets if we go through the entire book, which certainly might be true, to some extent. There is a cassette of music by him with six pieces made up with a guitar, a synth, a sampler and some effects, but curiously enough not a pallet, which would have been nice too. Not many quirky electro-beats this time, but a more freely improvised sound on guitar, which sound rather childish, absurd, naive, noisy and not necessarily is one thing or another. Although it provides a nice soundtrack while reading and looking at the book, I'm afraid the music wouldn't stand by itself very well. Its perhaps a bit too much of a hit 'n miss. Nice bits are changed with half baked ideas, but then perhaps I was distracted by the book? As a whole however a great package, where the book leaps out a street length ahead.
written in music
april 22 2011
by edwin hofman
De nieuwste release van het avontuurlijke Nederlandse label Narrominded is een bijzondere. Spoelstra, 'de meester van al het vreemde' komt met Pallets, een cassette met zes nummers, verborgen in een 'graphic novel' van 200 pagina's. De grafische roman gaat over… pallets. "Pallets?" zult u denken. Jazeker. Na het lezen van dit lijvige boekwerk kent de wereld van goederenopslag en –transport geen geheimen meer.
De cassette staat, zoals van Spoelstra verwacht kan worden, vol absurdisme, experimenteerdrift, electro country, noise en ambient. Soms waant men zich op een verre ontdekkingsreis, dan weer lijkt de luisteraar zich in een fabriek te bevinden. In andere passages slaat Spoelstra een weg in die iemand als Beck destijds nooit durfde te betreden. Deze bizarre verzameling aan sferen wordt opgeroepen door synthesizer, sampler, gitaar, loop station, drumcomputer en allerhande special effects. Vergeleken met het voorgaande album The Almighty Internet klinkt Pallets minder elektronisch en minder toegankelijk, alhoewel dat relatieve begrippen zijn in deze context.
Volgens de info van Narrominded is de bekende componist en violist Owen Pallet ook gepolst over dit werkstuk, maar die had geen commentaar.
3,5 / 5
subjectivisten – caleidoscoop
april 22 2011
by jan willem broek
Spoelstra, een alias van gitarist, zanger en drummer Jeroen Warntjes, speelt samen met Freddie Mercury en Vreselijk Ongeluk in de geweldige noiseband Boutros Bubba, drumt in De Reizende Verkoper en brengt zelf ook met enige regelmaat prettige muziek uit vol zin en onzin. Eerder maakt hij bijvoorbeeld de countryplaat I Got Issues The Shape Of Italy, maar dan -als ik mezelf even mag quoten (spreek uit: kwoot-on), ja dat mag ik- "aangevreten door de hyena's en gieren en overgoten met whisky. Wat er dan overblijft zijn dampende, hectische rocksongs met robotgeluiden." Maar eigenlijk gaat het over de soevereiniteit van landen, dus geen country als muziekgenre alleen. Vorig jaar maakt Spoelstra zich druk om het internet en of we alle beschikbare informatie al dan niet tot ons moeten nemen. In plaats van een antwoord te geven, levert hij 9 elektro tracks af. Dus na uitgebeende country is het elektro. Wat nu? Ik weet dat het voor de hand ligt, maar Spoelstra baseert zijn volgende werk op pallets en alles wat je er altijd al over hebt willen weten. Hiervoor heeft hij een imposant boekwerk van zo'n 200 pagina's samengesteld en een cassette gemaakt met de begeleidende muziek. Dat boek bestaat overigens vooral uit kunstzinnige zwart-wit tekeningen met hier en daar een pallet. In het boek vind je ook een downloadcode (met een hilarische login & password) voor het geval je zo ouderwets bent en nog geen cassettespeler hebt. Pallets, uitebracht op het immer interessante Narrominded label, bestaat uit 6 nummers die bij elkaar toch bijna 37 minuten duren. De muziek kan je misschien het beste omschrijven als luie noise gekieteld door elektronica (van idm tot ambient) die hout snijdt. Dat levert uiterst intrigerende, psychedelische stukken op die samen met het boek voor veel vermaak zorgen. De muziek is hoekig als een pallet en zit ook net zo goed en stevig in elkaar. Spoelstra is een uiterst originele en innovatieve muzikant, die ver buiten plat getreden paden blijft. En daar zijn er tegenwoordig helaas veel te weinig van. Je zal nooit meer hetzelfde tegen een pallet aankijken en het feit dat een artiest al zoiets te weeg weet te brengen is al geweldig te noemen. Ik kan nu al haast niet wachten op het volgende onderwerp dat Spoelstra gaat aansnijden. De enige referentie die zo bij me opkomt is Gummbah met zijn boek Net niet verschenen boeken, want in feite schept Spoelstra zijn eigen prettig gestoorde universum. Vorkheftruckelijke totaalkunst!