format: lp (limited to 200 copies (100 on transparent vinyl, 100 on black vinyl) / digital)
release: november 18 2013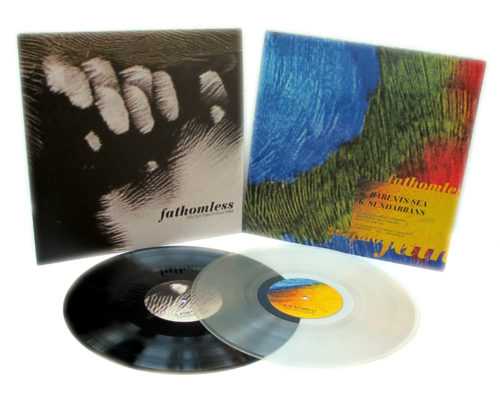 tracklisting
side one
1. barents sea
side two
1. sundarbans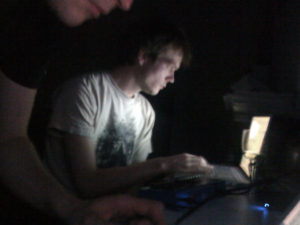 info
The Barents Sea is a small sea in the Arctic Ocean and the inspiration for the first track on Fathomless. On their second album, Coen Oscar Polack and Herman Wilken take you to the desolate waters north of Norway and Russia. The track opens with light cracks, almost inaudible, as if we are below the surface of the ice. Slowly, bright light and gusts of icy wind pour through. With field recordings and electronics, Polack and Wilken create sonic fiction, an aural take of a remote, unforgiving area.
On the second side they move to the Sundarbans, a much greener, warmer, but a just as desolate wilderness on our planet. The area, in the east of India, is known for its rich fauna with colorful birds, crocodiles and snakes and it is notorious for its maze-like structure. The warm tones make you drowsy, in a glorious way, but there's something lurking in the bushes as well.
Through their music, Coen Oscar Polack and Herman Wilken manage to make you experience the temperature, humidity and desolation of the geographical themes they've chosen for this album.
Fathomless is the second full length album by Coen Oscar Polack and Herman Wilken, following The Language of Mountains is Rain (2009, Narrominded). It is available in a strictly limited edition of 100 transparent vinyl lp's and 100 black vinyl lp's.
press downloads
hi-res image of cover
press release (english)
press quotes
'A wonderful atmospheric whole.'
kwadratuur
'This two long tracks are an uneasy listening but charming as they reveal a form conceived for the portrait of landscape in an evocative way. Recommended.'
chain d.l.k.
'Fathomless sounds like an imaginary spiderweb. It progressively starts to immobilize the poor victim in an intriguing and murderous soundscape.'
side-line magazine
'Hear how incredibly clever these gentlemen give voice to two very different worlds.'
festivalinfo
'An evolution which is more likely a de-evolution of sound, since it gets thinner and cold as the minutes pass by.'
chain d.l.k.
'An impressive listening experience.'
written in music
'The music makes you lazy, though the duo simultaneously builds a tension that keeps you alert.'
dark entries
'A highly intriguing game on the boundary between impressionism and realism.'
kindamuzik
'Hmmmm, National Geographic on vinyl then? Almost…..'
peek-a-boo magazine
'A beautiful ambient album.'
bob rusche / x-rated / twitter
'Both sides are great and have a cinematographic quality to them.'
vital weekly
'It grabs you by the throat and is bloodcurdling beautiful. (…) A great jungle of electronic sounds that take you on an adventurous musical safari.'
subjectivisten / caleidoscoop
'Fascinating journey through remote areas in stories of sound…'
vinyl 2012
reviews
kwadratuur
april 7 2014
by johan giglot
3,5 / 5
Fictiemuziek. Ziehier een nieuwe term waar ambientscheppers Coen Oscar Polack en collega Herman Wilken mee uitpakken. De samenwerking van beide heren op 'The Language of Mountains is Rain', inmiddels alweer vijf jaar geleden, bleek dermate succesvol, dat een opvolger niet achterwege kon blijven. Op 'Fathomless' presenteren beide Nederlanders een auditieve excursie die de verbeelding optimaal prikkelt.
Deze release, die enkel op gelimiteerde vinyl te verkrijgen is, heeft twee totaal verschillende, lange verhalen: een kille A-kant en een broeierige B-kant. Samen tekenen ze voor een veertigtal minuten ambient sfeercreatie.
De eerste track, 'Barents Sea' is geen warme brok. De koude en desolaatheid van deze Noordelijke ijszee reflecteert zich in de ijle, zweverige klankcompositie die het tweetal voorschotelt. Zachte, krakende geluiden openen, alsof iemand over een dik pak sneeuw of ijs wandelt. Heel voorzichtig worden daar stelselmatig ruis, waas en vreemde kraakgeluiden aan toegevoegd. Doorheen de opkomende dikke, lichtgrijze mist kraakt de boeg van een schip of klinkt even de oscillator van een scheepsradar. Langzaam maar zeker piept en kriept het geheel naar een luidruchtige drone toe: een alles opzuigende grijze nevel met vage flarden en schakeringen. Die vervaagt na een ondefinieerbare tijd tot het beginpunt van deze track. Twee walviskreten weerklinken vooraleer 'Barents Sea' definitief outfadet.
De B-kant, 'Sundarbans', klinkt al even abstract en avontuurlijk, zei het ook een stuk voller. De inspiratie ligt hier bij het gelijknamige, uitgestrekte nationaal park van mangrovebossen in Indië. Dat wordt weerspiegeld in een ritmeconstructie van krakende bladeren, geluiden die door water wadend en regenklanken. Dromerige doezelklanken die een broeierige hitte weergeven, onderbouwen het geheel. Echo's van kwetterende watervogels en een sequentie van ijle tonen vullen de trip, die al even moeilijk tastbaar blijkt dan zijn kille tegenhanger. Ook nu klimt de track op naar een wat meer luidruchtig, expliciet geheel tot het geritsel ophoudt en enkel irreële, buitenaardse tunes en een vervelend insectengebrom overblijven. Ditmaal houdt de reis van in elkaar overvloeiende, intrigerende geluiden nog wat langer aan en mag de luisteraar nog een tijdje langer raden wat er juist allemaal gaande is.
De twee klankpoëten hebben met 'Fathomless' een soort van auditieve reisgids gemaakt. Een berg samples en veldopnamen zijn in elkaar geschoven tot een wonderlijk sfeergeheel. Met voorzichtige manipulatie en melodieuze onderbouw, worden deze ambienttrips gebonden in een mooie en verrassende totaaltrip. Klank en fantasie vloeien op deze manier in elkaar over. Wat enkel nog ontbreekt, is een bijbehorend album met mooie natuur en respectievelijk landschaps- of waterfoto's.
chain d.l.k.
february 9 2014
by andrea piran
4 / 5
This new release from this artists is inspired by two existent places: the Barents Sea, in the Arctic Ocean, and the Sundarbans, a place in India known for his colored fauna. So I suppose that they aim to evoke the sensations offered by this particular landscapes and I must say that they realize it.
The album has one track on every side: 'Barents Sea', the A side, starts quietly with small noises and a glacial drone slowly portraits a glacial landscape and, decaying, is substituted by the juxtaposition of a bright drone and some sparse crackles until a new and louder glacial drone erases all and the tune ends gently.
'Sundarbans', the B side, starts with a sort of field recordings of leafs moved by the wind and a bright drone slowly changing until birds's recording introduces the listener into an oasis of colors and peace that lasts until a buzz starts a quieter part that lasts until a bright drone starts and, with a quieter interlude, drives the listener to the end of the track slowly changing.
This two long tracks are an uneasy listening but charming as they reveal a form conceived for the portrait of landscape in an evocative way. Recommended.
side-line magazine
february 7 2014
7
This is the 2nd opus on, which Narrominded co-founder Coen Oscar Polack (still active in Living Ornaments and Psychon) and Herman Wilken, who we recently discovered by the IDM-project Hydrus, are joining hands.
"Fathomless" is a rather conceptual release inspired for the 1st track by the Barents Sea and by the Sundarbans for the 2nd cut. The geographical inspiration was transposed into a rather abstract and experimental kind of soundscape.
"Barent Sea" moves quite progressively until we finally join a darker and more mysterious space. The work was composed by a mix of easy recognizable field recordings and electro manipulations. "Sundarbans" was made in a similar way, but sounds more elaborate. This cut sounds more poignant and darker as well. The work of this duo is characterized by growing sound waves filled with intriguing atmospheres. Coen Oscar Polack & Herman Wilken are more involved like sound engineers rather than musicians.
Next to the digital format, this release is also available as a strictly limited vinyl of 100 copies.
Conclusion: "Fathomless" sounds like an imaginary spiderweb. It progressively starts to immobilize the poor victim in an intriguing and murderous soundscape.
Best songs: "Sundarbans".
festivalinfo
january 14 2014
by eric rijlaarsdam
3,5 / 5
Coen Oscar Polack is een van de mensen achter het Nederlandse label Narrominded. Op dit label verschijnt zeer uiteenlopende muziek, van experimentele elektronica tot rock en alles daar tussenin. Narrominded brengt materiaal uit van onder andere Katadreuffe, Hunter Complex en Boutros Bubba. Polack maakt zelf ook muziek, zowel in de bands Psychon Troopers, Psychon en Living Ornaments, als onder zijn eigen naam. Ook maakte hij in 2009 samen met Herman Wilken het album The Language of Mountains Is Rain. Dit album krijgt nu een vervolg met de release van Fathomless, dat uiteraard ook bij Narrominded verschijnt.
Fathomless verschijnt in een zeer gelimiteerde oplage van tweehonderd stuks. De helft daarvan is geperst op transparant vinyl en de andere helft op gewoon zwart vinyl. Daarnaast is het album ook digitaal te verkrijgen.
Fathomless bestaat uit twee muziekstukken van respectievelijk ruim achttien en ruim twintig minuten. Op de A-kant van de plaat vinden we 'Barents Sea', dat vernoemd is naar de zee die boven Noorwegen en Rusland ligt. Polack en Wilken proberen in deze compositie de koude Poolwinden op te roepen die dit desolate gebied teisteren. En dat lukt vrij aardig. Met behulp van noisy elektronica en field recordings roept het duo een ijzige sfeer op.
De B-kant van Fathomless bevat de track 'Sundarbans', dat geïnspireerd is door een veel warmere, groenere wildernis die misschien vriendelijker is dan de Noordelijke zeeën, maar net zo desolaat. Deze track is wat gevarieerder dat het drone-achtige 'Barents Sea' en roept met z'n dierengeluiden de sfeer van het regenwoud op. Verderop verstillen de dieren en barst de moesson los, waarna het aan het eind van de track weer opklaart.
Fathomless is zeker geen gemakkelijke plaat. Bijna veertig minuten experimentele elektronica, field recordings en drones is voor de gemiddelde muziekliefhebber waarschijnlijk net een brug te ver. Wie echter de tijd neemt om zich te verdiepen in de muziek van Polack en Wilken hoort hoe ontzettend knap de heren twee zeer verschillende werelden weten te verklanken.
chain d.l.k.
january 11 2014
by maurizio pustianaz
3,5 / 5
Co-founder of the Narrominded label and a member of Living Ornaments and Psychon, Coen Oscar Polack with his solo work creates musical ambience that is formed by layers of field recordings and abstract noises and harmonies. He's first release "Psychic Investigations" is dated 2008 and since then he released other six albums of which "Fathomless" is the second with Herman Wilken. Inspired by the Barents Sea, which is a small sea in the Arctic Ocean, the album opens with a track having the same name. It begins with little crackles and noises which help into giving you a idea of the desolate waters north of Norway and Russia. In the eighteen minutes of its length, it slowly grows thanks to multiplying layers of icy drones, white noise and tiny harmonies. The second side contains "Sundarbans", a twenty minutes tracks which takes inspiration from an area of the east of India which is known for its rich fauna with colorful birds, crocodiles and snakes and it is notorious for its maze-like structure. On this one, the duo manages to create a different sound experience using sounds that are reminiscent of water noises, wind and birds chants. Also on this track we have an evolution which is more likely a de-evolution of sound, since it gets thinner and cold as the minutes pass by. But… as life taught us, things aren't always the same and suddenly the sound changes, turning into a throbbing icy drone where melodies and crackling noises submerge from the wall of sound.
written in music
january 6 2014
by edwin hofman
4 / 5
Coen Oscar Polack is een van de mensen achter het Narrominded label. Hij heeft inmiddels een flink aantal werken achter zijn naam staan, waaronder elektro-akoestische stukken en klanksculpturen. Herman Wilken maakt deel uit van Hydrus, dat eerder dit jaar opzien baarde dankzij de electronische pracht van het album Nodes.
De vorige samenwerking van Polack en Wilken dateert alweer uit 2009: The Language Of Mountains Is Rain. Voor dit album maakte het duo twee lange improvisaties gebaseerd op veldopnamen. Op Fathomless, dat afgelopen najaar uitkwam, horen we wederom twee lange stukken: Barents Sea en Sundarbans beslaan samen bijna veertig minuten.
Het zijn titels die de fantasie prikkelen, titels die je voeren van een ijskoude, inktzwarte poolzee naar de warme, groene mangrovebossen van India en Bangladesh. De ambientmuziek die op Fathomless over de luisteraar heengolft lost de gewekte verwachtingen moeiteloos in: diep, grenzeloos en moeilijk te doorgronden.
De spanning wordt langzaam opgebouwd in Barents Sea. Het wordt kouder, donkerder, het gaat steeds harder vriezen. Schimmige beelden van voorbijglijdende walvissen worden gaandeweg verdrongen door herinneringen aan de gezonken kernonderzeeër Koersk. Gaandeweg dringen meer geluiden binnen en lijken ijsbergen en marineschepen om voorrang te strijden. Momenten van horror. Uiteindelijk sterft de muziek langzaam weg.
Met Sundarbans maakt de kou plaats voor vochtige warmte. Alsof je soepel door tropische wateren glijdt, omringd door een muur van planten en honderden onzichtbare vogels en insekten. Ook hier dringt zich een donkere onderstroom op. Tegen het einde overheerst de intrigerende schoonheid van de natuur weer.
De muziek op Fathomless heeft grote filmische kwaliteiten zonder ook maar ergens expliciet te worden. Polack en Wilken hebben wederom indrukwekkende luisterervaringen gecreëerd. Het is niet alleen de geluidsmagie die zoveel effect sorteert, het is ook de fantasie van de luisteraar zelf die bijdraagt aan de impact van Fathomless.
dark entries
december 19 2013
by paul van de gehuchte
8 / 10
Na 'The Language Of Mountains Is Rain' van 2009 zoekt het duo Polack & Wilken andere oorden op. Met 'Barents Sea', de eerste van de twee composities op 'Fathomless', gaan we naar het kille Noorden. De zee, genoemd naar de Nederlandse zeevaarder en ontdekkingsreiziger Willem Barentsz, ligt ten noorden van Rusland en Noorwegen. Het is ook daar dat de atoomonderzeeër Koersk op12 augustus 2000 is gezonken. Daarbij kwamen alle 118 opvarenden om het leven. Polack en Wilken proberen de barre levensomstandigheden op een eiland als Spitsbergen, de archipel Nova Zembla of het schiereiland Kola met hun muziek weer te geven. De track opent met bijna onhoorbaar geknisper. Je moet de volumeknop bijna helemaal open draaien om iets te horen. Langzaamaan komen andere geluiden binnen sijpelen waarmee men water, wind en walvissen probeert na te bootsen. Je krijgt het hoe dan ook vreselijk koud, want het vriest dat het kraakt, toch bij wijze van spreken. Voor 'Sundarbans' trekt het tweetal naar het veel warmere India. In vergelijking met het bevroren landschap van Antarctica beschikt dit woud over een ruim gediversifieerde flora en fauna. De muziek maakt je loom, al bouwt het duo tegelijk een spanningsboog op die je alert houdt. 'Fathomless' intrigeert. De twee nummers laten je kennis maken met twee totaal verschillende gebieden, tot voor kort ongerept. Door de niet te stoppen expansiedrift van de mens, komt vandaag het broze evenwicht van hun ecosysteem in gevaar. Muziek om bij weg te dromen, doch die je terzelfder tijd aan het denken zet.
kindamuzik
december 17 2013
by sven schlijper
Je kunt alle kanten op met Narrominded, het Nederlandse label waarover je veel kunt zeggen, maar niet dat het met oog- of oorkleppen op in de wereld staat. Met Fathomless voegt het een loot toe aan zijn releaseboom om zo een gooi te doen naar de plek waar het inmiddels 'klassieke' Touch zich ophoudt.
Een eerste onderscheidende factor ten opzichte van Touch ligt in het bevreemdende artwork van de hoes. Dat toont zwart-wit versus gekleurd beeld in tekeningen die een leuk geprobeerde thuisknutseldemo suggereren. Dan reken je naast het geluid dat de beide heren brengen, al is het natuurlijk een beetje gek om bewust met een 'achterstand' te beginnen.
Zo'n achttien minuten nemen Polack en Wilken de tijd om door de koude Barentszzee te trekken. Desolate onherbergzaamheid stijgt op uit de zich langzaam ontwikkelende, gedragen lijnen die de A-kant schetst. Ze zijn er niet geweest, het is een vorm van 'sonische fictie', maar doet dat ertoe? Een vraag die ook opkomt bij het horen van de Indiase kant: warmbloedig, loom, lommerrijk en vol kwetterend gevogelte, als een dicht mangrovewoud volgepakt.
Maakt het uit dat Fathomless fictie betreft? Waar je voetstoots aanneemt dat Jana Winderen of Chris Watson inderdaad ter plekke waren om opnamen te maken, verankert hun werk zich daarmee in de realiteit van het natuurlijke geluid daar. Polack en Wilken komen in de buurt van dezelfde sferen uit, maar hun eerlijkheid (?) in het classificeren onder de rubriek 'fictie' blijkt redelijk fnuikend.
Je hoort wat gekend is aan klankwerken uit zo'n oord en de voornaamste originele handtekening onder deze twee stukken is dan ook het spel met clichés. Niet in het minst door een koude plaatkant tegenover een warme te zetten. Toch komt hun fictie zó dicht bij de werkelijkheid uit dat ze ervoor door had kunnen gaan. Dit had ook zomaar een Touch-release kunnen zijn: strak, klassiek en serieus, maar in die geclaimde en aangenomen echtheid zou geen plaats zijn voor het hoogst intrigerende spel op het grensvlak tussen impressionisme en realisme. Dat laatste maken Polack en Wilken helemaal tot het hunne en conceptueel blijft dit fascineren.
peek-a-boo magazine
december 1 2013
by didier becu
Do you like the sound of beeps? If not, you better skip this review as this is music at its most experimental. Fathomless is the second album (100 copies on transparent vinyl and another 100 on black) by Coen Oscar Polack and Herman Wilken.
You find two tracks on here on where those two abstract musicians are taking you to some other part of the world. The A-side gets you to The Barents Sea which is somewhere in the Arctic Ocean. You hear field recordings (cracking ice, wind), all added with minimal electronics. Weird, but in a way thrilling ….
The flipside takes you to the Sundarbans, a place in the east of India where you can hear wild animals (from crocodiles to birds).
Hmmmm, National Geographic on vinyl then? Almost…..
x-rated
december 1 2013
by bob rusche
A beautiful ambient album.
vital weekly
november 26 2013
by fdw
Somehow, it seems, I missed out upon 'The Language Of Mountains' by Coen Oscar Polack and Herman Wilken. The latter is a member of IDM duo Hydrus, and Polack is a man to bring you environmentally based sound scapes. If I am right both sides of this record are based on field recordings. On 'Barents Sea' they use sounds from up there, north of Norway and Russia where you find the Barents Sea (named after a Dutch sailor) and on 'Sundarbans' we move to India. This reflects the music. Both pieces are soundscapes, made with field recordings, processed versions thereof, but there are also differences. 'Barents Sea' is a deep and somewhat glacial piece of music in which a cold North pole wind is depicted. You could almost feel it. Deep isolationist music with a solid deep end bass and devoid of any melody. That's hardly a surprise with this kind of music, I hear you say, but there is some on the other side. Here it contains the busy life of birds or insects, slightly processed and or namented with a synthetic melodic line, before moving over into a different territory of what seems to me processed guitars, but which very well be may any type of Indian stringed instrument. This might not always be the most warmest either, but it has a warmer quality to it. Both sides are great and have a cinematographic quality to them. Either from long shots of the barren, snow covered lands of the North Pole to the busy city life of the sub Asian continent. Two different sides, one fine record.
subjectivisten / caleidoscoop
november 22 2013
by jan willen broek
Van het open minded Narrominded label kan je werkelijk van alles verwachten, van snoeiharde rock en noise tot ambient, experimentele elektronica en elektro-akoestische muziek. Ze hebben innovatie daarbij altijd hoog in het vaandel staan. Een nieuwe release zorgt op voorhand al voor enige opwinding. Dat geldt zeker voor het duo Coen Oscar Polack en Herman Wilken. Zij debuteren samen namelijk in 2009 met hun geweldige album The Language Of Mountains Is Rain. Hierop brengen ze twee stukken van ruim 20 minuten, waarbij ze ambient en noise als stoeiende natuurmachten tegenover elkaar zetten en vermengen. Het heeft een uiterst spannend hoorspel tot gevolg.
Coen Oscar Polack is één van de personen achter het fijne Narrominded label. Hij is net als de anderen ook muzikant, zowel solo als in Psychon Troopers, Psychon en Living Ornaments. Onder zijn eigen naam brengt hij veelal eigenzinnige electro-akoestische muziek ten gehore.
Herman Wilken is de helft van de groep Hydrus, waarmee hij bijzonder biologerende IDM produceert.
De twee komen nu weer samen op hun nieuwste lp dan wel digitale download Fathomless, ofwel "bodemloos". Hierop presenteren ze weer 2 langgerekte klanklandschappen van 18,5 en 20,5 minuten lang, waarbij ze op verschillende wijze de diepte induiken. In de eerste compositie "Barents Sea" zoeken ze de diepte van de onmetelijke Barentszzee op, waarbij je omgeven wordt door een waterige, ijzige duisternis vol gedigitaliseerde walvissen. Je waant je echt kilometers onder de zeespiegel, waar zich op desolate wijze uiteenlopende zaken aan je voltrekken, die je niet eerder ervaren hebt. Dat hebben ze gevangen in abstracte elektronica, die op rauwe maar ambientachtige wijze gebracht wordt. Wat dat betreft roepen ze wel herinneringen op aan de muziek van David Kristian. Het is bij de keel grijpend en bloedstollend mooi. In de tweede track "Sundarbans", verwijzend naar de immense mangrovebossen in India en Bangladesh met hun rijke fauna, trekken ze diep de bossen in. Hun imponerende elektronica wordt hierbij dan ook opgesierd door geluiden die je als de daar voorkomende dieren zou kunnen interpreteren. Een geweldige jungle aan elektronische klanken, die je meenemen op een avontuurlijke muzikale safari. Ook dit tweede gezamenlijke werk is weer van hoog niveau en vol unieke pracht en kracht. Om eindeloos van te genieten!
vinyl 2012
november 19 2013
Fascinerende reis door afgelegen gebieden in verhalen van geluid…