format: cd-r / digital
released: september 16 2009
tracklisting
1.rampetampen
2.proefwerkweek
3.stoethaspel
4.dagjesmensen
5.kassiewijlen
6.onheilszwanger
7.plunderaar
8.grijpstuiver
9.rouwstoet
10.vraatzucht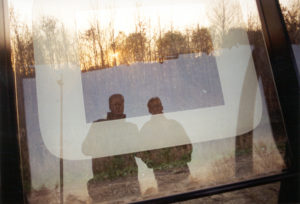 info
Narrominded presents new albums by trusted Narrominded artists: Living Ornaments and Psychon. Both groups have been active on the label for almost a decade and with their new work they show they still have an absolute fresh and a very own vision on music. With their previous record Vlokken (2006) Living Ornaments created a classic in Dutch electronica. Korrels is the second album by the duo and has, besides the trusted elements like guitars, piano and broken samples, an important role for synthesizers. With Korrels Living Ornaments choose for a bolder approach and a clearer structure in their songs. But still, a track like Plunderaar – that was commissioned by the VPRO and was made with Japanese musical instruments from the Gemeentemuseum in The Hague – contains a truckload of ideas. It is a result of two musical brains that see the recording process as an abundantly equipped playground. Living Ornaments previously released music on labels like Skam and Scarcelight Recordings and played on the )TOON) Festival in Haarlem and in the national Dutch television program Vrije Geluiden.
press downloads
hi-res image of cover
press release (english)
press release (dutch)
reviews
kwadratuur
january 20 2010
by johan giglot
Living Ornaments is niet aan zijn proefstuk toe, het betreft hier immers het muzikale kindje van Lars Meijer en Coen Polack, stichters van het vreselijk onderschatte, Nederlandse elektronicalabel Narrominded. Of het nu aan de legale drogerende middelen mag liggen of niet, het klompenland blijkt een broeihaard voor laptopartiesten die zich gespecialiseerd hebben in complexe sfeermakerij. 'Korrels', naast een berg elpees en mp3's de tweede volwaardige langspeler van dit creatieve duo, weet dan ook perfect hoe voorzichtige gitaaraccenten, piano, schuifelende beats en de nodige spannende breaks en samples moeten samensmelten tot een uitermate smakelijk, dromerig elektronisch geheel.
Heerlijk, van die platen die een mens omverblazen; waar bij de eerste maten al duidelijk is dat er iets magisch staat te gebeuren. 'Korrels' is zo'n te koesteren pronkstukje. Wat dit Nederlandse duo presenteert is het neusje van de zalm betreffende 'Intelligent Dance Music' (IDM) ofte ambientelektronica. Geavanceerde maar nooit opdringerige beats uit hiphop geleend, worden overspoeld door een warme deken van sfeerelementen, geluidsspielereien en smakelijke details. Een dik half uur intense schoonheid en elektronische gemoedelijkheid verdeeld over tien tracks draagt welluidende titels als 'Rampetampen', 'Dagjesmensen' of 'Vraatzucht'. Mooi verknipte beats die in 'Proefwerk' competeren met kerkorgelsamples en diep grommende baspulsen? Ontrafeld spel van Oosterse gamelan dat zich met krakende deurgeluiden vermengt om een intrigerend, minimaal geluidswerkje 'Stoethaspel' te vormen? Living Ornaments weet op vele diverse manieren te charmeren en blijft even subtiel als de hoes van dit album (wie goed kijkt, ziet een foto van de twee heren zelf op de achtergrond).
De echt dansbare momenten van deze plaat zijn met enkele vingers te tellen. 'Korrels' is veeleer een genotsproduct waarop heel wat te beleven valt maar dat minder eclectisch is dan zijn titel laat vermoeden. Wegdromen wordt gestimuleerd door een veelvoud aan zweverige klanken, maar dat is dan weer naast de waard gerekend van uitdagende samplepuzzels als 'Onheilszwanger' waarin de verschillende elementen zo in elkaar geschoven zitten dat ze onderling niet meer definieerbaar zijn. Wat dit betreft spant 'Plunderaar' de kroon dankzij zijn gemanipuleerde vrouwenstem waarvan enkel nog de klinkers over zijn gebleven. Wie echt van slechte wil is, krijgt daarmee ook het enige kleine punt van kritiek voorgeschoteld: het gevaar van te grote rommeligheid is een zeldzame keer aanwezig, maar wordt gelukkig tijdig rechtgezet.
Laat het duidelijk zijn dat achter dit project twee uitermate getalenteerde geluidsdokters zitten die – zonder omzwerven – prachtmuziek uit hun elektronisch laboratorium weten te halen. 'Living Ornaments' zorgt niet enkel voor een goed gevoel, maar zalft, verrijkt, daagt uit en streelt het oor. Genoeg hierover, tijd om te luisteren en genieten.
fret
january 2010
by arjan van sorge

cracked
january 9 2010
Living Ornaments is Lars Meijer and Coen Polack, the masterminds also behind narrominded label and their first album under the moniker Living Ornaments "vlokken" has rightfully recieved praise from around the world. On "korrels" they have taken a different, more direct approach. Gone are the minimal subtleties and the dynamic structures. Everything seems to be much more on the foreground now, clearer, more direct and more fixed in structure. And most obviously, keyboards and big synthesizer sounds have taken over the field. Of course, here and there are some moments of pristine beauty and of time standing still, but mostly the music on the album marches on with reckless abandon, to its own big marching music made of synthie sounds. Well, then I wanted to write some more clever things about the music, but then it played "Two and a half men" on tv and Charlie Sheen was funny, but somehow also depressed me, so I couldn't. Sounds like something life couldn't make up on its own, right?
gonzo (circus)
november 2009

music from nl
ocotober 30 2009
by eric rijlaarsdam
Narrominded is een Nederlands label dat al sinds 2000 cd-r's, cd's, vinyl en mp3's uitbrengt van artiesten als Boutros Bubba, Katadreuffe en Hydrus. Onlangs verschenen bij Narrominded nieuwe albums van Living Ornaments en Psychon, respectievelijk getiteld 'Korrels' en 'Slow Country For Old Men'. Beide albums verschijnen als gelimiteerde cd en zijn daarnaast als mp3 download.
Living Ornaments bracht in 2006 het album 'Vlokken' uit en komt nu met de opvolger. Opnieuw gebruikt het duo gitaren, piano's en allerlei samples, maar deze keer is daarnaast een grote rol weggelegd voor de synthesizer. Ook is het geluid wat kaler dan op 'Vlokken'.
Het album opent met het nummer 'Rampetampen', dat wel wat aan Kraftwerk doet denken, maar een ambient-achtig eind heeft. Ook tracks als 'Onheilszwanger' en 'Rouwstoet' zijn vrij ambient. 'Proefwerkweek' heeft net als de openingstrack iets van Kraftwerk, maar laat ook modernere geluiden horen en heeft bovendien een erg mooie melodie.
'Stoethaspel' is een erg vage, vrij kale track met verknipte stemsamples. Ook 'Plunderaar' begint met door de mangel gehaalde stemsamples, maar verderop wordt dit nummer vrij melancholisch en begint het zelfs op een liedje te lijken. In opdracht van de VPRO samplede de band voor deze track allerlei Japanse muziekinstrumenten uit de collectie van het Haags Gemeentemuseum.
'Korrels' en 'Slow Country For Old Men' zijn zeer interessante platen voor mensen die van experimentele elektronica houden. Voor de gemiddelde popliefhebber zal de muziek van beide acts echter een paar bruggen te ver zijn.
eclectro
ocotober 7 2009
by inge
Living Ornaments: gratis én goed
Het Nederlandse label Narrominded heeft sinds Hydrus' idm-release Interleaves alhier arriveerde een speciale plek in mijn hart gekregen. Groot was dan ook de vreugde toen de nieuwe langspeler van Narrominded-artiest Living Ornaments op de deurmat plofte, het geesteskind van de Narrominded-oprichters Lars Meijer en Coen Polack.
Korrels biedt een verfrissende kijk op idm, electro, ambient en techno, en doet dat in de beste traditie van het label helemaal gratis. Het album is namelijk als een handig zipbestand (inclusief artwork) te downloaden, of voor 8 euro te koop in de Narrominded-winkel.
vital weekly
september 29 2009
by fdw
Its good to know that people do work hard and long to create their music (though it should not be confused with 'I worked on this very long, so it is very good'), and Psychon from Haarlem or Amsterdam took five years to create a follow-up to 'Apocalypse Has Been Dubbed The Weekend Pill'. That album was crazy mixture of musical genres, like symphonic rock, techno, IDM, ambient, dashes of krautrock but also jazz and noise and perhaps the bad news is that 'Slow Country For Old Man' isn't something else, but more of the same. But waiting five years for something you liked back then, might not be bad either? Again we are bombarded with samples from all over the musical spectrum, but throughout hip hop like rhythms play an important role – if any change that might be the one major change in this new Psychon work – and lots of wacky vocal samples, guitars, ambient doodling, psychedelica and strangely enough sounds all pretty coherent. Its like this stuff is made to stick to eachother. This could be big on the dance/rock live circuit, as its not far away from say C'Mon & Kypsky. The humour extends to the titles: 'Bollywoodhowl', 'Campdavidhasselhoff' or 'Nanamissouri'.
Also Living Ornaments took some time to follow up their 'Vlokken' release (see Vital Weekly 518), three years. I think that membership for both Pscyhon and Living Ornaments are quite a like, but there is a big difference in sound approach. Whereas Psychon bounces in all direction, Living Ornaments are more in one corner: IDM based sample music. They released on Skam and Scarcelight in the past to give you a clue. Rhythm plays an important role in their music, either straight forward from the rhythm machine, or through sampled sounds. It seems that these pieces are more like finished, rounded off songs than the same more free play of before. It makes the music more coherent than before too, I think. Maybe some of the pieces are still a bit long for my taste. Oddly enough I don't see Living Ornaments on the big stage, which is funny: shouldn't they be getting the kids to dance and not Psychon? Perhaps so, but Living Ornaments are more armchair dance music – tap your feet music. Nice too for the after party.
subjectivisten – caleidoscoop
september 27 2009
by jan willem broek
Ondanks dat het 3 jaar geleden is en ik behoorlijk wat releases te verstouwen heb, staan sommige zaken me nog helder voor de geest bij de cd Vlokken van het Nederlandse Living Ornaments. Ten eerste de hoge kwaliteit, de subtiliteit, de ongrijpbare sfeer en bijzondere gedetailleerdheid van de muziek en ten tweede de meer dan vermakelijke titels van de nummers. Dit allemaal naar aanleiding van de nieuwe cd Korrels, waarop de heren Lars Meijer en Coen Oscar Polack, die tevens verantwoordelijk zijn voor het kwaliteitslabel Narrominded, wederom hun elektronische kunsten vertonen. Als ik eenmaal een blik op de hoes heb geworpen, waar de voorkant wel een omgekeerde versie lijkt van Songs For Drella, zie ik dat het met de titels nog steeds snor zit: "Rampetampen", "Onheilszwanger", "Grijpstuiver" en "Vraatzucht" om er maar eens een paar te noemen. Ten minste niet van die soms vergezochte Autechre-achtige titels. Waar ze op de vorige cd nog uitblinken in meer atmosferische tracks, worden ze op de nieuwe cd concreter. Er zijn duidelijker melodieën te onderscheiden en de gracieuze beats stippelen de weg uit binnen de meeste nummers. Dat neemt niet weg dat op de achtergrond nog steeds gevuld wordt met prachtige atmosferen en tevens jazzy pianopartijen, soepele glitch, gitaarambient en elegante kapotte samplegeluiden. Ze hebben de beproefde ingrediënten van gitaar, sampler en piano nu aangevuld met de prominent aanwezige synthesizer. Daarbij brengen ze genoeg speelse elementen en bijzondere akoestische geluiden om het geheel te voorzien van een menselijk gedaante. Zo hoor ik volgens mij op een gegeven moment een duimpiano of iets dergelijks en daarnaast diverse stemsamples. Erg mooi is het veelzijdige nummer "Plunderaar", waar ze met uit het Haags Gemeentemuseum geleende Japanse instrumenten integreren in hun muziek. Maar ook de track met de veelzeggende naam "Vraatzucht" laat een ware patchwork aan klanken horen. Eigenlijk zijn ze onvergelijkbaar, maar Colleen, Machinefabriek, My Jazzy Child, O.Lamm, Boards Of Canada en Aphex Twin door de blender halen komt in de buurt. Alles wat ze hier laten horen is van hoogwaardige kwaliteit en gemaakt met gepassioneerdheid, oog eh oor voor details en een flonkerende elegantie. Zoals altijd kun je deze release gratis downloaden of natuurlijk aanschaffen. Maar deze grensoverschrijdende pracht is elke cent meer dan waard!
3voor12 plundert musea
november 2 2005
by sander kerkhof