format: lp (+ one-sided 7″) / digital
released: february 1 2001
tracklisting
side one
1.hands
2.screw up, I'm the driver
3.pirate
4.means of communication
5.be my groundstaff
6.crippled polyethene bags
7.my melon cologne
8.tropical mess
9.scoring asshole (new version)
side two
1.shinegold chisel
2.she's in the middle of the devil's wave (first verse)
3.xpelair and spiders
4.the solid gold web:
why do you evolve?
cavemen ruling the world
I vomit, you do something else
new movies cummin' up
sturmey archer
the mail is coming thru the mailbox this year
5.tuna fish with green mayonaise
6.I'll beat myself up (new version)
one-sided 7″
1.phonetics
2.graveyard inspection
3.harbor
4.waste
info
This is a limited edition of thirty-one copies of Larz' first lp on Blackbean and Placenta. The first thirteen contain the 7″ When Coffee Can't Help You Anymore. The songs on this lp reflect Larz' development from 1994 to 1998. Where he mainly used piano in his early years, he later used drum computers and guitars as well. His voice is blended in with the rest of the instruments.
press downloads
hi-res image of cover
reviews
autoreverse
december 25 2000
by ian c. stewart
LP! Fuck yeah, an LP! Stark, dramatic, acoustic piano and guitar plus bass and distant vocals. "Screw Up, I'm The Driver," adds squelchy guitar to the mix and is somewhat upbeat by comparison. "Pirate" is full rock band action, sounding very 80s postpunk. Great record, very moody and sad, like a foreign b/w film. "Scoring Asshole" coulda been a BEEFHEART track with all those weird rhythmic interjections and time changes. On side two, "Shinegold Chisel" sounds like the band has found a secret stash of Prozac; all of the same elements from before but with a happy sort of mood. Well, mostly. And happy is a relative term. "She's In The Middle of The Devil's Wave (first verse)" is aerosol synth blists (not unlike NIN's "Closer") with sub-bass bass and other synth exploration on top. It's a beaut. "Tuna Fish With Green Mayonaise" = song title of the month! This is a riveting record on theeeee sexiest format available, the LP! Ooh yeah!
rebound
1999
by paul roosenstein
In the period 1994 – 98 Larz, living in a suburb in Hoofddorp, recorded a large amount of songs with his four-track. He released them to the outside world in the form of cassette tapes. It delivered him a show in support of Smog and David Grubbs and now an lp on the American label Blackbean & Placenta (that also released Zoppo). All that tapes reflected a clear development. In the early days the piano was an important istrument, after that, short and sometimes surprising guitarfragments and electronic pieces surfaced. The best songs from all that tapes ended up on vinyl and because the songs are from a broad period, Moral Sewer sounds varied and interesting. Off course, the quality of the recordings and vinyl pressing are not optimal, but that doesn't do any harm to the charm and especially the quality of the music. Besides the full-fledged lp there's also a four song one-sided 7″. It are short pieces which have a somewhat dark atmosphere. Think of a title like Graveyard Inspection. Larz accompanies himself on this track on piano in a ominous way. On other songs guest musicians appear on guitar and drums, the atmosphere stays sober. Still the short songs are very exciting thanks to the opposing rhythms and the crafty use of electronics. Blackbean charactarizes itself by releasing only a few hundred copies a record. This one is also very limited.
haarlems dagblad
october 17 1998
by peter bruyn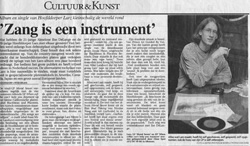 'De muziek is in zekere zin je morele wereld'
Album en single van Hoofddorper Larz kleinschalig de wereld rond
Wat hebben de eenentwintigjarige Almelose Ilse DeLange en de twintigjarige Hoofddorper Larz met elkaar gemeen? Beiden zagen onlangs hun debuutplaat uitgebracht worden door een Amerikaanse maatschappij. Daar houdt dan ook iedere overeenkomst op. Van de country- zangeres wordt verwacht dat ze honderdduizenden platen gaat verkopen terwijl de oplage van het Larz-album een paar honderd bedraagt. Ilse bedient het grote publiek en heeft vrijwel alleen in Nederland succes. De alternatieve rockplaat van Larz is hier nauwelijks te vinden, maar staat inmiddels wel in gespecialiseerde platenwinkels in Amerika, Canada, Japan en een groot aantal Europese landen.
De vinyl-LP 'Moral Sewer' verscheen tegelijk met de 4 nummers tellende EP 'When coffee can't help you Anymore' op het kleine Californische platenlabel Blackbean and Placenta – in Nederland geïmporteerd door Clear Spot. Een typisch connaisseurs-maatschappijtje, vergelijkbaar met bibliofiele uitgeverijen in de boekenbranche. ,,Het is heel simpel: His songs are brilliant," motiveert label-baas Mike Landucci middels de elektronische snelweg zijn beslissing om een album van de Hoofddorper uit te brengen. ,,Hij is voor mij echt een uitzonderlijk songschrijver. Het zijn popsongs, maar de arrangementen zijn zo vreemd en de wijze waarop hij melodieën combineert is zo ongebruikelijk. Verwarrend bijna. Het is muziek die er gewoon om vraagt om keer op keer opnieuw beluisterd te worden." Daarmee slaat de Amerikaan de spijker op z'n kop. De muziek van Larz is caleidoscopisch. Iedere draaibeurt ontdek je weer iets nieuws. Dromerige korte liedjes waarin de piano overheerst, maar ook met ruimte voor gitaar, bas, drums en elektronica.
Stel je de twee psychedelische sixties-iconen Syd Barrett en Kevin Ayers voor die op een achternamiddag in 1968 samen in een studio belanden en de 'spelende mens' in zichzelf de vrije loop laten. De twintigjarige Larz Meyer ziet er met zijn halflange sluike haar ook wel een beetje uit alsof hij 1968 zelf had willen meemaken. Hij studeert journalistiek maar zegt meer tijd in z'n muziek te stoppen. Geen man die kroegen en jeugdhonken afstroopt om zoveel mogelijk te kunnen optreden, maar veel meer een 'home-taper'. Iemand die met bescheiden middelen thuis muzikale miniatuurtjes in elkaar zet.
,,Ik had heel veel tapes naar platenmaatschappijen overal ter wereld gestuurd en niemand reageerde," vertelt Larz. ,,Op een gegeven moment kocht ik een single van de Amerikaanse groep Azusa Plane, dat ik erg goed vond. Dat plaatje was uitgebracht op Blackbean & Placenta Records. Daar stuurde ik dus ook maar een tape heen. Twee maanden later kreeg ik een pakje van Mike Landucci in de brievenbus.
Een paar cd's die hij had uitgebracht en een briefje dat hij heel graag mijn tape op plaat wilde zetten.Toen het album al bij de perserij lag, kreeg ik weer een briefje. Of ik nog vier nummers wilde opsturen voor een EP die hij ook voor promotie-doeleinden kon gebruiken. Ik neem alles zelf op met een viersporen recorder. Sinds kort gebruik ik daarnaast ook een minidisc. Bijvoorbeeld voor de liedjes die op de EP gekomen zijn. Misschien dat het daardoor komt dat de EP wat orkestraler klinkt dan de LP."
Alles zelf geschreven, zelf gespeeld, zelf opgenomen, zelf hoes ontworpen. Veel knip- en plakwerk. Zo gaat dat in deze marge van de rockmuziek die kleinschalig, maar tegelijkertijd mondiaal is. De titel van het album 'Moral Sewer' komt uit de film 'Bad Timing' van Nicolas Roeg met Art Garfunkel in de hoofdrol, vertelt Larz. ,,Garfunkel heeft het daar ergens over een 'physical and moral sewer'. Zoiets schrijf ik dan meteen op. Daar zit wat mij betreft verder niets achter. Het klinkt gewoon goed.
Uiteindelijk leg je toch persoonlijke dingen in de muziek die je maakt. Die muziek is dus in zekere zin je morele wereld. Zoiets."
Zijn muzikale smaak is breed. Van Prince tot Guided By Voices. Van die laatste groep heeft Larz het principe overgenomen dat je een liedje nooit langer moet maken dan noodzakelijk. Als je met één couplet en één refrein alles gezegd hebt, laat het daar dan ook bij. Zo bestaat de zes minuten durende 'minisuite' 'The Solid Gold Web' uit zes verschillende korte delen. ,,Een vorm-experiment waarbij ik in ieder deel de piano anders laat klinken. Veel muzikanten houden een hele plaat lang aan één 'sound' vast. Ik probeer dat juist te doorbreken."
Ook over de zangpartijen heeft Larz uitgesproken ideeën. Vaak zijn ze ondergedompeld in de instrumentatie. Vrijwel onverstaanbaar. Geen gevolg van inferieure opnametechniek, maar een keuze, benadrukt de Hoofddorper. ,,Ik beschouw de zang gewoon als een van de instrumenten. De tekst komt voort uit klanken en gaan meestal helemaal nergens over. Al zit in elk liedje wel één zin die je echt meent. Meestal zijn dat dan liefdesliedjes. Daar gaat het toch eigenlijk altijd over in de popmuziek." Toch nòg een overeenkomst met Ilse DeLange.
local dutch newspaper
1997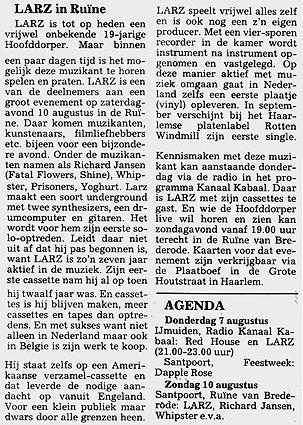 nrc handelsblad
may 7 1997