format: cd / digital
released: october 9 2012
tracklisting
1. convergence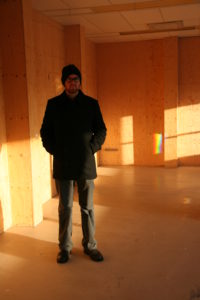 info
The work of Machinist focuses on the synergy between the sonic, the visual and the spatial. To Zeno van den Broek, music and sound do not just move along a chronological axis, as in the procession of resonant waves with respect to linear time. Music and sound also extend into depths or heights and yet other dimensions or perspectives, such as tactile and mental spaces. The focus of his work is the immersive quality of spatiality in sound and vision. As an architectural engineer by trade, the sonic perspectives of Zeno are not only formed by musical blueprints or musicological heritage but are focused on the relation between space and sound. His visual and spatial work includes pieces where sound forms an integral and interwoven aspect, context or extension in and of the artwork as a whole. Next to and independent of the visual-spatial sonic works and performances, he creates (silent) paintings and sculptures, focusing on the experience of space, time and place.
credits
TITLE: Convergence
LOCATION: SMART Project Space Amsterdam
DATE: 19 November 2011
DURATION: 34 minutes
BUILDING BLOCKS: Sine waves, modulated waves, piano
FIELDS: Northern Germany, Southern Netherlands
METHODS: Interference, resonance
EFFECTS ON SPACE: Layered > Expanding
EFFECTS ON TIME: Cyclical > Current
POSTPROCESSING: None
COVER: Convergence painting (2012), mixed media, acrylic paint and pigments on canvas 90 x 70 cm
press quotes
'Confusion for the binary mind: Zeno van den Broek is closing the gap between the visual and the acoustic.'
tokafi
'An exciting discovery for sound fetishists'
kwadratuur
'Our friend Zeno van den Broek keeps outdoing himself, not only as a visual artist, but also in his soundscapes. Convergence has both: excellent cover art displaying one of his mixed media pieces, and music wedding minimal tone pieces to field recordings and drones'
evening of light
'This release is an enjoyable one and is truly recommanded to all fans of adventurous music'
chain d.l.k.
'Een bijna neoklassiek stuk, waar je even buiten het gebouw lijkt te zijn en door de wolken glijdt'
subjectivisten/caleidoscoop
'In the department of mood music, Machinist is certainly an act to watch out for'
vital weekly
reviews
tokafi
february 10 2014
by tobias fischer
Confusion for the binary mind: Zeno van den Broek is closing the gap between the visual and the acoustic.
A recent comment by Thomas Köner – "I don't believe music relates to any other sense but hearing" – made me wonder: Wasn't this a paradoxical statement coming from an artist known for his vast inner spaces of sound? It is almost as though the work of Zeno van den Broek, whose curriculum vitae as a trained architect mirrors that of Köner's background in video editing, closes the gap. To van den Broek, our traditional perception of the senses fails to take into account that our eyes and ears are merely gateways into a complex web of neurons and synapses, in which the visual and acoustic are two of a kind. After an early phase spent building massive walls of noise, the current phase of his Machinist project has shifted towards more subtle operations and expressive constructs like 'silent paintings' or 'liquified architecture'. Convergence sees his approach in full flow. The first half of the thirty-three minute piece opens with a rhythmically repeated signature building block of Western music: The note C played on a piano. Gradually, sine waves rise from the silence in between two tones like ghost harmonics, then wash over the framework until it is gone. Almost exactly at the halfway mark, the procedure is repeated, this time, conversely, with a deep field recording of a beach scene being gradually infiltrated by tender piano sounds. The abstract and the concrete are perfectly equal here and one could certainly see these events as a meditation on the mantra that everything is music. More profoundly, however, they're confusion for the binary mind, which can never quite decide whether it is listening to a painting or looking at a musical performance. The ambiguity, meanwhile, is purely one of terminology. Deep within the sounds, the truth is clear.
kwadratuur
february 22 2013
by johan giglot
2,5 / 5
Vanaf het ogenblik dat muziek gemaakt werd, zijn meteen ook esthetische grenzen ontstaan over die muziek. Tegelijkertijd begonnen artiesten die grenzen ook te betasten en te verschuiven. Met name in het genre van minimale ambientmuziek, wordt duchtig geëxperimenteerd met voor een breed publiek moeilijk te tolereren geluidscreaties. De Nederlander Zeno van den Broek of Machinist focust op de synergie tussen klank, beeld en ruimte en durft daarbij chronologie en logische structuur al eens te verwaarlozen. Geluid, dimensie en perspectief zijn termen die beter omschrijven wat op zijn nieuw werk, 'Convergence' kan beleefd worden.
Het is niet eenvoudig om de geluidsdrager 'Convergence' dus los te koppelen van zijn visuele omkadering: een cover met een duister en abstract, eigengemaakt schilderij dat op de promoversie in een volledige A4 is meegegeven.
Het muzikale luik bestaat uit een enkele track van een dik halfuur waarin langzame evolutie en verschillende verhaalfacetten centraal staan. De eerste periode draait voornamelijk om een enkele pianonoot die in een vaste herhaling wordt aangeslagen en lang blijft nazinderen en zoemen. De verbeeldingskracht van de luisteraar helpt de naklank om te toveren tot trage bewegingspulsen en nevenklanken. Na een vijftal minuten verdwijnt de aanslag en rest slechts een snorrende, penetrante toon met kil gillende achtergrondeffecten. Een langzame draaibeweging tovert een nieuwe grondkleur tevoorschijn, die de monotonie van dit verhaal geen moment aanvalt.
Op een organische manier gaat Machinist op zoek naar verschillende dimensies binnen een minimalistisch kader. Een diep donkerblauwe doezelnoot groeit op tegen een achtergrond van ratelende klanken en verduistert nog meer tot een zoemtoon van een hoog overvliegend vliegtuig in een vibrerende zomerlucht. De onrust op de achtergrond neemt toe. Krakende geluiden, echoënde slagen op de klankkast en druppeltoetsen die klinken als douchegeluiden prikkelen de verbeeldingskracht. Een basistoon op een irritante drilboorfrequentie blijft echter voor auditieve ellende zorgen.
Halfweg vervalt de excursie terug in de herhaaldelijk aangeslagen piano, maar komen daar veldopnamen van bizar gekraak, een regenvlaag en waaiende bomen bij. De stortbui houdt aan en vervaagt de mechanische muziek. Een verre golfslag en een enkele meeuwenkreet resteert, naast het onophoudelijk watergedruis. Acht minuten voor afloop komt opnieuw een hoge pianotoets kijken en treedt wat zoem in. Zowel oorzaak, reden als betekenis hiervan blijft echter een groot raadsel.
'Convergence' is een uiterst abstracte belevingsplaat. Meestal presenteert Convergence zijn klankreis als een boeiende ontdekkingstocht voor geluidsfetisjisten. Bij momenten wordt het echter wat te zwaar en minimalistisch, klinkt het ronduit irritant en roept de artiest net wat te veel vraagtekens op. Dat alles maakt van dit album erg zware kost, de release beperkt zich dan ook bewust tot slechts honderd volgers.
evening of light
december 31 2012
Our friend Zeno van den Broek keeps outdoing himself, not only as a visual artist, but also in his soundscapes. Convergence has both: excellent cover art displaying one of his mixed media pieces, and music wedding minimal tone pieces to field recordings and drones.
chain d.l.k.
december 6 2012
by andrea piran
4,5 / 5
Machinist is the alias of Zeno van den Broek, an artist working both in the field of the audio and the visual field. The challenge of this kind of art is the convergence of distinct field as the spatial one (visual) and the temporal one (audio) in a quiet coherent vision. The path chosen is an audio construction that resemble the open, and dark, spaces created in his visual output.
This piece start with a quiet drone, created with piano recordings, that lasts until the modulated waves begin to create a dreamy atmosphere that last until the pure sine waves set the canvas for the return of the piano and the introduction of the field recordings that lasts until a piano, or quiet sinewaves, gently take the listener to the end of the piece.
This release is an enjoyable one and is truly recommanded to all fans of adventurous music.
subjectivisten/caleidoscoop
november 23 2012
by jan willem broek
Een nieuwe release op het immer spannende en avontuurlijke Narrominded is altijd iets om even voor te gaan zitten. Het is iedere keer weer een verrassing wat ze brengen; splijtende noise, ambient of misschien toch zwaar experimentele muziek, het is allemaal mogelijk. Van alle alternatieve markten thuis, loopt Narrominded als een goed geoliede trein. Krijgen ze er nu warempel ook een Machinist bij. Dit is het project van de Rotterdamse muzikant en kunstenaar Zeno van den Broek, die altijd op zoek is naar de synergie tussen het hoorbare, het zichtbare en het ruimtelijke. Dat is hem mede ingegeven door zijn opleiding tot architect, waarbij de eigen inbreng natuurlijk net zo belangrijk is. In samenwerking met het label Betontoon, waarop Machinist ook al enkele releases heeft uitgebracht, brengen ze nu de cd Convergence uit. Machinist maakt al sinds 2006 muziek, die ergens tussen experimentele muziek, ambient, noise, industrial en drones uitkomt en naast Betontoon verschijnt op labels als Moving Furniture en Heilskabaal of gewoon in eigen beheer wordt uitgebracht. Maar wat Zeno ook maakt, het is altijd met een bijzondere bijzonder en met een haast 3D luisterervaring. Op Of What Once Was weet hij bijvoorbeeld met één toon een diepgravend complex werk te maken. Hij is wat dat betreft muziek voor gevorderden. Ik bedoel hiermee vooral te zeggen dat, ondanks velen zijn muziek niet zullen kennen, het meer dan moeite waard is om eens te verkennen.
Helemaal een verkenningstocht is de cd Convergence, ofwel "convergentie". Hoewel het helemaal van de context afhangt hoe je deze term, die letterlijk samenkomen in één punt betekent, wilt duiden, zou je het op deze live opgenomen album op tweeërlei wijze uit kunnen leggen. Ten eerste heb je een publiek dat op één punt samenkomt en ten tweede zou je het uit kunnen leggen als het brengen van perspectief, diepgang waarbij alle lijnen naar één punt lopen. Maar je kunt dit ook allemaal vergeten en gewoon gaan luisteren, want wat Zeno hier brengt valt eigenlijk nauwelijks onder woorden te brengen. De 34 minuten durende track, want dat is hetgeen je hier geserveerd krijgt, start op ambientachtige wijze, zij het dat het geluid bestaat uit een enkele aanslag op de pianotoets gelardeerd met elektronische effecten. Die pulse die daaruit volgt houdt een tijd aan en neemt je van het startpunt een heel eind mee een bepaalde etage van een zeker gebouw in. Zeker met de koptelefoon op levert die een prachtig ruimtelijk effect op, waarbij je het geluid haast vergeet. Op het moment dat je het geluid begint los te laten, voegt Zeno nieuwe geluiden toe via de toetsen met nieuwe pulsen tot gevolg. Het is alsof je eenzelfde ruimte doorgaat maar dan via de lift op een andere etage. Die gelaagdheid zet zich zo even voort, hetgeen fascinerend is. Op een gegeven moment komen er ook meer noisegeluiden bij, waarbij je het gevoel hebt dat je niet meer met de lift gaat maar gewoon dwars door het plafond. Ik bedoel dit alles overigens niet als een psychedelische trip, maar puur als het ruimtelijke effect en richting van het geluid dat je zo lijkt te ervaren. Naarmate de track vordert hoor je meer geluiden tot er even rust komt. Een bijna neoklassiek stuk, waar je even buiten het gebouw lijkt te zijn en door de wolken glijdt. Dan ineens tegen het einde krijg je een elektronische waterval met stemmen en natuurgeluiden. Hier lijkt het of je door alles heen weer terugvalt naar de onderste etage. De cd eindigt dan ook zoals deze is begonnen. Een verbluffend, ongekend hoorspel!
vital weekly
november 6 2012
by fdw
Perhaps a bit surprising to see Machinist on Narrominded, but maybe it's my narromindedness to think otherwise. Machinist, Dutch composer Zeno van den Broek, sounds like Machinefabriek, in name and sometimes a bit in music. His earlier works were dark ambient industrial musical nightmares of extended tones, but in more recent times – this particular work is a live recording from November last year – it opened up a bit more and we are able to recognize some other instruments. 'Convergence' opens with a piano sound, which slowly evolves into subtle, multi-layered drones and field recordings of an obscure nature. A very intense first half. Then the piano returns and moves into the second half of the piece, which is more based on field recordings, of sea gulls and sea sounds. It's perhaps a bit of lesser part this one, which sounds too easily with just these sounds and bass thump, slowly pounding away. Only when the drones return and the piano, now in a higher range on the keyboard the piece gets some of the tension of the first half back. It ends with a solemn slow drone. Overall I thought this was a very good piece, with only one bit being lesser interesting. I don't hear something that I may not have heard before, that much is also true here, but in the department of mood music, Machinist is certainly an act to watch out for, and though not as prolific as Machinefabriek, certainly a highly collectible one.