format: cd (sold out) / digital
released: september 14 2012
tracklisting
1. zit je lekker in je vel?
2. nadenken
3. wat jij wil
4. bepaal jij dat?
5. rooie dwaas
6. elke dag
7. intermezzo
8. rooie waas
9. werk maakt sterk
10. ik wil meer
11. jouw mening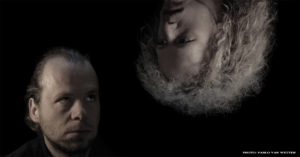 info
Rooie Waas is a electronic band formed in 2011 by the Dutch vocalist Gijs Borstlap and Finnish musician Mikael Szafirowski. Gijs and Mikael are both engaged as artists in surveying the boundaries between different genres of music and the limits of music itself. Their collaboration resulted in the album Het is maar een constatering, an immersion into the depths of sound and language. Repetition, slight nuances in intonation evoke what is in essence poetry in a mass of sound and syllables. The music consists of gestures in sound, or noise, organized in a manner closely related to more traditional pop-genres.
[youtube https://www.youtube.com/watch?v=40Vys91tfTY]
[youtube https://www.youtube.com/watch?v=_iPaiaj-9Fw]
[youtube https://www.youtube.com/watch?v=C5DywbRpS_A]
press downloads
hi-res image of cover
press release (dutch)
reviews
kaptein's fixmeister amsterdam
january 22 2013
To kick off in our category about music, i wanna introduce you to Rooie Waas.
Two Amsterdam bikemessengers are the red line in this project band. They are also good friends of mine and i love this music.
This band's base of the music is electronical. home made noise synths, drum computer; and the lyrics very theatrical-dramatic-ironic, stuff you would'nt wanna wake up to, still in combination with the music very acceptable. you might wonder what the deeper meaning is… the answeres are very simple, simpler than you might think.
The coolest thing about Rooie Waas is the setup of the band. its pretty groundbreaking IMO. People like Mike Patton have a lot of projects and those projects have the same members, at least for a while. This band has Hatti and Gizmo as the constant members, without them there is no rooie waas. Gizmo moaning and Hatti grinding his guitar, or both on their noisebeepers… The additional members are changing all the time. They have Master impro/Knalpot drummer Gerri Jaeger on the electric drums, or maybe his apprentice. Gerri does some impro to the songs wich makes it an experience, and his apprentice is tight like a tiger, so the music sounds like the album. Also the additional synthesizer is sometimes replaced by two impro saxophone players. All in all the whole band and all its members are probably the best musicians of the near future! That's because of the anarchistic impro background.
Every gig is slightly different from the time before, so worth checking them out many times!
kwadratuur
january 13 2013
by johan giglot
Narrominded maakte al eerder de overstap van creatieve elektronica naar mathematische rock, van softe droomcreaties naar keiharde gitaarconstructies. Met Rooie Waas zet het Nederlandse label nog een stap verder. Gijs Borstlap en Mikael Szafrowski hebben twee zelfbouwsynthesizers in elkaar geknutseld die een satanische stemvervorming, overstuurde klanken en mokerende industrialbeats produceren. Met die nogal luidruchtige ingrediënten componeren beide heren wat ze zelf noemen "Nederlandstalige meezingers". 'Het Is Maar een Constatering' is dus een morbide doe-het-zelf noiseplaat die eerder alledaagse popliedjes onherkenbaar verminkt.
Op één of andere manier werkt die unieke chemie wel. Het gesproken, gescandeer of schor geschreeuwd Nederlands, de knallende beats en mysterieuze, mechanische klanken doen wat denken aan de avantgardistische new wavecreaties van het Vlaamse Arbeit Adelt van de jaren '80. Rooie Waas is enkel een stuk extremer. De pulserende toetsen, vervormde breakbeats en fluisterstem van Borstlap die samen stevig in het rood versterkt worden, zorgen voor een bijzonder bonkend geheel in 'Bepaal Jij Dat?'.
Gemakkelijk of toegankelijk klinkt dit niet, intrigerend eerder wel. De weird sound generator en de cacophonator (de twee zelfgebouwde elektronische apparaten) produceren vuile, schimmige geluiden die in een winderig 'Intermezzo' tussenin even helemaal op de voorgrond komen, alvorens het hoogtepunt van dit album, de titeltrack, wordt ingezet. Slaande hiphopbreaks, schuimbekkende raps en de ruisende, krakende vervorming zorgen voor een woedende scheldtirade en opperste razernij ("Zet die kutmuziek uit. Ik hoef dit niet te horen! "): emotie ten top.
Rooie Waas presenteert serieus confronterende muziek. Titels als 'Zit Je Lekker in Je Vel', 'Wat Wil Jij' of 'Jouw Mening' openen de deur naar dialoog en discussie. Verpakt in abstracte industriële creaties zorgt dat voor een erg expliciet geheel. Dat het instrumentale kader daarbij niet altijd hoeft te overdonderen, blijkt. Zweepslagbeats en vaag piepende en kriepende geluiden vullen de vele stiltemomenten aan in de middelste track, waardoor de steeds herhaalde frasen: "Elke dag is een nieuwe dag", "Elke dag is hetzelfde", "Een nieuw begin" en "Vrees" stevig blijven nazinderen als een soort van dwangneurose.
Wat in bijdragen als deze erg opvalt, is dat 'Het Is Maar een Constatering' vol ritmiek en geluiden zit, maar nooit echt melodieën aanboort – iets wat overigens geen seconde als een gemis ervaren wordt. Puur en power zijn de codewoorden. Naarmate de plaat vordert, komen die ook meer en meer aan de oppervlakte doordat zowel ruis als het aantal beats per minute toenemen. Het album klimt gedurende elf tracks op naar chaos, die in een stampend 'Ik Wil Meer', waarbij de titel gelijklopend met de beat tientallen keren herhaald wordt, een hoogtepunt kent.
Narrominded heeft met deze release opnieuw gescoord. De zestigste release van het label is er eentje die zijn intrede niet zal missen. 'Het Is Maar een Constatering' is keihard en onderhuids toch ook heel erg mooi. De inspiratie die dit Amsterdamse duo zou geput hebben uit de clip 'Jazz (We've Got) & Buggin' Out' van A Tribe Called Quest is ver zoek, maar wie het podium durft te delen met een artiest die zich Dj Reggie Satanas noemt, hoeft zich niet te verantwoorden.
revolver's lust for life #26
november 2012
by peter bruyn
Of er dit jaar een dwarser Nederlands popalbum verschijnt dan Rooie Waas, daar kun je nog over discussiëren. Maar als er in 2012 een eigenzinniger Nederlandstalige plaat gemaakt is, dan eet ik het fietszadel van mijn buurman op. Rooie Waas is het duo van tekstenmaker en muzikant Gijs Borstlap en de Finse gitarist/componist Jan Mikael Szafirowski. Zij produceren een bak elektronische noise neer die al met het werk van Nine Inch Nails en Atari Teenage Riot vergeleken is. Daar overheen fluistert, zucht en schreeuwt Borstlap zijn bizarre teksten. Heel kort door de bocht zou je het een techno-tegenhanger van de Raggende Manne kunnen noemen. Maar dan niet de makkelijk scorende Manne van 'Je stinkt uit je bek, etc', maar Fosko op z'n subtielere momenten. Borstlap 'sampelt' als het ware doodnormale, bijna betekenisloze stopzinnetjes als 'Wat jij wil' en 'Dat is jouw mening', die door herhaling uitvergroot hilarisch worden. Uniek album!
indie indie
october 19 2012
by ruben braeken
Een recensie van een Nederlandstalige plaat op INDIE INDIE, dat is toch zo schaars als de morele verantwoordelijkheid van Fred Teeven? Het Is Maar Een Constatering van het hoofdstedelijk Rooie Waas is de onvermijdelijke uitzondering die 'onze' taal meer dan recht doet. Deze satansbaby van Gijs Borstlap en Mikael Szafirowski dendert met haar elektronische kakofonie over je heen als een bataljon Thaise jongetjes. Sommigen zullen meteen aan de noise van Wolf Eyes denken, gestuwd door loodzware industriële ritmes van Laibach en Consolidated; het geluid valt beter te omschrijven als een brandende poppenwagen die je kutwerk binnenrijdt (om een bekende ezel-liefhebber te parafraseren). Niet in de laatste plaats door de pijnlijk herkenbare teksten, die het onbehagen in onze cultuur maar al te goed verwoorden. Egoïsme, verlangen, sleur, ambitie; thema's die ons dagelijks bestaan tot een volslagen absurd geheel maken, weet Borstlap met weinig woorden maar al te doeltreffend neer te zetten. Wie verliest er nou niet zijn beheersing door het stupide gedrag van anderen ("Denk je nou dat ik eeuwig de tijd heb en wachten blijf/twee minuten die ik nooit meer terugkrijg/KUTWIJF!" in hoogtepunt "Rooie Waas"), of het absolute eigen gelijk ("Zit je lekker in je vel", de "Kom van dat dak af" van de huidige generatie). Een nieuwe muzikale mijlpaal in ons verkankerde rotlandje.
sounds tilburg
ocotober 4 2012
Ooit benieuwd geweest wat je krijgt als je Nine Inch Nails kruist met De Raggende Mannen en een noise-generator op 120dB? De uitkomst heeft even op zich laten wachten, maar met de release van het debuut van Rooie Waas is het antwoord nu eindelijk bekend. Een van de betere Nederlandstalige releases van dit moment, met heerlijke, nonconformistische industrial noisepunk. Wil je het horen, dan bekijkt u de onderstaande video. Let wel, doe dat niet wanneer u epileptisch bent!
NOGMAALS: NIET DOEN WANNEER U EPILEPTISCH BENT!
subjectivisten/caleidoscoop
september 27 2012
by jan willem broek
Het geweldige Nederlandse Narrominded label, met de meest tegenstrijdige naam ooit, komt nu weer met een release die enkel geschikt is voor mensen met een open mind. Na diverse innovatieve elektronica, ambient en gitaaracts is de tijd nu rijp voor Rooie Waas uit Amsterdam. Geen rooie waas voor je ogen, geen rooie waas door de hallucinerende middelen, geen rooie waas met linkse hobby's, maar een rooie waas door het muzikale spectrum. Gijs Borstlap is de hoofdverantwoordelijke en brengt op het debuut Het Is Maar Een Constatering elektronische noise met behulp van cacophonator, weird sound generator, monotron, gitaar en zang. Hij wordt bijgestaan door de Finse artiest JM Szafirowski, die ook terug te vinden is in de Royal Improvisers Orchestra. Borstlap brengt hiernaast ook Nederlandstalige zang, half zang, geschreeuw en rap, maar dan wel door een gehaktmolen gehaald en met een muzikale omlijsting die er mag wezen. Deze bestaat namelijk uit de lompe beats van de oude Laibach, gruizige elektronica die lijken op Atari Teenage Riot aan de ritalin en het monotone, zielloze gebeuk van de vroegere Swans gegoten in een elektronische mal. Tel daar nog de bevreemdende teksten van Claw Boys Claw en de Raggende Manne bij op en je komt op een volwassen, leukere en veel betere De Jeugd Van Tegenwoordig voor ver gevorderden uit. Eerlijk gezegd gaat die laatste vergelijking niet helemaal op, alleen weet Rooie Waas wel een nieuw en origineel geluid aan de dag te leggen. Geen concessies, maar gewoon gaan. Dat pakt geweldig uit en geeft een nieuwe dimensie aan Nederlandstalige muziek, waar velen groen van jaloezie zullen worden. Sja, het is maar een constatering, dus overtuig jezelf gewoon via onderstaande link. Grote klasse!
vital weekly
september 11 2012
by fdw
'Red Glow' is what Rooie Waas means, and its not the only Dutch element of this release. In fact all of it is in Dutch. Rooie Waas is a duo of Gijs Borstlap, who released the album Quasi Quasi with Kruno Jost, and Mikael Szafrowski, of the Royal Improvisers Orchestra. They play such instruments as cacophonator, weird sound generator, monotron, vocals and guitar, and one of these instruments is responsible for the drums/rhythmic part that plays such a strong role in these songs. All of the eleven pieces are sung in Dutch, and while I love this language, I never liked it that much when sung in it (with a few very personal exceptions of course). The label says this is music for a bigger audience, and for once the label might be right. I can imagine Rooie Waas in a room, singing 'Wat Jij Wil' and the audience singing a long.Its loud, forceful music, think Swans or Laibach, with a storm of electricity from their self built synthesizers. Given the right promotional push (which isn't sending a copy to Vital Weekly mind you), Rooie Waas might be a big band. I see them in DWDD (if you're not Dutch this means fuck all, but never mind, I think I lost you when I said this was in Dutch anyway) as a true curiosity act which the big audience might just understand. Which brings me to the main question: do I like this? Mwah, yes and no. I like the music, I like the idea and see what they are trying to achieve in a niche of their own, but does it mean I will play it easily again? Perhaps not. But should they be in town, I might as well have a look.