format: lp + cd-r / digital
released march 19 2002
tracklisting
side one
1.living ornaments – mitella
2.your favorite horse – v
3.orphax – glass
4.sencha – that dream all of the time
5.garçon taupe – slaak
6.bedouin ascent – hoopskee
side two
7.larz – tempered width
8.pete namlook – pixelconference
9.duplo remote – tramampoline
10.hydrus – engineering future
11.psychon troopers – sacrificial lamb
cd-r
1.psychon troopers – roseland, october 3rd
2.sencha – chrome autumn roadside
3.hydrus – flog
4.orphax – then
5.larz – lesson should rain
6.living ornaments – klonkool
7.scraper – ripple
8.garçon taupe & larz – sloe
9.garçon taupe – 2.as3d (remix by larz)
10.hydrus – in obscura
11.psychon troopers – trailers and spoilers
12.garçon taupe – nux
13.living ornaments – speeksel
info
The tenth release on Narrominded has only been released on vinyl and comes with a free cd-r with extra music. The vinyl contains a mixture of new electronic music from the Netherlands alongside tracks by international artists, like Duplo Remote (uk), Bedouin Ascent (uk) and Pete Namlook (ger). The idea behind the compilation is the merging of different approaches and directions in new experimental electronic, ambient and IDM music, with an emphasis on Dutch electronica. The free bonus cd-r contains extra music by the Dutch artist from the Narrominded-roster.
press downloads
hi-res image of cover
press release (english)
press release (dutch)
on the radio
july 8 2004
Glass by Orphax played on John Peel, BBC Radio 1
july 7 2004
Mitella by Living Ornaments played on John Peel, BBC Radio 1
reviews
the vibes
october 2003
by vito
calix-nach-laut electronica
Non ci pare essere puro geometrismo sonoro quello proposto da questa label olandese fai-da-te, la Narrominded, nata come tape-label (allora si chiamava Narrow-Minded, ironica denominazione dato che letteralmente l'espressione designa colui che è "ristretto di idee") per opera di Lars Meijer e Coen Pollack. Considerando i riferimenti artistici e musicali (Pete Namlook, Prince, Sun Ra , Robert Pollard) e il costante riferimento a tutto ciò che svetta (di organico ed inorganico) o emerge nelle gallerie fotografiche presenti nel sito ufficiale (dalle spighe di grano alle ciminiere di un impianto di cogenerazione, da ellebore ad associazioni calcaree), l'intento sembra potersi individuare nella rappresentazione / esplorazione / discernimento delle altezze. L'altezza. Qui rievocata in tutta l'obliquità di un panorama urbano o industriale in contrasto con l'(apparente) ordine della medesima dimensione in termini epigonicamente organici. Rimangono solo alla soglia di un senso di fuga, scandito beat per beat, click per click. Questa è solo una possibile interpretazione dell'aggregato sonoro di questo doppio cd. Stilisticamente le varie formazioni presenti oscillano tra harsch electronica, metasinfonie, musica orchestrale, space rock e derivati della "kosmiche musik" di Klaus Schultze, ma soprattutto della musica "discreta" di Brian Eno -un riferimento alla macchina che Eno inventò alimentata da acqua piovana (!) lo si trova in Lesson Should Rain dei Larz così come nel simbolismo "evangelico" di Psychon Troopers: in Sacrificial Lamb, il brano più referenziale dei PT vi è come una sorta di traposizione simbolica in cui la figura dell'agnello sacrificale confluisce nella presa di coscienza di una "voce-persona". Niente a che fare -fortunatamente- con Intelligence and Sacrifice di Alec Empire, dato che nelle sonorità e nella modulazione dell'ignoto speaker vi è sicuramente più afflato, rispetto al disfattismo bieco (solo) espresso dell'ex Atari Teenage Riot; in Roseland, 3rd October, volendo seguire la stessa linea interpretativa (e non facendo caso alla strana coincidenza che in data odierna -oggi è 3 ottobre- si svolge presso il Roseland Theatre di Portland, un concerto di una star del pop-country americano -Shelby Lynne-, che ha avuto il coraggio di intitolare il suo disco Identity Crisis!), ricorre il tema del sacrificio-festa: provate a scrivere in cifre la data a cui si fa riferimento e il mese in numeri romani, dopo aver ascoltato il brano e potreste immaginarvi la scena del Golgota, che presuntamente ebbe luogo circa duemila anni fa. Oltre a presenze illustri – Pete Namlook (papà del progetto FAX, maestro della "ambient seriale"; in Pixelconference, vi stimolerà l'immaginazione con un audiofoam di effetti crepuscolari e avvolgenti), il progetto Duplo Remote (split di casa Fat Cat, fulgido esperimento di ionizizzazione breakcore) e l'inglese Bedouin Ascent (Rising High, No Immortal)-, numerosi sono i progetti davvero sconosciuti. A partire dai vari progetti, firmati dai fondatori della Narrominded. Inascoltabile persino per noi avvezzi a qualsiasi sonorità Your Favourite Horse: in V si susseguono stridori a suoni ultrasaturi che lancinano le coclee… avete mai provato ad avvicinare un microfono ad una cassa acustica? Identico effetto piuttosto molesto all'ascolto. Molto meglio tutto il resto. Living Ornaments (a-sinfonie rese con microclick, layer di chitarre vaporose, miasmi di pianoforte ultramanipolato) è il progetto di Lars e Coen, che intrecciano gli elementi delle loro struttura in maniera tanto oscura da aver deciso di intitolare i loro brani con le parole più insensate del vocabolario olandese(!) -klonkool dovrebbe significare "clone di cavolo", mentre speeksel dovrebbe equivalere alla saliva, ma mitella… Piacevoli il coagulato (strano, ma vero) di semiminime al pianoforte, esperimenti vocali e abrasioni ritmiche che sfociano in un'astratta sindesi melodica proposte da Larz, giovane virgulto della famiglia Narrominded, le sperimentazioni con chitarra e campionatore di accelera deck (molto aphextwin-inspired), gli esperimenti di Hydrus (giovane studente di "sonologia" del conservatorio reale di le Hague) e le obliquità del progetto Orphax.
haarlems dagblad
december 14 2002
by peter bruyn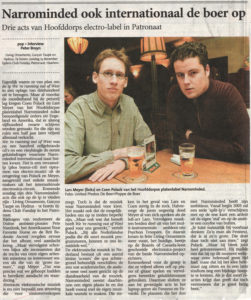 absorb
august 5 2002
by 3818919/w
tenth release by dutch label narrominded, this double cd compilation comprises 24 electronic tracks by relatively unheard dutch artists such as sencha, orphax and psychon troopers. cd2 is a bonus cd, those of you having bought the vinyl version of this will definitely be cursing yourselves. bolstering the artist lineup are bedouin ascent and pete namlook, making this a bit more of a european compilation than just dutch. bedouin ascent offering 'hoopskee' feels a little aged, but that's understandable as it originates from the first half of the nineties – and still comes across well, regardless of it's age. there are plenty of quirky oddities here on cd1 – larz's 'tempered width' engages with a neat little ethereal vocal sample and raises a smile, while pete namlooks' contribution 'pixelconference' is a stern experiment in granular synthesis – a forboding seven minutes of noise (from his new organic life series apparently). duplo remote (occasional fatcat contributor) throws us a swaying, staggering jungle mash-up with 'tramampoline' (simpson fans out there will spot the title reference) followed by hydrus' quality filler material 'engineering future'. similar material is provided at the end of cd1 with pyschon troopers' 'sacrificial lamb' and though somewhat stuck in time, is instantly likeable warm, evolving electronica. great to work to, it has to be mentioned! there are occasional tracks which fail to live upto the mark, and 'though hydrus' 'flog' on cd2 is nicely crafted, one can't help noticing the staple electronic beat/zap percussion which seems somewhat tried and tested. larz's 'lesson should rain' also comes across a little basically – though it is a quirky track, perhaps too flat on the production side. things get a little more industrial with living ornaments' 'klonkool' – a harsh, mechanical piece which breaks into stride at the halfway point. hydrus ups things again to running pace with his final contribution to the compilation – the pretty awesome 'in obscura'. must have tested a few speakers back in holland, i'm sure. track of the album? senchas' awesome 'chrome autumn roadside' back at two on cd2 is the track for me. ear-curlingly raw analog funk is topped with a gorgeous electronic synth line and synthstrings which well up as the track evolves. it is so similar to a gescom track template, but i really don't give a shit – it's just gorgeous. sencha being an artist to watch out for, i 'd say. 'we're running out of west' is an extremely amiable compilation with plenty of quality pieces from some relatively unknown artists – and they certainly deserve your attention. i'll be coming back to this compilation for sure. oh, ja.
gonzo circus
july 2002
by jan willem broek
You must be open minded if you call yourself 'narrominded'. The label from the Netherlands focuses on new electronic music and doesn't care, looking at its releases, about the fame of the artists. And that gives them one step ahead. Their compilation 'We're Running out of West', an lp + free cd-r of extra music, of Dutch artists, also pinpoints that thought. Dutch and international artists, known and unknown, give their best shot on this great initiative. The names on the lp are Living Ornaments, Your Favorite Horse (a new incarnation of Accelera Deck), Orphax, Sencha, Garcon Taupe, Bedouin Ascent, Larz, Pete Namlook (who becomes more and more like Muslimgauze, seen his great productivity), Duplo Remote, Hydrus and finally Psychon Troopers. From warm, woolly beats to icy soundpatterns and sultry ambient to ruthless pounding beats if mixed with avantgarde or acoustic sounds/instruments. When listening you will find the intelligent architecture from Autechre, the playfulness of Aphex Twin, the brashness of Atari Teenage Riot and the unwieldy of Techno Animal, without the bands losing their own identity. And while almost recovered from all this renewing beauty, the cd-r also gives a load of innovative music. This knows a more cinematic, mystical strain and is a least so beautiful as its vinyl motherrecord. The exclusive Dutch bands show that Narrominded has got both ear and eye for artists of worldstature. The contributions come from Psychon Troopers, Sencha, Hydrus, Orphax, Larz, Living Ornaments and Garcon Taupe, the most of them offering more than one track. For the dreamers among us the cd-r might even be a little more be beautiful than the lp. For the adventurous listener the lp is more diverse. But for both goes: enervating and cinematic, smart and funny and farreaching, very far from the 'poldermodel'. The world must hear this!
boomkat
july 17 2002
Nice project, combining some names with auspicious history behind them, Pete Namlook, Bedouin Ascent, Duplo Remote through to some excellent asounding newcomers to this writer. Living Ornaments and Sencha entirely convince with their Boardsish lambent, floating melodies and tweaked, splashing crunch , while the sublime "Glass" by Orphax could have been plucked from unreleased Aphex tapes around the time of Ambient Works Volume 1. Hydrus on "Engineering Future" really appear to be messing with the applied rhythmic technologies, shaping sound in a way that develops and forces the mind and body into total assent. With an entire bonus 13 tracks on the accompanying compact disc from the same roster of artists, there's plenty to discover, surprise and delight here.
vuile toon / 3voor12
june 11 2002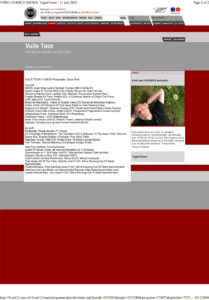 cut-up
may 10 2002
by wim van den herik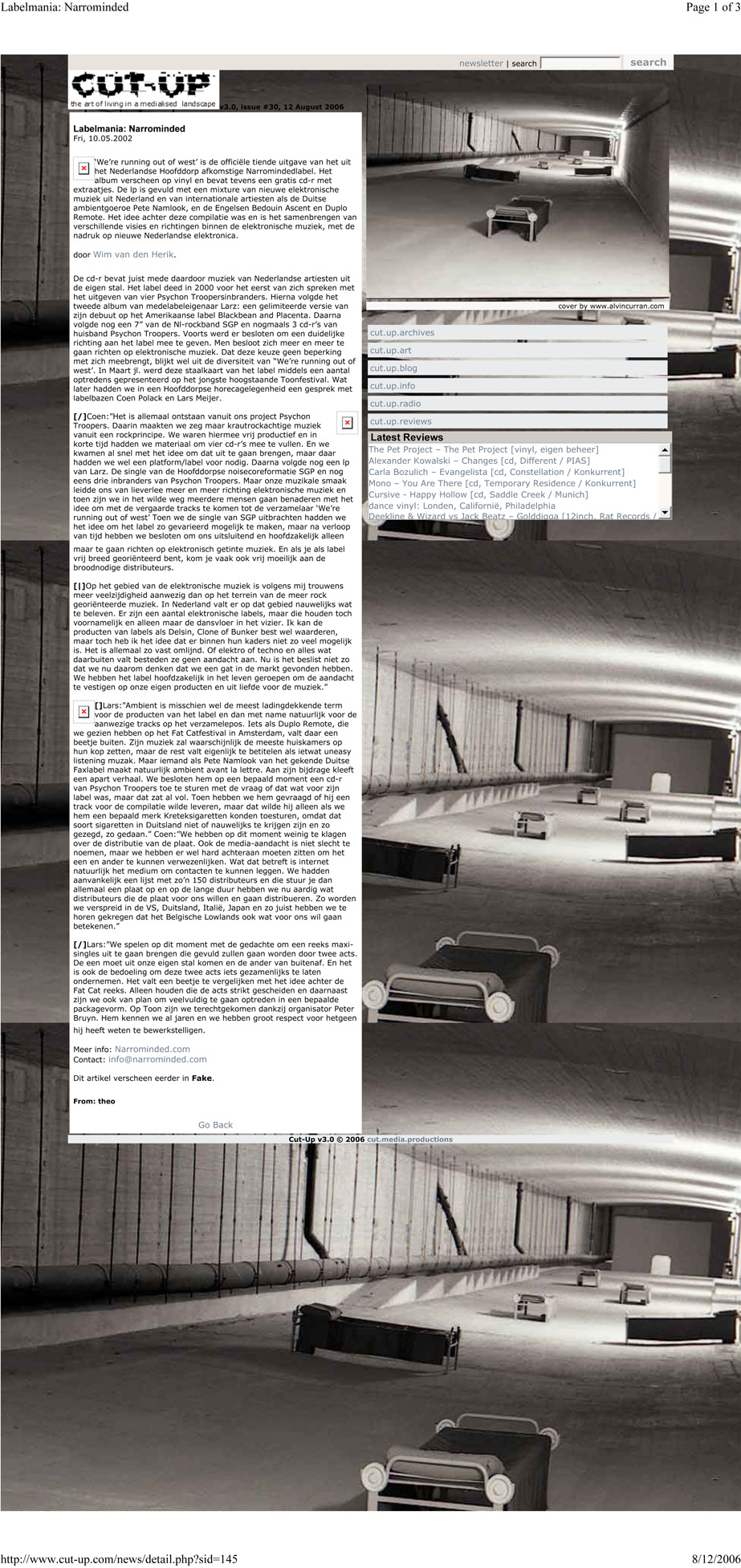 fret
may 1 2002
by ruud lekx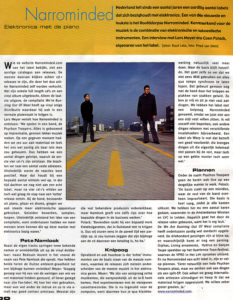 fret
april 2 2002
by gert verbeek
The small label Narrominded from Hoofddorp handles things big. Not only is this compilation released on vinyl (including free cd-r), it also has an international character thanks to contributions by Your Favorite Horse (formerly knwon as Accelera Deck), Bedouin Ascent, Duplo Remote and Pete Namlook. Experiment is important and so the clicks, cuts, glitches and white noise are flying out of your speakers. They surround minimal sequencerloops, ambientchords, varied agressive and subsonic basslines and mechanical rhythmpatterns. Sharpness and chillness go hand in hand with round, warm sounds. The participating musicians deal with the heritage of Aphex Twin and Autechre in their own way which leads to mostly dark tracks. Only Garçon Taupe keeps it airy in his jumpy contributions filled with simplistic melodies. The ambient of Orphax and the soundtracks of Narrominded stableband Psychon Troopers take care of the needed pauses. More suited for on the headphone than the dancefloor, although Hydrus makes it very hard to stand still.
vital weekly
march 22 2002
by frans de waard
Narrominded are a new label from The Netherlands, and let's hope they don't live up to their name. Their first release is a LP and CDR in one package. Most of the artists appear on it, save for a few. In their selection, Narrominded have been anything but narrow minded. All of the music can be classified as electronic, and most of them with a rhythm twitch, but the differences are in the details. From technoid rhythms, to the more breatbeak styled ones and various slow rhythm/ambient works (Oprphax for instance operates without rhythms on his piece 'Then'). The artists included here are unknown ones, probably the guys that run the label (or at least share the e-mail address from the label), such as Sencha, Larz, Living Ornaments and Psychon Troopers. The most known names, at least for me, were Bedouin Ascent and Pete Namlook (incidentely also not on the CDR part). It's probably these names that will attract a few buyers to get this, but you'll find also great music by others that are not yet well-known. Great new electronica label from The Netherlands and hopefully bringing more goodies in the future.
fake
march 8 2002
by onno
Fine pattern-card from quite fresh label out of the Noord-Holland dormitory town Hoofddorp. It reminds me a little of the most products from the Rotterdam-based Clone label (the inevitable Autechre link), but after all: you must get your musical mustard from somewhere. The local matadors can measure themselves abundantly with the tracks from the for this compilation recruited greatnesses like Pete Namlook or Bedouin Ascent.