format: cd-r + dvd-r / digital
released: february 1 2008
tracklisting
1.delve
2.side view
3.sunlit
4.telluric
5.three-phase
6.quartz
7.structure
8.opin pt. 2
9.pre-text
10.lambda
11.surface
12.flux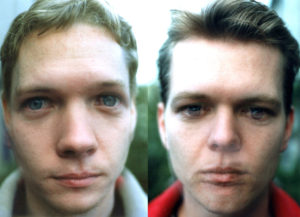 info
Amsterdam sonologists Herman Wilken and Almer Lücke are Hydrus. They met at the Royal Conservatory in The Hague. Both of them played in rock bands, but are equally adept at stochastic composition and programming extremely tight rhythms. Production-wise, these guys can easily live up to the greats in the IDM genre. After an installment in Narrominded's Split LP Series and the Postcards EP, this is Hydrus' first full length effort. Hydrus switch between melancholy and darkness, but keep their typical crystal clean sound intact. Breathtakingly transparent polder electronics with a more complex texture. In the background, sounds from the real world even make their way into the music. Listen closely! On several occasions Hydrus have worked with Videotroopers, the moniker of visual artist Erik Mijwaard. As part of Interleaves, Mijwaard has created three beautiful videos, which are included on the limited edition dvd. This superb IDM release is available on cd-r/dvd-r and as free digital download.
[youtube https://www.youtube.com/watch?v=KWyxiOfoQ2w]
[youtube https://www.youtube.com/watch?v=W-7wtcmNHEA]
[youtube https://www.youtube.com/watch?v=D2pXPwmmrqU]
press downloads
hi-res image of cover
press release (english)
press release (dutch)
reviews
file under
march 29 2008
by storm
Ze staan al een tijdje gebroederlijk naast elkaar op mijn desktop. Twee keurig genummerde zipjes. 2095.zip en 2096.zip. Zelfs al op mijn oude pc. Met dat handige overzettooltje dat Microsoft meelevert met Vista pompte ik ze zo met de rest van mijn gegevens over. Zonder dat ik ze tot nu toe beluisterde, stonden Hydrus' Interleaves en Coen Oscar Polack's Psychic Investigations zij aan zij rechtsboven in mijn scherm. Het kwam er gewoon niet van om de zips uit te pakken en deze eens rustig te gaan beluisteren. Er was altijd weer die met enveloppen gevulde blauwe Curver-bak die leeg moest. Op de een of andere manier trek ik toch de harde waar voor op de digitaal aangeleverde promo's. Alhoewel, dit zijn niet eens promo's, deze twee cd's kunnen door Jan en alleman gedownload worden. Geheel gratis ook nog eens en in superieure kwaliteit. Maar zipjes vergeet ik dus gemakkelijker om te beluisteren dan echte cd's. Het is gênant, maar waar.
Gelukkig waren ze bij het sympathieke Narrominded zo vriendelijk om ook harde waar aan te leveren, zodat ik dus via de blauwe Curver-bak alsnog luisterde naar deze twee releases. Dat bleek, dat zul je altijd zien, voorwaar geen straf te zijn. Vooral de ambient van Polack's release intrigeert en dan met name het titelnummer. Hiervoor heeft hij geluiden van het verwarmingssysteem van het Haarlemse museum voor moderne en hedendaagse kunst opgenomen. Om dat te draaien in een kantoor als het mijne waarin je altijd zacht het geluid hoort van de luchtcirculatie was ronduit bizar. De twee leken eerst afstandelijk in gesprek met elkaar, maar gedurende de tien minuten die het nummer duurt en waarin ik het volume geleidelijk opschroefde, versmolten de twee als het ware met elkaar. En zodra de saxofoon in de laatste minuut invalt vluchtte het nummer door het rooster in het plafond weg. Een rare gewaarwording, maar je begrijpt vast wel dat dit soort muziek nou niet bepaald voor jan en alleman te harden is, laat staan dat ik in woorden uit kan drukken hoe wonderschoon Polack's muziek is. Wie wat minder abstract wil, kan bij Hydrus terecht. Alhoewel ook allerminst mainstream zal alleen al door de meer uptempo beats die het duo Herman Wilken en Almer Lücke aan hun ijle synthesizerklanken toevoegt het meer mensen aanspreken. Af en toe is het net Jan Hammer op downers en dat bedoel ik dus lief. Heel erg lief zelfs. Maar om toch nog een beetje smaakcorrect uit de hoek te komen zal ik ook nog even de voorspelbare naam van Autechre laten vallen. En nu stop ik met dit stukje en ga ik naar de Narrominded-site om te kijken of de langverwachte cd van Boutros Bubba al te downloaden valt. Shit, nog geen spoor van te bekennen..
vital weekly
february 19 2008
by fdw
Hydrus have had a couple of releases before, on Narrominded, but 'Interleaves' is the first full length release by this Amsterdam duo of Herman Wilken and Almer Lücke. Although they play in rock bands too, for Hydrus it's all things electronic, crisp and clean. Over the years they have developed this sound of theirs to the max, and this album should be the final peak, at least in my humble opinion. Hydrus plays a combination of techno music with deep, melancholic synthesizers. Sometimes the accent of rhythm is pushed to the background and pure ambient takes over. It's music that goes well on labels as Highpoint Lowlife, Expanding or Boltfish and to be honest after hearing many work by these labels, it's also a style that is worn out a bit. Even when Hydrus are capable producers and engineers, it still something that I think is beyond it's date now. It's music that is in urgent need for a change, I think. The video that was made by Erik Mijwaard of Videotroopers that comes as part of this package are abstract, moving images, which work well with the abstract kind of music of Hydrus, certainly in "Flux'.
momi
february 5 2008
by stanley
Na releases van o.a. Makazoruki, Boutros Bubba, Gone Bald en Pfaff dwaalt Narrominded opeens weer helemaal van het gitaarrock-pad af met twee nieuwe (gratis te downloaden) platen: Hydrus brengt ons hun eerste full-length album "Interleaves", en Coen Oscar Polack (de helft van Living Ornaments) presenteert zes stukken op "Psychic Investigations".
Het duo Hydrus maakt bijzonder elegant geproduceerde electronica. Vaste factor in de nummers op dit album zijn zweverige, aanzwellende synthsounds. Die worden in sommige nummers omlijst door hoekige en metalige ritmes, maar soms ook voorzien van lekker gruizige beats. Ik heb zelf een voorkeur voor de (relatief) scherpere nummers, zoals Telluric, dat doet denken aan de tijden van Artificial Intelligence. Een nummer als Sideview (check hier de clip van Videotroopers) zal liefhebbers van de oudere Autechre zeker bekoren.
Coen Oscar Polack tapt uit een experimenteler vaatje. Het titelnummer van deze plaat is bijvoorbeeld opgebouwd uit geluiden van de buizen en machinerie van het verwarmingssysteem van De Vleeshal in Haarlem. Zoemende geluiden overheersen ook de meeste andere nummers. Ik vind dit altijd een paradoxaal genre: Het verloop van de stukken is zeer uitgesponnen, en toch haal je er het meeste uit als je de hele tijd oplet. Pas als je er inzit, begin je je af te vragen wat je hoort en waar het heen gaat, en dat is volgens mij de insteek, hoewel ik dat niet zeker weet. Overigens is deze plaat niet zo abstract als het nu misschien lijkt. De stukken bestaan overwegend uit warme klanken, en hier en daar voegt een saxofoon een verrassende live-feel toe aan de dronerige omgeving.
Beide releases zijn gratis te downloaden van de Narrominded website. Interleaves is tevens in hun online shop verkrijgbaar als gelimiteerd pakket met cd + dvd (met drie clips van Videotroopers), en ook Psychic Investigations is op cd te krijgen.