format: cd / digital
released: october 11 2013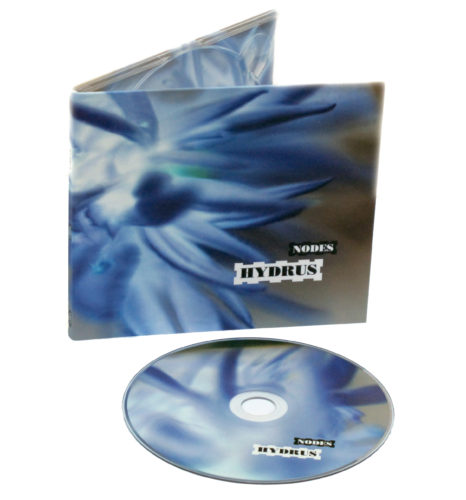 tracklisting
1.vertex
2.micronaut
3.black soap
4.bato
5.raim
6.drose
info
IDM. Intelligent Dance Music. It might very well be the most loathed name for a musical genre ever. The name suggests rationally conceived music, or even music that contains no emotion. The two musicians behind Hydrus have a quite cerebral way of working alright. They program their own patches for electronic software and they love to work on their sounds endlessly. We were told they once tweaked the sound of a hi-hat for one whole week. Hydrus are obsessed with giving each of their sounds the room it needs, the right place in their music. They know how to isolate it or let the different sounds talk to each other. The end result is a graceful musical environment of their own.
On their early releases for Narrominded, their style was in line with IDM-icons like Plaid and Autechre. But Hydrus are slowly – it's almost ten years since their debut release, a split lp with Kettel – finding their own sound. On Nodes, they incorporate a tad of electronic jazz and deep dubby basses. Highlight is Micronaut, an emotional electronic track that goes straight to the heart. That's what Hydrus can do with technology.
press downloads
hi-res image of cover
press release (english)
press quotes
'Electronics in top form!'
kwadratuur
'Nodes reminds me of mathematics; complex formulas and sophisticated tricks leading to a precise result!'
side-line magazine
'Hydrus are at their best when you have to be alert for a constantly lurking danger.'
festivalinfo
'The electronic mikado of squelching basses, atmospheric synths and algebraic beats give the songs a human injection'
indie indie
'This EP sounds as the most logical release Autechre would do if they didn't decide to change their sound.'
chain d.l.k.
'The strong grooves and relaxed atmosphere invite you to shuffle gently.'
dark entries
'Nodes is the beautiful result of their recent efforts, an elegant, sometimes understated, but never a cold record.'
written in music
'Only negative side? It's too damn short!'
peek-a-boo magazine
'Nodes hangs in a strange place in limbo between a listening album and a dance album.'
musicfrom.nl
'Technologic music with brains or just brains that are owned by technology (…) this is good stuff indeed.'
peek-a-boo magazine
'So familiar and clever, but slightly different and always new.'
kindamuzik
'Micronaut is nigh on as beautiful and haunting a piece of electro as you could wish for.'
incendiary magazine
'modern #IDM that sounds surprisingly comforting and futuristic by #Hydrus on @narrominded label.'
theo ploeg / twitter
'Despite the abstract aspect, the music is human, gives depth and knows how to speak to the imagination.'
subjectivisten / caleidosccop
'Surely well entertaining.'
vital weekly
reviews
kwadratuur
january 23 2014
by johan giglot
Eindelijk, een IDM-plaat die niet onder stoelen of banken steekt puur om kunst en mechanica te draaien en niet om menselijke emotie of reflectie. Aan het woord is het elektronicaduo Hydrus, al meer dan tien jaar achter de knoppen en vertrouweling van de Nederlandse Narrominded-stal. Hoewel erg spaarzaam met releases, gaan de producers voor absolute finesse: geen recyclagegeluiden, maar microscopisch gedetailleerde klanken ontsprongen uit eigen geschreven software. Zoiets rechtvaardigt een ep die geen half uur duurt en pas vijf jaar na het vorige wapenfeit verschijnt.
'Nodes' is een klassenwerk in zijn soort. Zorgvuldig uitgezochte en bewerkte geluiden stapelen zich op in ritmische sequenties tot een gelaagde totaalpuzzel. Van druppelende, flikkerende pulsen tot lang glijdende, gemoedelijke klanken: elk raderwerkje past in het geheel. Dat geheel is loom, warm en toch sprankelend.
Zes tracks op rij zoekt Hydrus naar een unieke constructie waarin zowel vooraan liggende, ritmische elementen als ver weggecijferde galmen en sfeertonen het geheel inkleuren. Dat zorgt voor een avontuurlijk auditief geheel dat doet denken aan artiesten als Aphex Twin, B12 of Black Dog uit de beruchte Warp-periode, begin jaren '90. Net als destijds worden droog kloppende beats ontleend aan hiphop, verzorgen fragmentarische geluiden en amicale klanken een mysterieuze uitstraling en wordt gewerkt met ontzettend veel diverse sporen.
Toch verliest 'Nodes' op geen enkel moment zijn intrinsieke, innerlijke rust. In 'Micronaut' vertaalt zich dat in hard kloppende beats, hoog tikkende melodiedruppels en spaarzame toetsen die uitgespreid worden op een warm bedje van wegdraaiende sfeertunes. Opvolger 'Black Soap' vertrekt met wat donkere, funky baspulsen en druk fladderende ritmes. Deze wat meer expliciete, vlotte aanvang wordt gehalveerd door trager glijdende loops, maar het aantal beats per minute ligt in dit verhakkelde geheel toch eerder hoog. Geen zorg, ook nu mag een warme gloed de nodige gemoedelijkheid verzorgen.
Zo heeft elk nummer zijn eigen karakter en puzzelconstructie, stuk voor stuk tot in de puntjes uitgewerkt. Een eeuwige droom- of luistertocht is dan ook zeker mogelijk. Enkel al de manier waarop de melodie van diepe bassen, pieken van echostoten en een zachte spacemelodie in 'Bato' samenkomen, is ontroerend mooi.
Hydrus voedt de contradictie van Intelligent Dance Music. Het tweetal geeft zelf aan dat het hier puur om een –weliswaar erg zorgvuldige- opeenstapeling van mechanische geluiden gaat, maar dat roept een berg fijne emoties op. Opzettelijk of niet, gevoelsmatig zit dit korte plaatje helemaal goed. Elektronica in topvorm!
side-line magazine
january 20 2014
8/9
Hydrus is a pure IDM project from The Netherlands that was set up by Herman Wilken in the early millennium years. Later on he was joined by Almer Lücke. Hydrus releases their productions on quite an irregular basis.
Both artists seem to be fascinated and even obsessed with sound treatment. After having created a sound they behave like real sound surgeons, dissecting and reconstructing their work. That's an aspect of the production, which you'll rapidly notice. From the first track on you perceive the minimalism of the grooves and the explicit intelligent approach in electronics. The sophisticated writing comes even more through on the 2nd track entitled "Micronaut". This is an irresistible piece of progressive electronics.
"Nodes" is also carried by pure space atmospheres, which make the global production a bit lighter and clearly evasive. There also is a little touch of jazzy arrangements now and then. The 6th and last track of this EP again reveals the outstanding sound formula of the duo. It's an elaborated writing carried by styled cold IDM vibes.
Conclusion: "Nodes" reminds me of mathematics; complex formulas and sophisticated tricks leading to a precise result!
chain d.l.k.
november 27 2013
by andrea piran
8 / 10
In their press release this band is presented as a band whose 'name suggests rationally conceived music' and 'they program their own patches for electronic software and they love to work on their sounds endlessly'. The result is a classic IDM album with declared influences by Autechre and Plaid but with personality and a clear music direction.
'Vertex' opens this release with a classic IDM beat pointed by a dreamy synth. 'Micronaut' is based upon the Autechre-style juxtaposition of two rhythm in a loose predictable way. 'Black soap' is a synth based track upon an almost drum and bass layer. 'Bato' tries to calm the atmosphere while 'Raim' features the most complex drum pattern. 'Drose' seems almost a 'tri repetae' track as is based upon a synth loop and a beat.
This EP sounds as the most logical release Autechre would do if they didn't decide to change their sound, and a whole musical career, and for some fans this is one of the best compliment available. The critic says three, as is nothing new, but the fan says five so the average is four. Only for fans of IDM but recommended.
dark entries
november 22 2013
by paul van de gehuchte
8 / 10
De twee muzikanten van Hydrus doen het kalm aan. Het duo Herman Wilken en Almer Lücke brengt veel tijd door met het programmeren van eigen software om hun muziek gestalte te geven. Een langspeler in elkaar boksen duurt dan ook meerdere jaren. Op plaat straalt Hydrus ook rust uit. Op dit mini album met zes tracks kiest men voor een mix van electro, jazz en drum 'n' bass. De sterke grooves en relaxte sfeer nodigen uit om zachtjes over de dansvloer te schuifelen. Emoties mogen hier niet te hoog oplaaien. Alles gebeurt stijlvol en met klasse op de tonen van afgemeten beats. Het geeft het geheel een onderkoelde stemming, maar dat doet geenszins afbreuk aan de schoonheid van het geheel. 'Nodes' klinkt mooi, zuiver en beheerst. Vooral het pure is opmerkelijk, temeer omdat alle geluiden eigen werk zijn van Wilken en Lücke. Met zijn 26 minuten nodigt dit schijfje zich uit om meerdere keren na elkaar af te spelen. Iets wat we met plezier hebben gedaan.
festivalinfo
november 21 2013
by jasper klomp
3,5 / 5
Het kleine Nederlandse label Narrominded blijft dapper opboksen tegen de grote jongens. Acts als Katadreuffe, Spoelstra en Hunter Complex zijn slechts in kleine kringen bekend, maar het is goed dat er een plek is waar ze hun muziek uit kunnen blijven brengen. Dat geldt ook voor Hydrus. Je in Nederland bezighouden met IDM is sowieso geen big business, maar het rekt het muzikale landschap in ieder geval op. Nodes is een welhaast ambachtelijk gemaakt album. Hydrus houdt immers niet van lenen en de beats, bassen en synths zijn dan ook afkomstig uit zelfgeschreven software.
De warme klanken die hieruit voortvloeien vallen direct op. In 'Vertex' komt er na een minuut een beat onder waar Hydrus vervolgens op voortborduurt. Het nummer bouwt laag voor laag op, maar tegelijkertijd vallen er ook elementen weg zodat het niet té druk wordt. 'Micronaut' bevat een interessante tegenstrijdigheid tussen dromerige klanken en een ongepolijste beat.
Een kleine tien jaar geleden bracht het duo een plaat uit met Kettel en zij delen de jazzy inslag van hun elektronica. Hier schiet 'Bato' te ver in door. Een wel erg laidback beat valt in het niet bij andere nummers en de scratchgeluiden doen gedateerd aan. Het tweede deel van Nodes is überhaupt slordiger. Fraaie lijntjes benutten niet hun volledig potentieel en de rauwe afsluiter 'Drose' ontbeert een climax. Bij een industrial-achtig nummer kan het toewerken naar een gerichte uitbarsting geen kwaad.
Dat neemt niet weg dat er een aantal sterke tracks op het album staan en 'Black Soap' spant wat dat betreft de kroon. Een stuiterende breakbeat – hallo Aphex Twin – knalt uit de speakers. Op de achtergrond zijn echter donkere soundscapes te horen die de speelse elektronicafoefjes toch een dreigende kant geven. Het is alsof je constant alert moet zijn op alsmaar sluimerend gevaar. Zo is Hydrus op zijn best.
indie indie
november 21 2013
by ruben braeken
Geheel indruisend tegen de wetten van moeder Aarde werpt de boom van Narrominded na de zomer zijn sappigste vruchten af: waar dit vaderlandse label ons in september mocht trakteren op de magistrale synthesizer-ambacht van Hunter Complex' Heat (onlangs nog te bewonderen op INDIE INDIE in Malasch, maar dat terzijde) worden we ditmaal volgestopt met de warmbloedige IDM van Hydrus. Zes jaar hadden de twee heren nodig met hun zelf-geprogrammeerde software om te schaven en beitelen aan het zeer korte Nodes. Het resultaat: zes rijk gevarieerde nummers die ondanks hun elektronische gelaagdheid en multidimensionale precisie nergens verzanden in oninteressant kommageneuk. Integendeel: de elektronische mikado van soppende bassen, sferische synthesizers en algebraïsche beats geven de nummers een menselijke injectie waarvoor de meest conservatieve liefhebbers van 'traditionele' instrumenten nog voor de bijl zouden gaan. Zo is opener "Vertex" niets minder dan een moderne jazzcompositie in een digitaal omniversum, en klinken de virtuele glitches en samples van hoogtepunt "Micronaut" alsof een virtueel engeltje in je oren pist. Het duister doorstampende "Drose" vertoont akelig veel kenmerken van een floorfiller, hoewel het valt te bevragen of we met deze term de heren van Hydrus niet op hun ziel trappen. Eigen schuld, ze zijn immers zelf verantwoordelijk voor de meest dansbare elektronische plaat van 2013.
written in music
november 12 2013
by edwin hofman
Nodes van het duo Hydrus is zonder meer een van de mooiste electronische platen van dit jaar. Met 25 minuten is deze release natuurlijk aan de korte kant. Echter, dat is altijd nog beter dan een album dat opgerekt wordt tot drie kwartier of een uur, omdat dat kennelijk zo hoort. Laat Nodes een les zijn: mini-albums en ep's zijn legitieme formaten.
Hydrus bestaat uit Herman Wilken and Almer Lücke, die elkaar ontmoetten op het Koninklijk Conservatorium van Den Haag. Twee geluidskunstenaars die enorm begaan zijn met de geluiden die ze creëeren en vooral de plaats die deze in hun muziek krijgen. Nodes is het fraaie resultaat van hun recentere inspanningen, een elegante, soms onderkoelde maar nergens kille plaat. De muziek brengt de eerste albums van Autechre in herinnering en doet ook denken aan het werk van die andere sleutelfiguren uit de ambient en techno van de jaren negentig: Plaid en Black Dog. Toch klinkt Hydrus net even anders en vooral coherenter. Zodoende kan het duo zonder meer wijzen op een eigen geluid.
De ingetogen maar gracieuze opener Vertex meandert langs de uiterste randen van de dansmuziek en legt de lat al direct lekker op niveau. Micronaut is wat schriller en abstracter maar sluit toch fijn aan op het eerdergenoemde Vertex.
Enkele malen komt Hydrus wat gejaagder over: de speelse dwarsheid van Black Soap en de drukkere beats van Raim geven Nodes de urgentie mee die de plaat tot een prima uitgebalanceerd geheel maakt. Zet hier dan nog de onderkoelde schoonheid van Bato en de old skool beats van Drose tegenover en je kunt spreken van een bijzonder fraai en geslaagd werkstuk dat het verdient ook buiten Nederland te worden opgepikt.
peek-a-boo magazine
november 5 2013
by chris konings
If I remember correctly from Master Of Magic, nodes were magical wells, divided in the four elemental groups. So while this is a purely instrumental and electronic album, I'm hoping for some very organic moods… But first, Hydrus consists of Herman Wilken and Almer Lücke, who met at the Royal Conservatory in The Hague. And they make idm – ambient, Hymen music so to speak…
As a term, idm sounds horrible and it's a genre often used as an excuse for pointless electronic ramblings, but sometimes you can discover real gems like Ab Ovo, Nebulo or Access To Arasaka. Anyway, let's talk about Hydrus… Only six songs and 25 minutes make this more an EP then a real album, though you will still be amazed by the work they put into their sound conjuring! The crisp production, rich layers and subtly processed sounds will make your aural senses hum with pleasure!
A good thing they don't lose themselves in an overdose of effects, no sir, everything sounds exactly how it should sound… There's pure and positive idm "Vertex", "Micronaut" or how about a melancholic space theme "Bato"? Then you have a few spiky breaks thrown in on "Black Soap" or how about "Raim", a bit of drum n bass mixed with diffuse ambient? "Drose" has a funky rhythm that makes you wobble along and gobble for more. Lots of styles but everything is glued together with that organic character I was expecting. Only negative side? It's too damn short!
A great album and another artist I need to check out! Recommended!
musicfrom.nl
november 4 2013
by jorgen van de burgt
Alleen al door de benaming van de stroming wordt Intelligent Dance Music (IDM) vaak gezien als een wat arrogante muziekstijl. 'Rationally conceived music', betoogt Narrominded in de press release, alsof dat bij veel andere muziekstijlen niet zo is. Veel van de op deze wijze gecomponeerde dansmuziek kan bovendien droog en emotieloos overkomen. Op 'Nodes' probeert Hydrus deze generaliseringen te doorbreken.
Hydrus bestaat uit twee producers die op zoek zijn naar een eigen geluid. Daarin gaan ze zo ver dat ze zelf de software programmeren waarmee ze die geluiden maken. Aanvankelijk werden ze meer beïnvloed door iconen als Plaid en Autechre, in hun zoektocht naar dat geluid hebben ze nu naar eigen zeggen steeds meer een eigen richting gevonden. En inderdaad, op 'Nodes' staan zes tracks met een heel eigen signatuur. Een signatuur die minimal is en toch – nog steeds – erg droog, ondanks die belofte van meer emotie.
Door de open productie valt meteen de enorme gelaagdheid op 'Nodes' op. Toch valt het album wat tegen. Daarvoor is er wat te veel focus op de textuur, en lijkt een goed concept te missen. 'Nodes' is weliswaar gevarieerd in opbouw, maar het klinkt onsamenhangend. Een album wat nog niet helemaal af is.
Tijdens het zes tracks tellende, 25 minuten durende album ben je niet snel verveeld. Hydrus maakt met 'Nodes' een aantrekkelijke aanzet tot een album, dat is zeker. Toch is de investering in het vinden en schrijven van eigen geluid weinig waard als er geen goede composities uit voortvloeien. Als we ons bedenken hoeveel tijd in de programmeertalen is gaan zitten, zou het voor een volgend album misschien beter zijn om meer tijd te investeren in de composities. Het hangt nu te veel op die aparte sounds, en daarvoor zijn ze niet speciaal genoeg waardoor het album ergens op een vreemde plek in limbo blijft hangen tussen een luisteralbum en een dance-album.
peek-a-boo magazine
october 23 2013
by didier becu
I'm not really that sure that I'm the right person to review electronic music. Either I like it or hate it, but I never know what to say about it. As this little gem ended up in my post box I was forced to do, and even if I'm speechless (for finding the right terms that is!) I'm kind of glad I discovered this piece of Intelligent Dance Music as it's damn good.
Hydrus are two musicians who program their own patches for electronic software and musically they like to be compared with Plaid and Autechre. The cynical reader might notice that these two immediately picked up the biggest example of the genre, but in some way I can see the point.
Nodes is a mini-album on which you'll find six pieces of electronic minimal music. Technologic music with brains or just brains that are owned by technology, I don't know, but this is good stuff indeed.
kindamuzik
october 17 2013
by sven schlijper
Hydrus programmeert de software waarmee het duo muziek maakt zelf. Doel is om een zo uniek mogelijk geluid te scheppen en dat lukt verdraaid goed. Hoewel er in het kristallijnen, open geluidsbeeld duidelijk hoorbaar bijzonder veel zorg is besteed aan de snaarstrakke bassen en golvende synthmelodieën, slaat Nodes net door naar de warme kant, tussen extreem kille digitale elektronica uit een doosje en meer akoestische resonantie en hartverwarmende menselijke gloed. Om maar te zeggen: Hydrus zie je liever in een kleine jazzclub dan in een danceloods van kaal beton.
Op Nodes is het niet het laag dat kietelt, maar de veelheid aan lagen. Ze liggen op elkaar en zijn ook met elkaar verweven. Om de aandachttrekkende glitches, beats, bassen, pulsen en blieps heen waaiert voortdurend een toets aan textuur rond. Die geeft lucht aan de toch al open composities: een zucht als van een haardvuur en zeker geen binaire post-humane tocht. Nodes is bij te benen voor het hoofd en toch stelt het album je steeds opnieuw voor verrassingen. De plaat weet ook het hart te beroeren en slechts met veel moeite kun je er stil bij blijven staan of zitten.
Een goede kunstenaar laat je naar de wereld kijken op een manier die je zelf niet voor mogelijk hield. In het beste geval is je wereldbeeld daarna op zijn minst een klein beetje veranderd. Zo'n soort kleurend filter weet Hydrus ook in te zetten. En al kun je het werk van Brian Eno, Plaid en Boards of Canada dromen, dan nog weet Hydrus je ertoe te verleiden Nodes aan het hart te drukken: zo vertrouwd en toch schalks en snugger, net even anders en steeds weer nieuw.
incendiary magazine
october 15 2013
by richard foster
Oh you terrors, Narrominded of Holland! Don't think you can fool me with your self-deprecation! Telling me that "Intelligent Dance Music […] might very well be the most loathed name for a musical genre ever." Come on! Be honest, with me, with yourselves! You used it! You release it! You must have some faith in the CULTURAL ZEITGEIST (caps all my own) to realise you have a market for this noodling electro stuff! LEAF still make money don't they, or do they just release sensitive things with cellos nowadays? I mean a few sentences further on you use the word "cerebral". I think we can decode all this promo fluff as a bunch of backhanded compliments, though your mention of "electronic jazz" still has me worried. I have listened throughout and I can't hear any outside of a few menacing bass undertones in Raim and whilst of course the absence of said jazz is, (in my humble opinion), a Very Good Thing I'm sure you put it there to ensnare some chinstrokers to getting into the giddy structures we get on Black Soap. And Bato's not jazzy, it's more like bladdy Eno!
Oh the tangled webs we weave… Yes, opener, Vertex sounds like two storage heaters having a conversation with each other; (adopts plebeian storage heater voice for sake of illustrating the point), "yeah, I got this dodgy timer, see, it keeps going off and creating all these polyrhythmic sub rnb structures, know anyone who can fix it mate?" Nah, soz, though I do like that ersatz bass undertone you give off as a sort of subliminal support to it." "Yeah, that's quite nice and quite organic… quite plastic, innit…" (Exeunt heaters off reviewer's stage.) And yes, Raim does sound like a clocking in machine but there are some cracking tracks on here; Drose is a powerful ender with plenty of punch and presence and Micronaut is nigh on as beautiful and haunting a piece of electro as you could wish for.
Stop being so bloody coy, you can keep your socks on as it is chilly out, but don't dim the lights too low…
theo ploeg
october 15 2013
modern #IDM that sounds surprisingly comforting and futuristic by #Hydrus on @narrominded label.
subjectivisten / caleidoscoop
october 14 2013
by jan willem broek
Hydrus start als het project van Herman Wilken, Het debuut is de split lp Hydrus / Kettel uit 2004 met Kettel. Daarna volgt de cd-r Interleaves in 2008, waarop je een eigenzinnige mix van IDM, ambient en techno krijgt. Wilken heeft zich dan al versterkt met Almer Lücke, die hij ontmoet op het Haagse conservatorium. Het duo stelt zich als doel een eigen sound te fabriceren. En dat lukt ze ook.
Na jaren van experimenteren en perfectioneren presenteren ze nu hun album Nodes. Het bijzondere is dat ze hun eigen software programmeren. Dat is ook te horen, want de elektronische sounds lijken omzwachteld door zachte objecten en krijgen hierdoor een totaal eigen smoel. Wat minder scherp en kil dan de gebruikelijke elektronische muziek. Er zit ook een duidelijke gelaagdheid in de muziek, die je het beste ervaart onder de koptelefoon. Je hoort namelijk de bovenliggende innovatieve beats die het best passen in het IDM genre, maar eronder gebeuren er in verschillende lagen allemaal interessante dingen die het verschil weten te maken. De ene keer schuiven ze er ritselende, percussieve, akoestische of ambientachtige klanken onder, maar op andere momenten duiken ook glitch, jazz elementen, samples van stemmen en andere meer organische elementen op. Of een caleidoscopische combinatie van dat alles. Het maakt de muziek ondanks het abstracte aspect meer menselijk, geeft diepgang en weet tot de verbeelding te spreken. Je krijgt als het ware hybrides van Plaid, Arrovane, Beefcake, Beaumont Hannant, Boards Of Canada, Autechre, Holy Other, Styrofoam en zelfs The xx en Spoonfed Hybrid geserveerd, maar dan bezien door hun eigen filter wat mede door de zelf gecomponeerde software en hun bijzondere benadering komt. "Nodes" zijn knooppunten in een digitaal netwerk en dat is precies wat ze muzikaal weten te bewerkstelligen. Ze knopen zaken aan elkaar, zij het dat ze niet de gangbare connecties zoeken maar gewoon op creatieve wijze alles wat hen bezig houdt verbinden. Dat maakt de muziek ook zo spannend en biologerend. Ondanks de lengte van ruim 25 minuten krijg je hier een groots en gevarieerd luisteravontuur voorgeschoteld. Een "kleinode" om te koesteren.
vital weekly
october 8 2013
by frans de waard
I know labels don't like this, this lumping in of releases into one long review, but since I just wrote that I hardly review Intelligent Dance Music these days, it's quite a surprise that I got another release along similar lines, by the Dutch band Hydrus. This is a duo, unlike many others in this particular musical field – 'very well be the most loathed name for a musical genre ever'. I am a bit surprised by the brief character of the album, only six pieces at twenty-six minutes. They program their own software, we are told but not something I could substantiate. Throughout I think their music is a bit more mellow than that of Arovane, perhaps a bit more slick and smoother. Maybe a bit more jazzy on the use of keyboards too. I don't exactly see people dancing to this, but perhaps I'm more of the straight forward dancing types, but this was pleasant as it is. Nothing great, nothing special, but surely well entertaining.