format: lp / digital
released: may 8 2003
tracklisting
side one
living ornaments – ribbels
1.basterdsuiker
2.oliespatten
3.schilfers
4.brandalarm
5.klokkend gebrom
6.vruchtvlees
7.borstvlies
8.kwakzalver
9.wenkbrauw
10.kwalrups
11.groeispurt
side two
accelera deck – spangle ep
1.feedback song
2.eidolic
3.spangle
4.landfall tusk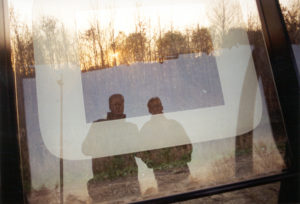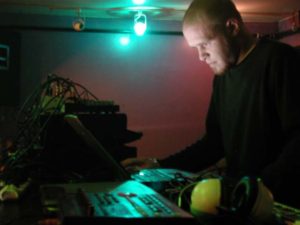 info
The first installment in the split lp series consist of music by the Dutch duo Living Ornaments and the American artist Accelera Deck. Each side of the record contains a complete work clocking in at about twenty minutes. Side A is Ribbels bij Living Ornaments. This piece features mostly piano and guitar music that have been treated with electronics to a fresh result. Emotional, tonal, spherical and technical elements blend in these eleven tracks that show parallels with the music of Christian Fennesz, Tim Hecker, Keith Fullerton Whitman and Boards of Canada. Side B is a buzzing, dark and moody piece of music by Accelera Deck entitled Spangle. In four tracks Accelera Deck explores the dark depths of guitarnoise and eventually ends up in warm acoustic glitch-folk. Accelera Deck is Chris Jeely from Birmingham, Alabama, USA. Chris played and recorded in numerous rock bands, influenced heavily by the textures of My Bloody Valentine and the early 90s 'shoegaze' scene. It was the release of Aphex Twin's 'Selected Ambient Works Volume II' and Seefeel's 'Quique' that inspired Chris to begin experimenting with guitar and sampler. He began recording as Accelera Deck sometime after October 1995, when a fire claimed all of his music equipment. With a little insurance money, a four track and guitar were purchased. From then on Chris' music touched every colour of the musical spectrum: from beat-oriented electronics to acoustic guitarstrumming. Throughout his time recording Chris has dabbled in releasing music under a variety of names like September Plateau, Exhalera Deck, Audio Wishe and Your Favorite Horse. Many limited edition singles and ep's have been recorded for a variety of esteemed labels such as Morr Music, Neo Ouija, Blackbean & Placenta and 555 Recordings. Accelera Deck contributed a track to the We're Running Out of West compilation LP and his Spangle EP to Narrominded Split LP Series #1.
press downloads
hi-res image of cover
press release (english)
press release (dutch)
reviews
indieville
december 19 2004
by matt shimmer
It's a shame this split LP was only released in a limited edition, as it has some truly inspired music on it. The work of Dutch duo Living Ornaments is really incredible – they compose warm, glitchy soundscapes that stay within an accessible realm. Bits of tunefulness and melody are buried amidst electronic fuzz and crispy pops and clicks. Their part of the split is broken into eleven short tracks, but these flow into each other very well. Although their style is definitely sound art, its texture lends it an accessibility not common in the genre. The split LP is worth buying for Living Ornaments' part alone. However, there are two sides to every split (unless it's a three- or four-way split…), and Accelera Deck can't be ignored. Their style is much less accessible than that of Living Ornaments, but it is still worth a listen. Accela Deck (from the USA) is much noisier than their splitmate; their first track, "Feedback Song," is a very abrasive piece that treads the outer boundaries of harsh noise. "Eidolic" is less of an aural irritant, fortunately; however, it is still much less calm than Living Ornaments' work. The main focus of Accelera Deck's side of this LP is "Spangle," a twelve minute drone that eventually degrades into an acoustic guitar sample. It is a remarkably beautiful piece of experimental electronic music, but a good attention span is required to stay with it until the end.
Overall, this is a solid introduction into Narrominded's new set of split LPs. If future installments turn out as strong as this outing, there should be much to look forward to. Bring it on!
85%
Fun Fact: In addition to making music together, Living Ornaments' Lars Meyer and Coen Polack are the duo behind Narrominded's label activities. According to their bio, "like to use tasty but obscure Dutch words as their tracktitles."
musicalbear
june 5 2004
by david gunn
although of clear benefit to bedroom-twiddlers around the world, the affordability of compositional software is something of a double-edged skillet. whilst has given many artists an opportunity to explore new forms of composition, it has also led to a burgeoning growth of mediocre meandering. and, in many ways, the recent split lp series provides a neat exposition of this.
the split series are an ongoing set of long players released on dutch label narrominded, each divided into two complete works of around twenty minutes. the first of these was released towards the end of last year, and starts out very promisingly under the aegis of narrominded founders, living ornaments. in spirit, it exists somewhere in between fennesz's early walls-of-glitch and the lush ambience of bowie's moss garden. as the piece progresses, it oscillates between these extremes of abrasive granularity and synthetic idyll to great effect, creating a diverse collection of landscapes that are well worth exploring. to be critical, it does come across as an ep of moments rather than a more structured, coherent statement, but in the main it is a enjoyable, promising work. which is more than can be said of side 2, inhabited by accelera deck. the first track, a 15 minute drone work, does little to endear him – there may be moments of interest but nowhere near enough to justify the effort required. the latter tracks are better, but still, the sense of adolescent indulgence is hard to shake.
by contrast, split series no 2 is a far more balanced affair. the first half is occupied by the debut ep of dutch artists hydrus. the artists behind hydrus are current studying at the sonology department of the royal conservatory of the hague, and this release does feel slightly academic – a little over-fussy and self-conscious. however when they do relax, the work is engaging – with an ability to combine serene clarity with some rather complex and varied rhythmical detailing. kettel's work is also strong, but represents a rather more upbeat and disordered bag of fun. exhibiting a similar preference for simple melodics, kettel's approach distinguishes him by his liberal use squelches, rattles and a host of other noises drawn from the crib of a add baby. there is a self-conscious innocence here too, but at the album's best moments, it is accompanied by an off-kilter playfulness that prevents the music from veering into outright sentimentalism.
the split lp series, then, is by no means an unmitigated success. however, it has begun to provide an invaluable platform for a series of artists who seem to be finding their own voices in an admirable manner. and if you're looking for an opportunity to sample some unknown and interesting electronica, this series is well worth seeking out.
the milk factory
february 1 2004
by colin buttimer
Living Ornaments are an electronica duo comprising Netherlanders Lars Meijer and Coen Polack. Their two releases under consideration here are their own EP, Klonten which clocks in at a little over twenty minutes in length (blink and it's gone) and their half of a split LP.
Klonten is an interesting, if too-short release. There seem to be a number of different tracks wriggling around inside Chriettitulaer (this is a good thing). There's a reggae-ish dub spirit spiralling in the background, a stuttering, mutating biscuit tin drum and bass beat, abstract figures skating around and from time to time an upbeat melody perambulating throughout.
Diewertjeblok darts and fizzes along before sloughing into a contemplative phase and running out of steam. Shorter tracks alternate with longer tones. The mixture of acoustic and electronic sounds is interesting; particularly the melancholic piano and associated chimes and strums on Henkmouwe. At times though there is something of an apprentice tentativeness to this EP. Some of the drum sounds appear a little pre-packaged and disposable and it would be good to hear the duo explore their ideas over longer periods of time, but Klonten is a promising and interesting release.
On their part of the Narrominded Split LP release (the other half contains tracks by Accelera Deck), Living Ornaments present 11 tracks ranging between thirty-one seconds and three-and-a-half minutes long. Oliespatten navigates a number of different stages ranging from up and down pacing to headlong dash. The shorter tracks mix sudden, almost comic pianistic interruptions wrapped round with electronic noise like poison ivy binding a graveyard statue. There's a strong episodic and filmic sense to the music.
At times the music resonates with the sound of celestial bodies echoing down the light years, at other times the sound of synthetic vegetation buffeted in high winds. Crunchy, pummelling rhythms agitate and overlap with each other. Kwalrups breaks up in free fall, its signal lost in Geiger noise. There is a hint of the deep space music of the mid-nineties (think of Pete Namlook¹s collaborations with The Higher Intelligence Agency), though the rhythmic timbres and structures are entirely contemporary. I don¹t know which of these releases came first, but I wouldn't hesitate to confirm that the Narrominded release follows Klonten. The band's sound appears much more confidant, more detailed and more solid and they seem to be pushing things a lot further. Worth searching out.
splendid e-zine
january 9 2004
by mike meginnis
One "side" of this split LP is a rare treat. The other side is a Bizarro World take on the first — a what-if, a showcase of everything that Side A could have done wrong.
The designated A-side, subtitled Ribbels, is the contribution of Dutch Narrominded founders Lars Meyer and Coen Polack, otherwise known as Living Ornaments — a strangely perfect name for their glitchy fuzz obsession. Their music, while electronic in origin, is far from soulless; this is some of the most achingly beautiful organic fuzz you'll ever hear — an assortment of beeps and clicks that, by virtue of careful composition and engineering, become truly evocative. Sparsely applied acoustic elements contribute to the impact without stealing the show. If robots made anti-folk, it might sound like this. It's not easy and it's not especially fast moving, but god damn is it good. I'd like to hear more of this group's work as soon as possible.
The de facto B-side, Spangle, has a lot in common with Ribbels, but shares none of its important traits. Both portions of the disc are instrumental, and primarily concerned with fuzz, but where Meyer and Polack were happy to sit back and work with subtlety to sculpt a fragile and beautiful soundscape, American composer Accelera Deck (or as his mother knows him, Chris Jeely) settles for nothing less than a raucous assault on the ears.
Jeely sites My Bloody Valentine and early '90s shoegazer as his primary influences, and he certainly has the drone-fuzz-crackle-hiss down. Too bad he forgot to include the melody. I love shoegazer stuff as much as the next guy, but Spangle's eleven minute spine consists almost entirely of tuneless drone. Following this, an agonizing fear colored the rest of my listening experience. I understand what Jeely was getting at, and I'm not ready to dismiss his work just yet, but still… Ow. Ow. Ow.
As uncomfortable as it is, Spangle doesn't sink the disc. It's worth owning for Living Ornaments' contribution alone — and who knows? Your resolve may be stronger than mine where Accelera Deck is concerned. You may have a hard time finding a copy of the album — it's a three hundred unit limited run — but it's worth the trouble just to hear Ribbels. Accelera Deck's contribution will make beautiful contrast, if nothing else.
autres directions
december 12 2003
by stephane
Pour sa onzième réalisation, le label néerlandais Narrominded débute une série de split LP vinyle (un ep par face), accueillant pour cette première édition… Lui-même, à savoir Lars Meyer et Coen Polack, fondateurs de la structure, sous le pseudonyme Living Ornaments, et l'américain Chris Jeely aka Accelera Deck (Morr Music, Rocket Racer, 555…), lui-même fondateur du label Scarcelight. Living Ornaments s'octroie la première face du bel objet : 11 titres assez courts d'une electronica fortement perturbée, élevée à la drum'n bass maladive, aux nappes sombres et aux ruptures structurelles conséquences. Riches de sons divers, de grincements ferroviaires en larsens et drones protéiformes, leurs complaintes glacées, qu'éclairent parcimonieusement d'éparses notes de piano, sont le gage d'une dépaysement post-industriel intense.
De son côté du disque, Accelera Deck n'offre que quatre titres mais aux durées plus courantes. Le premier, Feedback Song, est un immense larsen de guitares pulsé par une laptop. Effet nettoyant garanti. Après un morceau plus calme, les douze minutes de Spangle s'étalent sur une nappe ambiant et bruitée nourrie de souffles et de larsens. Qui finira par s'évanouir pour laisser place à quelques accords de guitare folk, qui était finalement la seule source de tout le bazar bruitiste entendu jusqu'à lors. Tim Hecker n'est pas loin. Fennesz non plus d'ailleurs.
En forme de digne retour des choses, c'est Scarcelight qui publie Klonten de Living Ornament, court ep 3″ riche en morceaux grandioses. Chiettitulaer est, en ouverture, un titre largement plus mélodique que ceux de split lp. Ambiances sévères et bruitées, entre Third Eye Foundation ou Downpour et electronica plus mélodieuse, Living Ornament se permet même d'inclure de la voix (Edwinrutten), ou d'interférer sur une guitare acoustique et un violoncelle (Hanpeekel), pour des résultats somptueux. Les notes de piano et les voix accélérées de Henkmouwe, le morceau bizarre qui ferme ce maxi, clôt le disque sur une note étrange et suspecte.
Un, deux, trois eps dans ta face. "Mortel".
exclaim!
november 10 2003
by eric hill
Narrominded label founders Lars Meyer and Coen Polack start off their series of limited edition splits with a piece by their own duo, Living Ornaments, called "Ribbels." Divided into 11 parts, the music features simple electric guitar and piano progressions given brusque electronic treatment only to emerge as iridescent caplets of sound. Not quite as densely compacted and transformed as "gold standard" works by Fennesz or Tim Hecker, certain parts still reach critical mass, and those that don't clock in under two minutes and so are quickly gone. On the other side is Chris Jeely, aka Accelera Deck. His contribution, called "Spangle," centres around a 12-minute, tidal track that glitters with granular shards of sound, swelling in intensity before subsiding to reveal its source: a slide acoustic guitar playing a simple Ry Cooder-ish Southern anthem. Effective as an introduction to lesser known Dutch electronic artists and pleasing to the magpie sound fans listening for bright objects in the air.
igloo magazine
october 2003
by boban ristevski
Narrominded, a label from The Netherlands, started releasing music in May 2000 and is founded and run by Lars Meijer and Coen Polack, who make music together as Living Ornaments and are also members of the improv-band Psychon Troopers. This split release between Living Ornaments and Accelera Deck is the first in a series of split LP's that will be released by Narrominded and each will feature music by one Dutch and one international artist; a good way to promote new and less known artists from The Netherlands who make interesting music.
Living Ornaments are featured with 11 mixed tracks (that equal about 20 minutes altogether) and are obviously interested in soundscape music, sometimes more rhythmic but mostly atmospheric, never too fixed. Their music is focused and transparent at the same time, it's made of layers of sound that are changing, not very briskly, but also not too careful, leaving enough room for surprise, so you can not know what's next. Their part is called Ribbels. Accelera Deck (Chris Jeely) is featured with 4 tracks (also about 20 minutes of music) and his side is called Spangle EP. It starts directly with 4 minutes of lo-fi shoe-gaze noise generated from guitar and done in a good way, with an obvious musical sense and lo-fi vulnerability. All tracks by Accelera Deck are good, raw but focused. The third is the longest, almost 12 minutes of patiently evolving ambient-noise that at the end is merged with the much shorter last track ending with a mix of white-noises and acoustic country guitar sounds. A very intriqueing start for the Split LP Series on Narrominded.
fret
october 2003
by rl
After receiving, this record immediately ended up in my DJ suitcase, and that's always a good sign. In Fret we already gave attention to the nice Narrominded label. In the area of experimental electronics we can break a pot outside the Netherlands, and records like this prove why. In this series Dutch artists share an lp with a foreign artist, in this case Accelera Deck from the US, and he's no small boy in the genre. Where he lays the focus on sampled and manipulated guitars, Living Ornaments contribution varies more. The guys dare to also use acoustic instruments, which sometimes results in a pretty estranging effect. The result is not easy, but very exciting. And be quick, because only 300 records are pressed.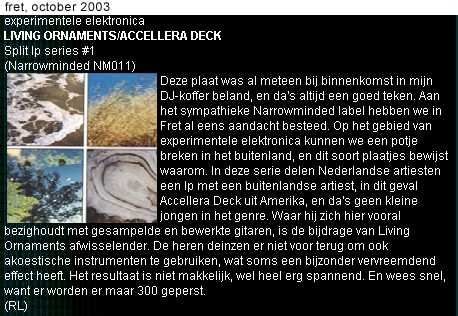 tesselate
october 2003
by sam
The first eleven tracks are all Living Ornaments territory, and they kick off this split lp release with "basterdsuiker" Heavy cloudy crucnhy tones splurt out and a super dry alarm rings out from the mist , casting a spell over all the listeners, as we sneak into "oliespatten".
Bouncing balls spread bouncey beats from ear to ear as a shrill call sounds from the back of the cave, the melody completely surrounds you. A mad hectic beat drops in for a chat but is subdued by the rich dream melody which floods the place right up until the breakbeat is back, to hammer its message across again. Cool track.
As we cross over into "schlifers" zaps and sparkles bounce around a titanium marble creating zingy cuts as static creeps into the party, and brings with it a ghostly piano melody. "brandalarm" is next and once again drops you on a completely different planet. Gases spit from exhaust vents and a subtle tinge melody whispers through the haze and catches your ear. Super rich in atmosphere.
"klokkend gebrom" grabs you by the head and transmits robotic terror dreams straight into your mind, luckily "vruchtvlees" chills it right up. Look up into the sky as synthetic butterflies float aimlessly in the warm currents rising up from the battling heavy water pools below. Life in the pool and above mix audio creating a rich fog of ticks, tacks and wavezips. Damn fine.
"borstvlies" then spits you out of its ejection seat high up into the jetstream whicn encircles the earth. Simple ghostly calls cruise high above the surface as some kind of protective field,and as you break the pattern wave you create audio bomb messages to the planet.
"Kwakzalver" lets you sit on its back as it propels itself through the vast emptiness. Full of tiny machines working overtime the flying beat gives off a super manmade tune.A train with a power overload. Brain food. "Wenkbrauw" tags the hand of the last track and bomb dives back to the planets surface with you all up in its cargo bay. The bay full of stowaway stars gleams and sparkles with a beautiful power. Glass bouncing off glass melodies for all. Watch out "kwalrups" wants a word.A super fast ticking beat sits in the corner to be joined by three thousand minature tv's with no reception. Crackling waves of audio and minimal bursts of reception pull you face first into the final track "groeispurt".
An air of menace fills the sky as scratchy beats three sixty around your head and cannisters explode raining metal filings from up high. Your ride is here, watch in amazement as the civilian carrier craft floats down on a bubble of trimmed space, warping the static call from eardrum to eardrum.
Living ornaments have created the soundtrack to a high speed but precise journey through somewhere you havent been before. I recommened giving this a listen, let your ears use them jetpacks they have been raring to have a go with.
Cool stuff.
Accelera deck brings us the final four tracks, starting with "feedback song". This track is a box of feedback fed through a blender doing a gillion revolutions per minute, sitting on top of a trash compacter.Watch out as thousands of tons of glass rains down from above and nearly cuts you to ribbons. Madness.
"Eidolic" tingles away with a harsh acoustic sounding melody, but develops into an audio stream from a robots dormitory. As they wake up and yawn, the stretches of the pulleys, levers, gears and electronics inside, blast out sound across the room. A big mist of audio for your eyes to explore.
Time for "spangle". Long probes scratching at a metallic surface scare the lizards away, as the vehicle in the distance trundles its way across the desert, dragging behind it a bag of energon cubes covered in loose baubles. A simple spooky melody, miminal but exploring. The final track on this split lp release is "landfall tusk", which takes a slightly different line to the previous accelera tracks. An acoustic guitar strums away, reminding you of hazy sunsets, and fields full of corn, whilst droplets of glitch drip from the trees above, leaving dew all over the show. Summertime on crackleplanet.
Narromined split lp #1 is a good blend of different styles. Living ornaments takes you on a science fiction journey from planet to planet, bouncing audio off you and catching the remainders to process in a huge machine. Accelera deck is on more of an experimental style, dropping thought inducing melodies and leaving traces of forgotten memories in your databank, so you can mash them up later on.
A fine split release to check out. Definetly search it out.
soft secrets
october 2003
by arjan van sorge
Narrominded is a label from Hoofddorp that focuses on releasing electronic music for some time now something they sense better than the guitaric noiserock or the lo-fi music they released in the past. Both founders (Lars Meyer and Coen Polack) form Living Ornaments, who let properly manipulated guitar and piano proceed in a certain course. Vague? Yes, and it's lovely in the way it's switching from one side of the brain to the other. Accelera Deck is Chris Jeely from the US, and this former rocker rocks heavily with distorted guitar noise. Not totally connected with the first part, but likewise psychedelic, without a doubt.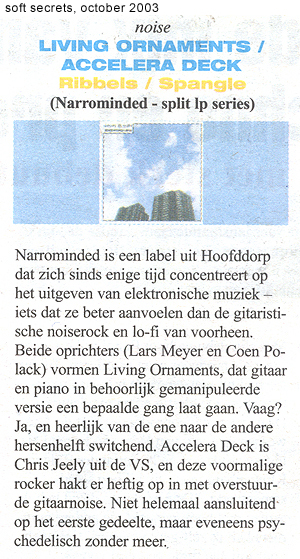 oor
july 12 2003
by jacob haagsma
Actually only the Living Ornaments side of this release is of interest for this column, because Accelera Deck is actually Chris Jeely, an American. Living Ornaments is Lars Meyer and Coen Polack, also the men behind the Narrominded-label. To appreciate their eleven short abstract soundsketches, you can't make it without SOME imagination, because the guys mess up the same terrain as the hordes of glitchers do on for instance the Mego-label – think Fennesz and kindred spirits. Crazy rhythm tracks, spinning soundwaves and other exciting discoveries keep a tight hold on your attention. Strong material. The same goes for the guitarpickings by Jeely that have been manipulated beyond recognition.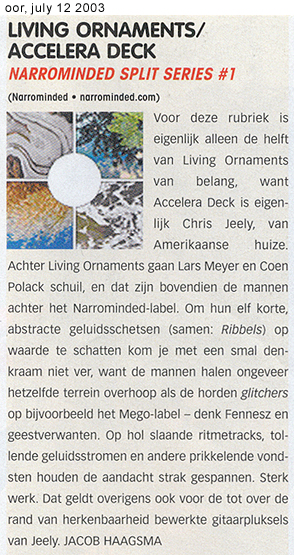 vital weekly
july 2 2003
by frans de waard
The small Dutch label Narrominded surprised us some time ago with an excellent compilation LP 'We're Running Out Of West' (see Vital Weekly 317) and now offer the first in a series of split LP's. On this first one we find Living Ornaments and Accelera Deck. The first is the band behind the label. Their side is called 'Ribbels' ('ripples') but is divided in eleven short pieces, which are all crossfaded into eachother. The basic material are piano and guitar, which are extensively transformed and mutated on the computer. Because of all these tracks going into eachother, but keeping an overall feel to the entire twenty minute work, it almost seems like a seventies conceptual prog rock band, but then updated for the next millenium. Living Ornaments quite clearly state their influences, mostly Fennesz, Keith Fullerton Whitman or in fact many from the laptop areas (Stephan Mathieu comes to mind), but the material is strong enough to stand by itself. The sparse rhythms work nice enough as counterpoints and give the material a nice extra touch. On the other side we find Chris Jeely in his Accelera Deck monniker. I thought he stopped using that name, but maybe I was wrong. Accelera Deck, or in fact the majority of Jeely's output, has always been a diverse project. From 'intellegent' dance music to folk songs and now these four pieces of low resolution sampling. Grizzly samples with a very low sampling rate of guitar noise have a strange, yet appealing character. Towards the end the folky acoustic guitar arises from the mass of computerized sounds and puts the listener back on earth. Strong material – again!
kindamuzik / cut-up
may 22 2003
by theo ploeg
Alarmingly beautiful
The Dutch Narrominded label begins to reveal itself as one of the most interesting record labels for electronic music in the Netherland. Especially when they continue the Split LP Series project in which this record is the first instalment. In the first issue Living Ornaments share a slab of vinyl with the American artist Accelera Deck. In four tracks he shows his fascination for feedback, noise and repetition; ending in distorted acoustic folk. Fine, but not nearly as beautiful as the work bij Living Ornaments aka Lars Meijer and Coen Polack. They use instruments like like guitar and piano and put them in an electronic blender. The result crackles all over the place and is alarmingly beautiful. At some points it reminds of Fennesz' masterpiece 'Endless Summer'. Disquieting music that is sunny and at the same time perfectly disturbing. The only flaw is that sonic experiments, bearing titles like 'Schilfers' (the best track) and 'Kwalrups', last way too short. On to the next issue and – above all- new material by Meijer and Polack.