format: lp (limited to 200 copies (100 on transparent orange vinyl, 100 on black vinyl) / digital)
release: september 6 2013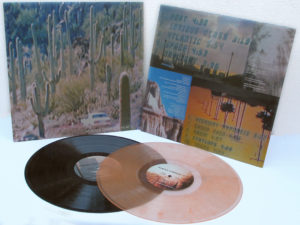 tracklisting
side one
1.heat
2.serious glass
3.atlantic
4.space
5.daylight
side two
1.highway hypnosis
2.china rain
3.room
4.stations
5.hours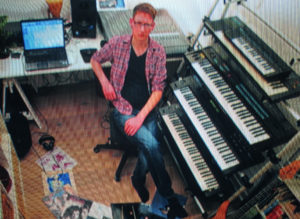 info
Heat is the new LP from Holland's Hunter Complex, a record that looks to balance a functional (and very Dutch) 'utility pop' with a whole host of disturbing hints and suggestions. It's a slightly unnerving listen, despite its attractive and powerful sweeps of melody. Recorded between 2010 and 2012, Heat manages – often very successfully – to persuade the listener that they're tuning into a strange mix of Moroder's film scores and '81-'82 era Simple Minds. Digital synths, like the Roland D-50 and Yamaha DX7, give everything a suitably 'period feel'. And the keys on Space are straight off Sons and Fascination, for example. Severed Heads covering China Crisis? Chris and Cosey making symphonic advert music in downtown LA? We can but dream.
But enough comparisons. Despite the LP wearing its sources of inspiration on its sleeve, and despite the fact that our descriptive narratives have (inevitably) to follow suit, it's a seductive listen. Queasy, paranoid synth washes, rich, gloopy bass tones and weighty electronic stabs of rhythm drive the music on. The record's got a feel of Stalker about it; cinematic, a taste of future-past served up on a plastic plate. Joep van Lieshout's vision for communal living maybe, or a future that's just out of reach, probably because it never escaped being imaginary.
press quotes
'Hazy, delay-drenched road trip to nowhere, for which Hunter has packed into trunk a sparse synth and drum machine set up and phased us into a Californian dreamtime.'
the sound projector
'Driving sequencers, sparkling DX7s, power leads and smokey vocals stride into a bold over saturated VHS future world. Cool as flip.'
the belbury parish magazine
'An album that takes you by the throat from start to finish.'
the post.online
'Techno-pop and movie score dramatics.'
mojo magazine
'Hunter Complex manages to brew his very own musical story, one full of melody and recognition.'
kwadratuur
'An honest guy with lots of love for this kind of music and that love seeps through the seams of kitsch.'
peek-a-boo magazine
'A perfect flashback to a time that never really was.'
highlife
'Heat hovers somewhere between that British synthpop of the time – but relies less on songs – and the German synthesizer dinosaurs like Tangerine Dream and Klaus Schulze.'
revolver's lust for life magazine
'Compared to its predecessor Heat is an album that sounds a lot more distant.'
festivalinfo
'Highway Hypnosis is a track with one of the best hook heard this year. (…) This album is really well written and glamorous.'
chain d.l.k.
'The record is enticingly melodic, although the sterile sound world is hardly cozy or humanly inviting.'
kindamuzik
'An fluffige "Formel 1"-Sampler und fiese Marken-Klamotten.'
nonpop
'The strong positivism that leaks from the melodic and warm synths make the pain even worse – it's a brilliant combination.'
the quietus
'If Giorgio Moroder would be depressed or paranoid for a day, he would make this kind of music.'
musicfrom.nl
'Most of the compositions contain a subtle way of repressed tension, the kind that makes you slide restlessly in your seat.'
dark entries
'Heat could pass for a soundtrack from 1985.'
written in music
'Cosmic romanticism', 'future noir' and 'artisanal synthesizerpop.'
indie indie
'This is music for standing on top of buildings and gazing intensely over the skyline after saving the city from certain destruction. (…) This is really excellent.'
norman records
'Heat is a record that you should let soak in slowly , like a healing balm. (…) who perseveres will be rewarded.'
gonzo (circus)
'It's a cinematic, imaginative en wonderful record that will appeal to every melancholic.'
subjectivisten / caleidoscoop
'I'm not sure whether you can take my word for how good this LP is (…) Maybe Hunter Complex are serial sentimentalists.'
incendiary magazine
'That whole 80s feel is what makes this record strong (…) a very pleasant record, highly entertaining. Great value!'
vital weekly
'Dropping John Carpenter influenced keyboard noir ('Serious Glass'), analogue slabs with goth poetry lyrics ('China Rain') and goose-bump guaranteeing synth arpeggios ('Daylight').'
bleep
'Heat is full of such cinematic, mysterious spacepop with a slightly ominous undertone that you continue to return to.'
kicking the habit
[vimeo 94732049 w=500 h=281]
[vimeo 78154773 w=500 h=281]
[youtube https://www.youtube.com/watch?v=gSx_Zu0s9iE]
[youtube https://www.youtube.com/watch?v=0xoDSFgjVQU]
[youtube https://www.youtube.com/watch?v=xTGl7ReH-SA]
press downloads
hi-res image of cover
press release (english)
reviews
the sound projector
july 18 2014
by stuart marshall
Could anything possibly sound less Dutch than this effervescent synth rumination? Granted, my immediate, top-of-the-head reference points are DJ Tiesto and Dick Raaijmakers, but this is something/where else. The preceding, self-titled debut from Hunter Complex (aka Narrowminded label founder Lars Meijer) was an altogether more obvious exercise in multifarious 80s synthphonics than this hazy, delay-drenched road trip to nowhere, for which Hunter has packed into trunk a sparse synth and drum machine set up and phased us into a Californian dreamtime, where we experience every arpeggio as a shimmering mirage: detached and tentative and hovering indifferently over merciless plains, though not without a distant whiff of romance. Corresponding to this imagining of a muzzy limbo, speed seldom exceeds third gear, while the mysterious navigator's delivery exhales emotional ambiguity in low mumbles that suggest a thinking out loud; his final exhortation to 'Let Go' could as easily imply ill or amorous intentions for whomever accompanies him through those heat-struck, death valleys.
the belbury parish magazine
june 13 2014
We were very excited to discover this amazing LP from Holland's Hunter Complex, it's a simultaneously glitzy and unsettling excursion into a sparkling early midi world of Tangerine Dream Soundtracks and Michael Mann movies. The man behind the music, Lars Meijer explores a fascinating soundworld and captures the pivotal point in cultural history where analogue handed over to digital. Driving sequencers, sparkling DX7s, power leads and smokey vocals stride into a bold over saturated VHS future world. Cool as flip.
the post.online
january 1 2014
by tjeerd van erve
Prince, de kleine muzikale reus. Wanneer ik Hunter Complex hoor moet ik altijd aan de Amerikaanse wereldster denken. Niet dat er een muzikale connectie is tussen die twee, behalve dan dat de man achter Hunter Complex, Lars Meijer, een groot fan is van de popgeweldenaar. Zijn werk heeft daar echter weinig mee te maken. Onder de naam Hunter Complex brengt hij sinds 2010 jaren 1980 geïnspireerde synth pop uit.
Heat, het tweede album van een van de mannen achter het label Narrominded, leunt even goed op de analoge synthesizers als de voorganger, maar breng daar meer dreiging en diepte in. Het is als een soundtrack bij een film waarin niets is zoals het lijkt en een liefelijk tafereeltje dus een horror soundtrack krijgt. Voortdurend wringt en wrijft de elektronica van Hunter Complex, wat een album maakt dat je van begin tot eind bij de lurven neemt en bij de les houdt.
mojo magazine
december 17 2013
by ian harrison

kwadratuur
november 22 2013
by johan giglot
3,5 / 5
De Nederlander Lars Meyer getuigde via zijn alter ego Hunter Complex al eerder van een voorliefde voor synthesizermuziek uit de jaren '80. Het is echter alweer drie jaar geleden dat deze interesse ook muzikale vruchten mocht afwerpen, allicht het gevolg van de grote drukte als labelbaas van het befaamde Narrominded. De tweede langspeler staat echter helemaal in teken van die blitse tachtiger jaren.
Hunter Complex neemt zijn luisteraars mee doorheen een dromerige retrotrip. Moroder synthesizers, elektronische discobeats en diep bedwelmende vocalen zijn daarbij onontbeerlijk. Dit album ruikt helemaal naar vintage en vinyl (het komt ook niet op cd uit), naar live toetsenvirtuositeit en een afkeer van complexe laptopdetails. Dit is pure eighties, de tijd van Miami Vice, te grote zonnebrillen en Casioklavieren; een tijd dat synthesizermuziek nog kunst en geen vloek was en octaafverhogingen in spacetonen met handclaps doorvlochten werden. Zweverige spacetunes, funky gitaarriffs en fonkelende toetsen zijn universeel, de ene keer wat meer duister richting new wave knipogend, de andere keer meer filmisch en sfeervol.
Toch is er zeker ook de nodige frisheid in deze muziek. De subtiele basgrooves in 'Atlantic', de knisperende ritmen of mooi ontluikende beats die de vele keyboardpartijen ondersteunen, zorgen voor een wakkere punch. Zo laat Meyer met een mooi melancholische onderbouw oud en nieuw netjes samenkomen. In een wat duister 'China' spelen bijvoorbeeld diepe, onheilspellende vocals mee terwijl een krachtige synthesizerloop en schuifelende ruis voor enige mystiek zorgen. Die veelal aanwezige, duistere Darth Vader-stem zit telkens ver weggemoffeld in de analoge synthesizerlagen, zodat er van enige verstaanbaarheid of tekstuele duidelijkheid geen sprake is.
Daar houdt het zeker niet op. 'Room' speelt met wat abstracte structuren waarin de vierkwartsmaat niet altijd gerespecteerd wordt en opvolger 'Stations' injecteert kerkorgelspel en veel heroïsche tonen in een bossa novabeat. Kitsch en pop zijn op 'Heat' dus alomtegenwoordig, maar worden stevig in de diepte uitgewerkt.
Dit album klinkt blits en fonkelend, maar nooit op een moderne, gedetailleerde manier. Een vrij doffe en bewust oppervlakkige productie waarbij alle lagen en accenten op een gelijk niveau staan, past helemaal bij het jaren '80-sfeertje. Toch slaagt Hunter Complex erin daar zijn geheel eigen muzikaal verhaal uit te brouwen, eentje vol melodie en herkenbaarheid, maar toch fris genoeg om met beide voeten in de moderne tijd te staan.
peek-a-boo magazine
november 3 2013
by chris konings
85 / 100
The second album for Lars Meijer's solo project, he now investigates 80's soundtracks. With his first album he distilled synthpop from bands like Pet Shop Boys, Depeche Mode and Level 42, now the artwork tells you a lot about his influences. Stills from movies like "They Live", "Capricorn One", "Prince Of Darkness" and others suggest a soundtrack fitting for series like Airwolf, Miami Vice and McGyver. And apart from the few songs where he sings, it is exactly that.
At first I did not think much of it, I'm not waiting for a visit into Jan Hammer's mind… But there's more to this album, if you are patient enough, you can peel away those layers of amateur synth bliss and discover some truly honest and profound emotions. "Daylight" is the most rewarding song, I love the scant specks of guitar, it gives it a whole new dimension. After that you can lay back in your Cadillac and glide through the landscape that's vibrating with heat (Highway Hypnosis).
Sure it's crummy and naive, as well as completely superfluous. So why is it I like this album? Well I guess Lars is just an honest guy with lots of love for this kind of music and that love seeps through the seams of kitsch… And didn't we all love Mickey Rourke, David Hasselhoff and Tom Selleck? A good one!
Oh yeah, don't doubt for too long, it's available since september and only 100 copies each in transparent or black vinyl… And if you want to see him live, 7 december he plays @ Kinkystar in Gent!
highlife
october 2013
by arjan van sorge
4 / 5
Het hoeft niet altijd een onverdeelde vreugde te zijn als de baas van een platenlabel zelf een plaat uitbrengt, maar in het geval van Hunter Complex mag het een geslaagde move heten. Het Amsterdamse label Narrominded grossiert in onbekende noisebandjes en field recordings, maar Lars Meijer maakt er dit keer met Hunter Complex een trip door de tachtiger jaren van. Retro futuristische electro met zacht pulserende beats uit de ritmebox, wollige synthesizertapijtjes en van die gedateerde elektronische drumroffels – het kan niet op. De aalgladde liedjes gaan vergezeld van hijgerige robotstem en fijne melodielijntjes; een perfecte flashback naar een toen dat nooit echt geweest is.
revolver's lust for life magazine
october 2013
by peter bruyn
Heel even – maar ook niet langer dan de eerste paar maten – denk je: 'Hee, Ultravox…' Tot de zang begint, die niets met die van de jaren tachtig Vienna-synthpoppers te maken heeft. Maar het tekent de atmosfeer. Haarlemmer Lars Meijer, de man die achter Hunter Complex schuil gaat, herschept het geluid dat een deel van de popmuziek van pakweg dertig jaar geleden domineerde. Wat natuurlijk alles te maken heeft met de gebruikte apparatuur – de legendarische Yamaha DX7 synth en de Linn-drummachine voorop. Heat zweeft ergens tussen die Engelse synthipop van destijds – maar leunt minder op liedjes – en de Duitse, uit de Krauttraditie voortkomende synthesizerdinosaurussen als Tangerine Dream en Klaus Schulze. Dat het album inmiddels internationaal met lof overladen wordt is wel begrijpelijk. Heat behaagt en is spannend tegelijkertijd. Alsof je in een tobbe stapt waarin badzout in diverse pasteltinten is gestrooid. Rozengeur, misschien net iets té…, maar wel lekker.
festivalinfo
october 26 2013
by mark den dulk
Lars Meijer, het brein achter Hunter Complex, begon eind jaren '90 met het maken van muziek, zowel solo als in een band en in verschillende duo's. Zo ontwikkelde Meijer zich als naam in de industrie van elektronische muziek. Tevens lanceerde de Haarlemmer in 2000 het label Narrominded, waarop hij als Hunter Complex in 2010 zijn naamloze debuutalbum uitbracht. Nu, drie jaar later, is er de opvolger Heat, uitgebracht op vinyl en ook digitaal te beluisteren.
Hunter Complex maakt experimenteel elektronische muziek, een cross-over tussen synthpop en new wave, wat uiteindelijk uitmondt in bijzondere synthscapes. De invloeden uit het verleden, veelal muziek uit de jaren '80, is duidelijk te horen. De boventoon wordt gevoerd door electropop pioniers Kraftwerk, maar de muziek van Hunter Complex doet ook vaak denken aan 'Tubular Bells' van Mike Oldfield. Met digitale synthesizers van o.a. Roland en Yamaha maakt Meijer muziek die gemakkelijk als soundtrack van een film zou kunnen dienen. Het is dan ook niet verwonderlijk dat het artwork bestaat uit beelden van films als Capricorn One, Flashpoint en Midnight Crossing'.
Op Heat wordt je meegenomen op een reis, bijvoorbeeld naar 'Atlantis', maar beland je natuurlijk ook in de ruimte op 'Space'. Hoewel deze track net zo space-achtig mag klinken als de rest van het album, kan toch uit de onverstaanbare vocals nog het woord 'stars' opgemaakt worden. Meijer gebruikt op veel van zijn tracks donkere vocals, die vaak onverstaanbaar zijn en meer bijdragen aan het gevoel bij de track dan dat ze een boodschap overbrengen. 'Daylight' is een track die vooral steunt op dreunende beats, waar 'Highway Hypnosis' weer erg poppy klinkt. 'China Rain' is complex ritmisch, maar de daaropvolgende track 'Room' is weer vrij toegankelijk en in het begin zelfs goed dansbaar. Kortom, dit is geen plaat die op elke track hetzelfde klinkt.
Vergeleken met zijn voorganger is Heat een album dat een stuk afstandelijker klinkt. Het is een bijzondere plaat die bij liefhebbers van deze vorm van elektronica, zeker zij die de jaren '80 muzikaal optimaal beleefd hebben, goed in de smaak zal vallen.
chain d.l.k.
october 21 2013
by andrea piran
Narrominded publishes the new LP from Holland's Hunter Complex presented as "a strange mix of Moroder's film scores and '81-'82 era" so the songs collected in this release are based on the classic synth pop structure. So, musically speaking, they are pop songs with synth instead of guitars and reveals as sound exploration has given to pop an entirely new musical palette.'¨"Heat" opens this release with a '80's sound clearly recognizable but with the '90 experimental attitude while "serious glas" deals with classic synth pop musical structure without seem a bad copy of it. "Atlantic" seems something taken from some strange oat featuring a sort of exotic mood vaguely resembling of some japan tunes. "Space" is clearly influenced by the '70 disco sound made by Giorgio Moroder. "Daylight" features dreamy synth. "Highway hypnosis" opens the B-side of this album, released on vinyl, and is a track with one of the best hook heard this year. "China rain" is a slow ballad and "room" almost a dance track. "Stations" and "hours" close this as classic pop tunes that use synth to obtain a layer of modernity to the classic pop musical development.
This album is really well written and glamorous, it features declaredly nothing ground-breaking, and is a sort of modern postcard from a distant era (the '80s) that seems better than ever. Nice without nostalgia.
kindamuzik
october 18 2013
by sven schlijper
Honderd stuks worden op doorzichtig vinyl geperst op de wereld los gelaten. Honderd stuks komen in het zwart voor de dag. Deze twee varianten van Heat vormen de tweede langspeler van Hunter Complex, de naam waaronder Lars Meijer aan de slag gaat met een fikse batterij synthesizers en aanverwante elektronica. De plaat laat een geluid horen dat honderd procent schatplichtig is aan de (klater)gouden synthesizerjaren van maestro's als Vangelis, Jean-Michel Jarre, Giorgo Moroder en Jan Hammer. Toen was de lp nog het voorkeursformaat voor wie muziek wilde kopen. Je vrienden op de hoogte stellen van wat je leuk vond, deed je door bandjes op te nemen. Ook handig trouwens voor in je walkman.
Heat is een opvallend staalkoude bedoening met her en der vocalen die op verre afstand blijven. De plaat is aanlokkelijk melodieus; de steriele klankwereld is tegelijkertijd nauwelijks knus of menselijk uitnodigend. Kitsch ligt als een hoogpolig vachtje op de grond voor een fout bankstel en Chriet Titulaer babbelt nog olijk over zijn wondere wereld. Hunter Complex ademt, leeft en viert het futurisme dat in de jaren tachtig doorklonk in de synthesizermuziek gewoonweg lekker nog eens dubbel en dwars. Space age airbrushschilderij op de hoes en klaar. Niks meer aan doen. Doet Heat dan ook niet.
Voor wie er destijds al bij was, is Heat vooral een anachronistische (al dan niet tenenkrommende) trip down memory lane. Jongeren horen nu ook eens de geluiden van toen, maar de verzamelde oeuvres van de vaak wél pionierende inspiratiebronnen van Hunter Complex passen nu op één mp3-speler en zijn alom te vinden op streaming services. Aan de andere kant: wie is er niet door een act van het moment eens op zoek gegaan naar de mosterd? Op zich niets mis mee.
Twee plaatkanten lang is de hamvraag voor alles of dit nu het hoogte- of dieptepunt is van retromania. Of is Heat niets meer, maar zeker niets minder, dan de onderstreping van de steeds net voorbij het grijpen liggende belofte van het futurisme: Faster, harder, Hunter Complex; een perpetuum paradox van het wedstrijdje tussen Achilles en de schildpad?
nonpop
october 15 2013
by tony f.
Wir befinden uns musikalisch in den 80er Jahren – wieder einmal möchte man fast schon in Endlosschleife sagen. Diesmal ist es das Projekt HUNTER COMPLEX des Niederländers LARS MEIJER, das uns mit dem Zweitling "Heat" diese Ära wieder einmal näherbringt. Dabei erschließt sich aus dem technischen Ansatz des Projektes auch gleich schon der Sound. LARS MEIJER hat nämlich fein säuberlich aufgeführt, mit welchen Geräten er gearbeitet hat, so dass man weiß und auch hört, dass nicht das analoge Zeitalter im Vordergrund steht, sondern dass man mit dem Gebrauch der ersten digitalen Synthesizer klangtechnisch in der Mitte bis zweiten Hälfte der 80er Jahre zu verorten ist. Allerdings kann man auch einen Yamaha DX 7 auf sehr unterschiedliche Weise einsetzen, so dass es der Erläuterung bedarf, dass man eher die hellen, weichen und fließenden Sounds der Epoche für sich wiederentdeckt und nicht z.B. die kantigen und drängenden Basssequenzen, die damit auch möglich sind, wie genügend EBM und Wave-Bands bewiesen haben.
Somit steht bei "Heat" ein schwebender, melodiöser und luftiger Pop-Sound ohne Kanten im Vordergrund, der mit zurückhaltenden Beats und einer weichen, etwas farblosen Stimme ausgestaltet ist. GIORGIO MORODER und die frühen SIMPLE MINDS bringt man selbst als Vergleiche mit und liegt damit auch gar nicht mal so falsch, jedenfalls was die Idee vom Sound angeht. Es wird aber kein Bombast oder Pomp aufgefahren; so grenzt man den Sound durch minimale Drumstrukturen etwas ein und setzt auch nicht auf hymnenhaften Gesang. Ob man damit in einem klanglichen Fahrwasser unterwegs ist, das heute unbedingt noch jemand neu aufgelegt braucht, sei allerdings dahingestellt, zumal man den eingesetzten digitalen Synthesizern ihr Alter in diesem Fall tatsächlich weitestgehend negativ anhört. Problematischer ist allerdings, dass der zwingende Song, die gute melodische oder rhythmische Idee – schlicht der Anker des Albums – fehlt. Die Stücke gleiten vielmehr unbeschwert und unauffällig dahin. So fühlt man sich jedenfalls eher unangenehm an die Popper-Phase der 80er zurückerinnert – an fluffige "Formel 1"-Sampler und fiese Marken-Klamotten. Für jemanden, dessen Tasse Tee das nie war – schwierig.
the quietus
october 2 2013
by theo ploeg
In the opening scene of the film The Informers, based on the book by Brett Easton Ellis, there is this image of a typical Los Angeles 80s party. Everybody seem to be having fun but a closer look reveals ice cold faces without any emotions. As the DJ plays 'New Gold Dream' by Simple Minds the LA jet set kids are not actually busy with their bright new future – but with not having a clue who they are. In another scene two main characters Graham and Martin are in a red Porsche over looking LA while Martin is whining about not knowing what to do because nobody ever told him what to do. Heat would be the perfect soundtrack for Easton Ellis' books.
This is the second album by Hunter Complex, a moniker of Lars Meijer who is one of the founders of the Haarlem based record label Narrominded. His self-titled debut album, released in 2010, was a nice excursion into the synth pop sound of the 80s, but nothing more. Heat is something completely different. Not because of the music, there are parallels in sound between this second and the first album, but in feel and mood and idea. In short, his debut album consists of nice pop songs with good melodies and edgy hooks. Heat isn't like that at all. Yes, the melodies are smooth, the hooks edgy, but there is something else.
It's not easy to put into words what that specific 'else' is. Heat is more distant and sounds more optimistic, futuristic even. A comparison to Simple Minds' 'New Gold Dream' is tempting, but doesn't tell the full story. While listening the album for the time I often thought about an another album from the beginning of the 80s: Signals, by Canadian prog-rockers Rush. The album still sounds dramatically optimistic while on the other hand through lyrics depicts a nightmare. Neil Peart's words deal with a new technological world that will be hard to understand by man, with songs like 'The Analog Kid', 'Digital Man' and 'New World Man' encapsulating the struggle that is called progress.
I get the same feeling with Heat. While Signals embraces new technology to exorcise the horrors of a fast changing society, Hunter Complex is heading back to the time new technology was still fresh and the future looked bright. But the story with Heat is more complex. The ten songs on the album breath optimism and believe in the future and although the emotions go deep, you feel it is as shallow as it can get. When Meyer's dark, distant voice talk-sings, for example in 'Highway Hypnosis' there is definitely something wrong, although the music sounds fresh and crispy. That's the essence of Heat: the music gives you the chilling experience of being two things at once: alleviation and damnation.
There is only one band that is as good in this discord as Hunter Complex: Trans Am. Surrender To The Night, released in 1997, was like a postmodern dream that in a way predicted the end of the optimistic 90s. Heat seems to sum up the hopeless situation our current world is in. Far from a positive message and instead of easing the pain, like Rush did on Signals, the strong positivism that leaks from the melodic and warm synths make the pain even worse – it's a brilliant combination.
And then there is the strong visual language of the album cover by Meyer and Narrominded co-owner Coen Oscar Pollack, which works to create even more distance.
In his debut novel Less Than Zero Brett Easton Ellis lets his principal character Clay see a sign with 'disappear here' on it. Much more so than the Bloc Party 'Song For Clay (disappear here)', Heat is the perfect soundtrack for that scene.
musicfrom.nl
september 30 2013
by jorgen van de burgt
Het klinkt misschien lachwekkend, maar veel digitale elektronica uit de jaren tachtig werd ontworpen om het geluid van echte instrumenten zo dicht mogelijk te benaderen. Lars Meijer, het brein achter Hunter Complex maakt ook bewust gebruik van die koud klinkende wavetables, blokgolven en zaagtanden om donkere synthpop te maken die direct uit de jaren tachtig lijkt te zijn overgestraald.
Als het de bedoeling was om een temporele paradox te creëren die het ruimte-tijd continuüm zou ontwrichtten om ons terug te voeren naar de eighties, dan is dit experiment geslaagd. Zou Giorgio Moroder een dag depressief en paranoïde zijn geweest, dan zou hij dit soort muziek maken; een radiostation vol etherische synthscapes waar je bij kunt wegdromen.
Ergens doen de creaties van Hunter Complex denken aan een soundtrack voor een Mad Max sequel, maar het mistaat ook niet bij een meer moderne, artistieke game a la Swords & Sorcery waar 8-bit hoogtij vierde. Daarmee ontwijkt 'Heat' knap het kitsch-label wat hieraan waarschijnlijk 30 jaar geleden zou zijn gehangen. Nostalgisch, en toch ergens heel modern.
Hoewel de droge beats die de muziek voortdrijven je doen denken dat je in een achtervolging zit met de cyberpolitie in Tron, zijn vooral de synthscapes bepalend voor de plaat. Surrealistische beelden flitsen door je hoofd bij het horen van die gelaagde drones en pads. Meijer probeert hier zelf nog overheen te zingen, maar raakt verdwaalt in zijn eigen oerwoud van reverb. Het is beter zo. Zonder enige menselijke tussenkomst in deze wereld van kale synthese levert dit een des te meer dystopisch gevoel op.
Als je oud genoeg bent om de jaren tachtig bewust te hebben meegemaakt, raakt Heat een nostalgische snaar. Voor fans van New Wave of Italo valt er zo genoeg te genieten, tegelijkertijd is het zo retro dat het weer hip is, ook voor hen die geen warme herinneringen hebben aan dat koude decennium.
dark entries
september 26 2013
by paul van de gehuchte
De nieuwe elpee van het Nederlandse Hunter Complex laat de temperatuur hier ten huize een paar graden stijgen en dat komt niet alleen door de titel. 'Heat' wentelt, zwelgt en beweegt op de tonen van een warm, suggestief symfonisch klanktapijt. Het gamma aan keyboards, drummachines en synthesizergeluiden lijkt onuitputtelijk. 'Heat' zou ook de soundtrack van een nog te maken film kunnen zijn. De meeste composities houden op een subtiele manier een onderhuidse spanning levend, het soort dat je onrustig op je stoel laat schuiven. De manier van zingen van Lars Meijer lijkt sterk op die van Graham Lewis (groepslid van het legendarische Wire en actief in tal van andere projecten als He Said, Ocsid en Duet Emmo). 'Room' zou je zelfs bijna bestempelen als een Wire song. Soms is het wat te veel van het goede zoals in 'Atlantic' en 'Space; allebei pompeus en gekunsteld waarbij de synthesizers vrij baan krijgen. In het mooie, instrumentale 'Daylight' en het knappe, wat meer robuuste 'China Rain' wordt alles iets beter gedoseerd en dat loont. Heel fraai is ook het prima onderbouwde 'Hours', meteen een fijne afsluiter voor deze 'Heat'.
written in music
september 14 2013
by edwin hofman
Hunter Complex vormt een unieke stem binnen de Nederlandse elektronische muziek. Natuurlijk, er zijn wel meer acts beïnvloed door synthesizerpop uit de jaren tachtig maar Hunter Complex zet zijn arsenaal aan elektronica (Yamaha, Roland, Korg, Linn Drum en meer) niet in om de luisteraar in het gezicht te slaan. Lars Meijer, de drijvende kracht, brengt op Heat prettig gedateerde sfeerscheppingen. Ruimtelijke muziek die af en toe uitnodigt tot dansen of wiegen maar die doorgaans als een soundtrack over je heen valt.
Het artwork van deze tweede langspeler van Hunter Complex, een eenzame auto die Noord-Amerika doorkruist, past dan ook wonderwel bij de muziek. Heat klinkt als een soundtrack. De vocalen van Meijer zijn afstandelijk, bijna als een extra toetsenlijn, en versterken het atmosferische karakter van de muziek. Werden de soundtracks uit de jaren tachtig doorgaans ontsierd door ingeblikte gitaren en smakeloos gepingel, Hunter Complex weet met die gedateerde muziek in zijn achterhoofd iets smaakvols te realiseren; Heat zou kunnen doorgaan voor een soundtrack uit 1985, maar dan wel van de hand van John Foxx of Information Society en dus beter dan de meeste Hollywood-scores van 25, 30 jaar geleden.
Opener Heat vormt de start van de rit en met de versnelling na 80 seconden zijn we echt onderweg. Hierna begeleidt een waaier aan veelkleurige elektronica de luisteraar tot het einde van de reis. Soms dwars en afstandelijk, soms poppy. Licht industrieel dan weer kitscherig. Space opent met ontroerende trance-sferen en ontpopt zich als een relatief conventionele synthpoptrack. De beheerste instrumental Daylight vormt een mooie staalkaart van Hunter Complex' instrumentarium: melodieuze golven doorkliefd door beats. Highway Hypnosis doet zijn naam eer aan: wat steviger, van kleur verschietend; je ziet het avondrood boven de highway geschilderd worden.
Wie een soort nieuwe new wave club classics wil, zal bij Hunter Complex niet direct slagen. Daarvoor is de muziek te weinig gericht op dansvloer en blijven de zanglijnen te bescheiden in de mix. Room is een van de uitzonderingen: uptempo, pittig en gezegend met een kort maar pakkend refrein ("Come on over to my house / Sunday"). Hierna betrekt de lucht weer even bij Stations om binnen hetzelfde nummer weer open te breken. We zijn nog steeds in beweging.
Het afsluitende Hours heeft wat tijd nodig om op zijn plaats te vallen. Deze wat vetter aangezette track had best wat langer instrumentaal mogen blijven om zo meer stootkracht te genereren. Na een paar minuten vallen de melodieën, de synths en zanglijn echter bijzonder mooi samen en koersen we af op het einde van Heat, een plaat waarmee Hunter Complex zijn karakteristieke 'synthpop' weer naar een hoger niveau tilt.
indie indie
september 13 2013
by ruben braeken
Beoordeel nooit de smaak van het vlees aan de kwaliteit van het hakmes. Toch loopt het water bij voorbaat ons al in de mond wanneer we ons vergapen aan de achterkant van Hunter Complex nieuwe plaat(hoes): een indrukwekkende lijst van vintage synthesizers en drummachines die als gerei dienen voor een fraai staaltje popvakmanschap. Het muzikale alter ego van Lars Meijer (Larz, Psychon, Living Ornaments) toont zich op Heat als een waar connaisseur van de ambachtelijk synthesizerpop waar grootmeesters als Giorgo Moroder en Art of Noise voor de val van het IJzeren Gordijn in uitblonken. Tijd voor Hunter Complex om de draad weer op te pikken.
Waar retro-pocherij van sommige Nederlandse musici algauw uitmondt in vonkloze pastiche pop (we kijken naar jullie, Gardner en Knol..), verzandt Heat nergens in transparante kitsch. De titeltrack doet zijn naam eer aan als de ijzige synth-klanken zich als een warme deken om de luisteraar heen wikkelt. Het kan niet anders of de magistraal stralende synthesizers van "Space" en "Atlantic" gonsde door het hoofd van Wubbo Ockels toen hij Aarde bekeek vanuit de Challenger. Naast de kosmische romantiek van "Room" en hoogtepunt "Stations" is Hunter Complex verre vies van filmische elementen, zoals in de future noir van "China Rain", dat niet misstaat als soundtrack van een John Carpenter-film (minus vechtscènes). Dankzij wonderschone platen als Heat kunnen we voorlopig blijven teren op de gouden erfenis van de eighties.
norman records
september 10 2013
by reviewbot3000
9 / 10
All you '80s synth fans will be into this one. Hunter Complex is Lars Meijer, and here he's making some euphoric '80s pop with prominent Yamaha DX7 and Roland D-50 tones which make it sound totally 'Airwolf', but with the sun-bleached soundtracky heat haze of 'Inner Tube' or a stoned, smudged take on Egyptology. The mixture of analogue and digital synths is well judged and as a child of the '80s myself so many of the sounds on here are triggering some serious childhood nostalgia.
If Palm |/ Highway Chase makes music for car chases, this is music for standing on top of buildings and gazing intensely over the skyline after saving the city from certain destruction. There's a blurry, layered nostalgic euphoria to many of the tracks with a distant intangible quality which, if you're like me, will keep you coming back for repeated listens to try and get a grasp on it. This is really excellent.
gonzo (circus)
september 7 2013
by mb

subjectivisten / caleidoscoop
september 7 2013
by jan willem broek
De laatste paar jaren grijpen steeds meer bands terug naar de jaren 80. Dat komt aan de ene kant denk ik door die heerlijke, ijzersterke en typerende melancholische sound uit die tijd en deels ook om de nostalgische hang ernaar. Er is gewoonweg veel om naar terug te blikken. Wat de hedendaagse bands onderscheidt van de bands van weleer is een bredere muziekkennis en betere apparatuur, waardoor het nooit echt gedateerd klinkt. Overigens zijn niet allen hoogvliegers. Het Nederlandse toonaangevende, klasse label Narrominded stapt in 2010 ook in die moderne trein naar het verleden. Dat doen ze met Hunter Complex en het gelijknamige debuut. Bepaald geen Fyra, want de tijd staat niet stil. Het is een nieuw project van Lars Meijer, één van de oprichters van het Narrominded label en tevens actief als en in de formaties Larz, Living Ornament, Psychon en Psychon Troopers. Deze veelzijdige muzikant beweegt zich doorgaans in de meer abstracte elektronische vaarwateren, maar toont met zijn Hunter Complex aan ook op voortreffelijke wijze uit de voeten te kunnen met vintage sounds gestuurde synthpop vol wave invloeden. Gedateerdheid tot moderne kunst verheven. Trouwens, van een oude, gerijpte wijn heeft toch niemand het over de leeftijd maar juist over de smaak en kwaliteit?
Nu is hij drie jaar later eindelijk terug met zijn tweede album Heat, waar hij weer net zo smaakvol te werk gaat als op zijn debuut (al doet de cover een Americana werkje vermoeden). De vintage synthesizers staan weer volledig in dienst om een eerbetoon aan het verleden te brengen en op hedendaagse wijze te schitteren. Simpelweg gezegd krijg je een heerlijke en bovenal spacy en psychedelische mix van synthpop, wave, krautrock en licht experimentele muziek. Je hoort op afwisselende wijze artiesten en bands als Joy Division, Kraftwerk, Jan Hammer, Clan Of Xymox, Simple Minds, Suicide, He Said, Wire, OMD, New Order en Depeche Mode de revue passeren. Lars weet er zijn eigen draai aan te geven, maar met behoud van de droefgeestigheid en nostalgie van weleer. 47 minuten lang weet hij uiterst pakkende muziek te brengen, die je stevig in de houdgreep neemt. Het is niet alleen bijzonder mooi, het is tevens een schitterende beschouwing geworden op van alles wat geweest is; het duistere verleden op eigenzinnige wijze in het zonnetje gezet. Muziek om bij te dagdromen, je te bezinnen en gewoonweg intens van te genieten. Ook zijn zang klinkt als een ervaren gids door de tijd heen. Het is een filmisch, tot de verbeelding sprekend en wonderschoon geheel geworden, dat iedere melancholicus zal aanspreken. Steengoed en bepaald niet van het Stenen tijdperk dus. Hete nu-nostalgie met een verslavende uitwerking. Het zou daarom ook prima op dat moderne medium, de compact disc, passen. Maar goed dat is wellicht toekomstmuziek. De tweede van Hunter Complex is wederom een fantastische plaat geworden.
incendiary magazine
september 3 2013
by richard foster
I wasn't going to review this record as I did the promo copy for it on the Bandcamp page, the fee being free vinyl. So I feel a bit weird in reneging on my intention to let this release slip by the Incendiary searchlight. Add the fact that Hunter Complex is Lars Meijer who is the label boss of Narrominded, who – guess what – release Hunter Complex and you may start to wonder if this is some elaborate stitch up by the pair of us.
How we tie ourselves in knots, eh? It just goes to show how things roll in these straightened times.
And I'm not sure whether you can take my word for how good this LP is, as I suspect the review may sound a bit forced in trying to find yet more positive things to say, (albeit in a more personal manner), but I'll try.
In essence this is a devotional record, a fan boy record. In looking to add soundtrack films like Capricorn One and Midnight Crossing you suspect that Lars Meijer just can't get enough of that late 70s early 80s habitus, can't squeeze enough emotional juice from an era where technology seemed mysterious, something to be allied with, to be used and recalibrated back, through a human filter. Certainly not the all crushing life-sapping behemoth it seems to be today.
This future / past dichotomy is very strongly felt in the music on Heat, and maybe mirrors the feeling of quaintness (and resultant stasis) that all these 70s and 80s flicks seem to show now, at any rate in their rendering of a dystopian future. Tracks like Hours and Room feel static, trapped, almost on emotional rewind, but luckily that adds a lot of menace to what could be quite straightforward regurgitating of an era's sound; the sort of ironic period pieces we are often bombarded with nowadays. Room could – if handled wrongly – sound like the worst kind of Depeche Mode mash up. Meijer uses a plethora of vintage synths so the crime could easily be compounded.
Maybe Hunter Complex are serial sentimentalists. A lot of the tracks do have a marked sentimental edge, like Serious Glass or the brilliant Space, which nabs Seeing Out the Angel's key pattern from the Minds' Sons & Fascination. The melodies are set high in the gantry, using high register synth washes, punctuated by the odd stab of beat or staccato rhythm. It does sounds (superficially) like the stuff John Maus does, but without his breast beating. There's an element of Dutch netjes about this LP, something that wouldn't sit well with Mr. M. But there again there's an expansiveness which, when allied to the clinical, soi distant elements, becomes much more than the sum of its parts; the opening segment of Highway Hipgnosis is a fab example.
Listen in.
vital weekly
september 3 2013
by fdw
Sometimes I worry that time goes by so quick. It's been really three years since I reviewed the eponymous CD by Hunter Complex, also known as the solo project of Lars Meijer, whom I know as the friendly boss of Narrominded, and as a boss not narrow minded at all. Three years. God. I enjoyed that CD, even have it on my ipod, I think, and here's a new LP. In an edition of 200 copies only, 100 on black vinyl and 100 on transparent vinyl. It's crisis everywhere, I was thinking, as this should, technically, be an album that one could sell pretty well. Hunter Complex plays electronic music with a strong pop edge. And I say that because I don't want to write: Hunter Complex plays electronic pop music. Meijer uses a bit of vocals, occasionally and moved to the background of the piece, but it's the instrumental music that is important and hence, perhaps, as such less 'pop music'. If anything, Hunter Complex looks for the early 80s to find it's sources for inspiration. Italo, Morodor, elektro, Simple Minds. Erm, Simple Minds? Apparently some keyboard lines are straight of Sons And Fascination, which I missed I guess, even when the Simple Minds are on of my favorite all-time bands – from all periods actually. The front cover also read like a catalogue of 80s apparatus: Linn Electronics, TR 707, TR 505, PPG Wave, Yamaha DX 7. That gives this record a certain aura of being dated, and that's perhaps exactly what I like about it. That whole 80s feel is what makes this record strong, not necessarily each track, but the total sum of music, instruments used, video stills used on the cover and perhaps even Meijer's singing. Not particular strong, but such was the way back then. A very pleasant record, highly entertaining. Great value!
bleep
september 2 2013
Lars Meijer's 2010 debut for Dutch indie label Narrowminded showcased a new brand of synthpop, where radio-ready melodies are incorporated into cutting edge production. This sophomore album shows him even more comfortable with that format, dropping John Carpenter influenced keyboard noir ('Serious Glass'), analogue slabs with goth poetry lyrics ('China Rain') and goose-bump guaranteeing synth arpeggios ('Daylight').
kicking the habit
august 26 2013
by barry
Het Nederlandse Narrominded heeft weer heel wat moois op de planning staan de komende tijd, te beginnen met een nieuwe plak vinyl met retrofuturistische synthpop van het Haarlemse Hunter Complex. Heat heet de plaat, opvolger van het zelfgetiteld debuut uit 2010. En wij hebben de eer om het titelnummer en opener van de plaat te mogen premièren. Waarom? Omdat we meteen verslaafd zijn aan de meditatieve synthscapes met galmende zang en nerveuze beats op Heat.
Knap is ook hoe de onderkoelde elektronica en synths nog eens effectief extra vaart krijgen vanaf 1:20 en hypnotiserend op je inwerken. Heat staat vol van zulke filmische, mysterieuze spacepop met licht onheilspellende ondertoon waar je naar blijft terugkeren. De cover van de plaat past wat dat betreft perfect: al snel vraag je je af wat er in hemelsnaam aan de hand is met die schijnbaar gestrande auto in dat ruige, verlaten landschap van de normaal zo weidse woestijn.
Heat verschijnt op 30 augustus via Narrominded als gelimiteerde LP van 200 stuks met 100 exemplaren op transparant oranje vinyl en 100 exemplaren op zwart vinyl. Op diezelfde avond wordt de plaat gepresenteerd (samen met die van Rooie Waas) in De Nieuwe Anita, Amsterdam. Narrominded heeft nog veel meer moois op de planning voor de komende maanden, houdt het label dus vooral goed in gaten.