format: digital (bandcamp / spotify / itunes)
released: may 30 2013
tracklisting
1.space (single edit)
2.sunset smoke (instrumental mix)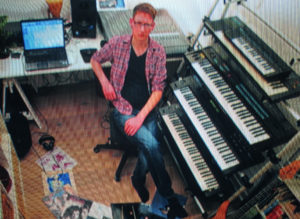 info
Space is the first single from the brand new Hunter Complex album Heat, to be released August 2013.
[youtube https://www.youtube.com/watch?v=0xoDSFgjVQU]
press downloads
hi-res image of cover
press quotes
'It has the alien allures of Star Trek or Battlestar Galactica.'
kwadratuur
'From the promising Heat album'
indie indie
reviews
kwadratuur
december 1 2013
by johan giglot
Voor Lars Meijer ofte Hunter Complex mocht het gerust nog 1985 zijn, een periode waarin roemrijk wordt gescoord met gelaagde synthesizermuziek met speelse melodietjes en artiesten als JM Jarre, Jan Hammer en Giorgio Moroder als progressieve muzikale helden beschouwd worden. Opvallend hoe na een periode van publieke afkeer van toetsenvirtuositeit nu weer meer ruimte komt voor fascinatie in alles wat retro is. Op zijn debuutplaat vier jaar geleden gaf Hunter Complex, tevens drijvende kracht achter het label Narrominded, reeds aan geboeid te zijn door de eighties en zijn 'foute deuntjes'. 'Heat' trekt die lijn helemaal door en graaft in filmsoundtracks en tunes uit tv-series uit die tijd.
Over de audio
Toch is dit geen kitschplaatje. Discoritmen en synthesizerlaagjes zijn schering en inslag, een dromerig en loom karakter alomtegenwoordig. Maar Meijer zorgt ook voor een wat obscure new wave-onderbouw, een scheutje funk of de nodige psychedelica in dit erg filmische geheel. Door zijn vervormde stem diep in de mix te steken, krijgt het vaak blitse 'Heat' iets onrustigs en mysterieus over zich, een hedendaags tintje in een bed vol nostalgie.
'Space' heeft natuurlijk zijn titel niet gestolen. De track toont waar het allemaal om draait: onvervalste synthpopmuziek met het nodige lollypopgehalte. Holle, wegvliegende spacetoetsen ontdubbelen tot een thema in twee ritmesnelheden, een soort van nerveus patroon waarachter de wat sombere, neurotische murmelzang van Lars Meijer zich verschuilt. Maar na een kleine minuut breekt het nummer pas helemaal open met een heerlijk nostalgisch stukje opklimmende keyboardmuziek. Somber wordt heroïsch. Toch blijft de stem volharden in zijn mysterieuze kilte, waardoor emoties zich vermengen. In combinatie met droge discoclapritmen, heeft 'Space' genoeg foute elementen in zich om de tenen te doen krullen. De subtiele manier waarop die in elkaar gezet worden tot een song met de buitenaardse allures van Star Trek of Battlestar Galactica, is meer dan bewonderenswaardig.
indie indie
june 1 2013
by ruben braeken
Nederlands' synthesizer-fenomeen Hunter Complex verbreekt de stilte met zijn nieuwe single "Space". Dit voorproefje komt op het veelbelovende album Heat dat pas in augustus verschijnt op Narrominded.