format: digital
release: april 3 2014
tracklisting
1.heydays and maydays
2.white beef
3.soft clippers
4.adoptees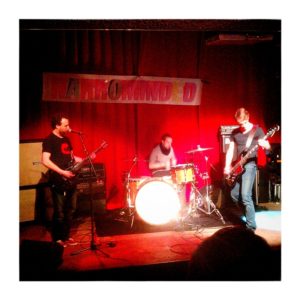 info
Life Savings make 90's rock with a 70's rock approach brought to you in the 10's. The band was formed in 2012. They played their first show in May 2013. Endings is their first release. The songs on this debut EP deal with adulthood, ambition, mortality, discontent and wealth.
Life Savings is Gabry de Waaij (guitar / vocals), Nick van de Perre (bass) and Timothy Plevier (drums). Endings was recorded in 2013 by Geert van den Berg and Bas Jongboer, mixed by Bas Jongboer and mastered by Carl Saff. Artwork: Trois by Joncquil.
'Between the three of us we know more about the superiority of Indonesian cuisine, single-channel master-volume tube amps designed during the seventies, interpersonal relations within Pantera before and after the murder of Dimebag, ways to avoid having to share your expensive whisky, why not to attempt a kickflip with a guitar strapped on just because there happens to be a skateboard lying around in the rehearsal space, sweating out a terminal illness (so you can come to band practice anyway), the sometimes unhealthy relationship between the batter and resonant head, fighting like an Asian, the latest shitty Dutch indie band related gossip and excelling at allergies than most assorted groups of three people. Also, we like to rock.'
Gabry de Waaij (guitar / vocals)
press downloads
hi-res image of cover
press release (english)
press quotes
'They sound like youngsters who recorded rock/prog rock tracks in some garage or a cheap home studio.'
peek-a-boo magazine
'Gabry de Waaij sounds a little like Lee Ranaldo.'
peter bruyn / twitter
'Their four rock songs breathe the atmosphere of the 1990s.'
gonzo (circus)
'The Holy Trinity guitar-bass-drum blast optimally against each other.'
kwadratuur
'Laced with dissonance and disharmony, with full stops and speed ups.'
stoner hive
'Something like Nirvana meets Slint'
the cd critic
'On Endings we hear dry, diligent drums and ditto guitars, with a singer who places urgency above audibility. And there 's nothing wrong with that. The Jesus Lizard palyed a similar tune twenty years ago.'
written in music
'It reminds of those fine bands from the early 90s like Unsane, Gone Bald, The Jesus Lizard, Godheadsilo, Karate, Unwound and Shellac. That good? Yeah that good!'
subjectivisten / caleisdocoop
'Delicate manic-nineties rock.'
indie indie
'The four tracks on Endings show us that Life Savings listened to the grunge of the early nineties.'
white room
reviews
peek-a-boo magazine
september 1 2014
by filip van muylem
62 / 100
Four tracks and a simple layout. There's not much info on it and quite honestly: the music is as good as thousand other demo bands.
2014 is for sure the year in where lots of bands release new stuff and if you want to make the difference you have to have a special sound or outstanding vocals. Your music literally has to jump out of the package.
The vocals are a bit too far mixed out of the sound, a bit distorted. They sound like youngsters who recorded rock/prog rock tracks in some garage or a cheap home studio.
Work it out and maybe next time you get some better points!
peter bruyn / twitter
july 27 2014
Gabry de Waaij klinkt op de EP van Live Savings een beetje als Lee Ranaldo. En dat vind ik erg sterk.
gonzo (circus)
june 2014
by oscar smit
Narrominded is een van de meest actieve Nederlandse independents. Ze beperken zich niet tot één genre; tegenover de synthesizers van Hunter Complex staan de gitaren van Katadreufe. Wat dat betreft is Spoesltra de ideale Narrominded act. Hij kan goed overweg met zowel elektronica als de gitaar. Dat laatste instrument staat min of meer centraal op 'Sports And Finance' zijn vierde album. De plaat is meer rock georiënteerd dan zijn voorgangers. De openingstrack 'Map And Shovel' komt direct al keihard binnen net als 'Hell And Safety' met zijn woeste bekkenslagen. Beide voorbeelden van puike rockimprovisatie. 'Make Out And Roll Credits' klinkt als een psychedelische seventies jam. Ook in 'Smile And Wave' zijn de jaren 1970 niet ver weg, maar dan in de vorm van een orgeltje. Overal improviseert Spoelstra er lustig op los op deze geheel instrumentale lp, (song)structuur is hem vreemd. Hoe anders is dat op de digitale ep 'Endings' van Life Savings, de nieuwste toevoeging aan Narrominded. Hun vier rocksongs ademen de sfeer van de jaren 1990. Van mij mogen ze nog wat meer luisteren naar bands als Slint, Swans of Steve Albini. Het kan allemaal best wat avontuurlijker.
kwadratuur
june 17 2014
by johan giglot
3,5 / 5
Kan iemand de mensen van Narrominded vertellen dat het niet de bedoeling moet zijn dat het label enggeestig moet worden, maar het wel kan helpen als het eens wat duidelijker kleur zou bekennen? Want als de firma besluit om werk uit te brengen van een nieuwkomer, is het telkens een groot vraagteken welke muziekstijl mag verwacht worden. In het geval van het trio Life Savings en hun korte ep gaat het om energieke mathrock met een scherp punkkantje (wat misschien wel duidelijk was voor wie al dieper ging graven om leden van de bands Boutros Bubba en Katadreuffe te ontdekken).
Schurende gitaar- versus basriffs en tot moes meppende drumpartijen binden de strijd aan met de vervormde, tierende zanglijnen van frontman Gabry de Waaij. Die laatste verkiest luidruchtigheid boven verstaanbaarheid, ofte klank boven woord: een weldoordachte keuze. Melodie ontmoet energie in structuren die exploderende momenten met noodzakelijke adempauzes afwisselen. Dit is noiserock met een gezond overwicht richting rock.
Opener 'Heydays and Maydays' goochelt nog wel wat met afgekapte Fugazi-gitaarhoeken, maar bindende baslijnen en een mooi openbarstend punkritme verschaffen hier de echte houvast. Melodieën worden steeds opnieuw uitgevonden met andere riffs, terwijl de Waaij met zijn getormenteerde stem voor extra punch zorgt. Het lijkt allemaal smerig, maar is melodieus zeker verantwoord.
In 'Soft Clippers' mag het allemaal wat trager, wat meer klemtoon legt op de slepende woorden "I'm on my way home". Ook hier ontspoort het beest echter in de refreinen in een rit met hakkende gitaren en schreeuwende zang. Zo creëren de drie heren toch enige ruimte om er in afsluiter 'Adoptees' extra energiek tegenaan te vliegen. De heilige Drievuldigheid gitaar-bas-drum knalt hier optimaal tegen elkaar op om een strakke, verslavende melodie neer te zetten die knipoogt naar noiseformaties uit de jaren '90, ontblote, bezwete bovenlijven en plakkende lange haren.
Op een dik kwartier tijd is dit plaatje uitgeraasd. De nood naar meer is gecreëerd. Dat is allicht ook het opzet. Life Savings is een band die al dik twee jaar sleutelt aan zijn livereputatie en 'Endings' blijkt de ideale concertflyer. Gaan zien en ondergaan is de boodschap, ondertussen kan het Haagse gezelschap werken aan zijn volwaardig debuut.
stoner hive
may 3 2014
by joop konraad
Not long after Heydays And Maydays, the first track from the debut Endings EP by Dutch trio Life Savings, has started rustling your feathers. You find yourself longing for those garage rehearsals where everyone stumbled around knocking over paint buckets and stepping on piles of rusty nails screaming when the blood started gushing from ones feet and just continuing on cause the red button on the cassette player was on record. Formed in the doomed year of 2012, the three amigos have produced a four track little gem that is laced with dissonance and disharmony, with full stops and speed ups. With a voice that evokes slowly withering urgency and a bleak aluminum sound reminiscent of those fading memories. Exactly like Mark Arm or Thurston Moore can evoke. Grungy and noisy the boys truck on and deliver a very tasty walk on White Beef; which even transforms itself to something melodic for a moment. Overall the violent sound is ghastly and seems to runneth over from advertised tension. Which turns the little record into something manic, meant for the concrete jungle and with a tiny hallucinogenic edge…
the cd critic
april 22 2014
3 / 5
Three-piece outfit Life Savings present their debut effort titled 'Endings'. The new EP comprised of four track showcases the bands heavy style of alternative rock, utilizing elements of grunge and hard-rock at times just for some good measure. The new EP from the band serves as an interesting introduction into what it is that Life Savings is trying to do when it comes to their own branch of music. Some elements come across rather well, with the EP at the very least showcasing some interesting elements that suggests good things to come from Life Savings, although sadly it seems that the whole effort has managed to somehow miss the mark completely.
Life Savings certainly have some interesting merits to their music, which seems to sound something like Nirvana meets Slint. 'Endings' features some very lo-fi elements of music that is presented in a very aggressive style, giving the band a fairly interesting element that express their music fairly well. In many ways the style that Life Savings have gone for has worked well enough, but as enjoyable as some elements of the music is on the EP, it seems there's just not enough to truly make it an EP worthy of any recognition. All the songs features on the EP are just indiscernible tracks of noisy lo-fi music that has very little that sucks the listener in. As much as Life Savings might be trying to do their own thing, they simply haven't done enough to separate their music from everybody else. Much of the EP comes across as styles we've all heard before, giving the EP itself a sort of dry lackluster presentation.
Life Savings seem to have some good points to their music, although equally there's a lot of negative traits that prevent the EP itself from being anything more than average. It seems that Life Savings haven't really pushed enough of their own heart and soul into their music to really elevate its position, and instead seem to have produced a rather basic re-hashing of those who have preceded them. This of course isn't to say that there isn't some merit to Life Savings as a band. Some elements on the EP do suggest some good ideas and techniques. All Life Savings need to do is to really tap into this to really push their music forward.
written in music
april 14 2014
by edwin hofman
3,5 / 5
Twee jaar na de oprichting van Life Savings is er nu de eerste release van het Haagse trio. Endings verschijnt bij Narrominded, het label dat garant staat voor de meest uiteenlopende elektronische muziek, met hier en daar een tegendraadse gitaarplaat voor de afwisseling.
Life Savings zet zichzelf neer als een band die nineties rock met een seventies benadering maakt. Op Endings horen we droge, noeste drums en dito gitaren met een zanger die urgentie boven verstaanbaarheid stelt. En daar is niets mis mee. The Jesus Lizard tapte twintig jaar terug uit een vergelijkbaar vaatje.
Vier tracks telt Endings. Gezien de uitputtende muziek van Life Savings is dat eigenlijk wel mooi. Heydays And Maydays opent spannend. Na twintig seconden gaat de bulldozer langzaam rollen. Hortend en stotend komt de band op toeren. White Beef is wellicht het beste nummer van deze ep. Hoewel ietsje melodieuzer en met wat fijnere riffs, is deze track nog steeds hard en dynamisch. Ook zanger Gabry de Waaij gaat hier en daar nog even goed door het lint.
Dynamiek en lekker lawaai alom dus. Bij Soft Clippers worden de spaarzame rustige passages door trekkende en duwende climaxen om zeep geholpen. Adoptees spaart ook niemand, al stopt de Waaij hier nog iets van melodie in zijn schreeuw. Na een dik kwartier duwen, trekken en vooral rocken is Life Savings uitgeraasd en kunnen wij er weer even tegen.
subjectivsten / caleidoscoop
april 8 2014
by jan willem broek
Bij het sublieme Narrominded label is het altijd afwachten wat je op je bord krijgt. De ene keer is dat vernuftige elektronica en de andere…BAM…het album begint en de vraag is meteen beantwoord: deze heren van Life Savings maken harde gitaarmuziek en hoe! Het knalt er vanaf het begin al. De groep is in 2012 opgericht en bestaat uit zanger/gitarist Gabry de Waaij (Boutros Bubba, Quarles van Ufford, Petrified Host, Narrominded label), drummer Timothy Plevier (Katadreuffe) en bassist Nick van de Perre. In 2013 beginnen ze live op te treden en nu komen ze met hun mini debuut Endings, waarop ze 4 nummers van elk gemiddeld 4 minuten lang presenteren. Het is van die rauwe rock en noise, die je tegenwoordig veel te weinig hoort. Daarbij brengen ze een dusdanige energie en volume, dat dit goedje tegen je ribbenkast opbeukt en op je trommelvliezen klopt. De uitzinnige zang van Gabry, die wel wat weg heeft van de messen uit een staafmixer in turbospeed, kan ook subtiel uit de hoek komen en krijgt daarin op soepele wijze bijval van de bas en drumpartijen. Maar meestal dendert het trio door als een stier die net een riem om z'n ballen gegespt heeft gekregen. Het doet me het meest denken aan die fijne bands uit de beginjaren 90 als Unsane, Gone Bald, The Jesus Lizard, Godheadsilo, Karate, Unwound en Shellac. Zo goed? Ja zo goed! Waanzinnig lekker ook en hopelijk een start en geen finish voor deze groep.
indie indie
april 6 2014
by ruben braeken
Laten we er kort en duidelijke over zijn: de drie heren van Life Savings houden ervan om te rocken. Dat zeggen ze weliswaar zelf, maar al na één luisterbeurt van hun EP Endings weerspreken we dat geenszins. Het trio uit stadsgewest Haaglanden bestaat uit leden van noiserock bands als Boutros Bubba en Katadreuffe, die zich bedienen van een soort droogneukerij van delicaat-manische jaren negentig rock. Denk aan het betere hak- en smijtwerk van Touch & Go records (The Jesus Lizard, Naked Raygun, Shellac); Life Savings sluit bijna naadloos aan het bij het rijtje met hun gortdroge drum- en gitaargeluid, die in opener "Heydays & Maydays" verrassend melodieus je gehoorwerk binnendruppelt. Niet in de laatste plaats is dat te danken aan de zang van vocalist/gitarist Gabry de Waaij, die soms iets weg heeft van door een intercom uitgeproeste smeekbede. Aan overtuigingsdrang geen gebrek, eerder een flink staaltje Haagse bluf die niet verveelt.
white room
april 2 2014
by ralf w.
De Nederlandse rockband Life Savings staat onder contract bij Narrominded. Het trio komt via dat label met hun debuut-EP. De EP, met de naam Endings, zal digitaal uitkomen. Ondanks dat lag er een exemplaar op de deurmat ter review.
In de vier tracks op Endings laat Life Savings horen te hebben geluisterd naar de grunge uit de vroege jaren negentig. Daarbij zijn ook invloeden van de '70's rock te horen. Opener 'Heydays and Maydays' laat de band neigen naar Bush en Deftones. Het is alsof die laatstgenoemde band ineens bevangen is door de grunge.
Wat het meeste opvalt aan de EP van Life Savings, is dat op Endings de zang lekker vaag en ver weg ligt. Drums en de distorted gitaar liggen prominent in de mix en af en toe mag ook de basgitaar ook nog even floreren in de mix. Dat is zo nu en dan te horen in 'White Beef' en het iets meer ingetogen 'Soft Clippers'.
Life Savings geeft met Endings EP een prima visitekaartje af. De band weet zich te onderscheiden van de talloze andere bands. Het trio zal in het underground circuit van België zeer veel zieltjes voor zich kunnen gaan winnen.