format: cd (sold out) / digital
released: october 23 2010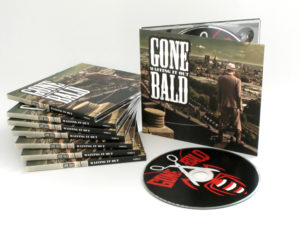 tracklisting
1.intro
2.the art of sideburns
3.fracture of radius
4.the end of symphonies
5.christmas song
6.vengeance is a lazy form of grief
7.importance of symmetry
8.diving for oysters
9.eddie's son
10.outro
info
After The Ex, Gone Bald takes a good second place as the longest existing Dutch underground rock band. Driving force behind the group is Razorblade Jr, who founded the band in 1994 in Zagreb (Croatia). Since then, Gone Bald has given the world nine albums full of idiosyncratic, confrontational guitar rock. The band has toured extensively throughout Europe.
The band has known various line-up changes through the years. In the years after the release of 100 Ways to Become Cool, the previous Gone Bald album/book/dvd from 2007, the bass player and drummer left the band to focus on solo projects like Spoelstra and Garçon Taupe. Gone Bald is now a duo consisting of main man Razorblade Jr on guitar and vocals and the new recruit Sultan Battery on drums.
The new cd Waiting It Out was recorded last winter at the Kozmo studio in Zagreb. Using only guitars and drums Gone Bald found a way to sound like a full-blown noiserock bigband. The tempo of the long and stretched out pieces is a bit slower than on previous albums and creates an extra dramatic feel to a band that has always made very personal albums.
[youtube https://www.youtube.com/watch?v=0SD34DKpOM0]
press downloads
hi-res image of cover
press release (english)
press release (dutch)
reviews
mikrofonija
april 2011
Gone Bald je vec 17 godina Ivica Košavic aka Razorblade Jr s prebivalištem u Amsterdamu i stalno mijenjajuca ekipa suradnika. Na ovom, devetom po redu albumu benda, Ivici se na gitari, basu i rijetkim vokalima, pridružio bubnjar znakovitog imena Sultan Battery. Album je sniman zimus u zagrebackom Kozmo studiju u produkciji Mihaela Belea i donosi osam novih pjesama te intro i outro, citate iz filmova «Sideways» i «Revenge Of The Pink Panther». Službena stranica njihove izdavacke kuce kaže za njih: «After The Ex, Gone Bald takes a good second place as the longest existing Dutch underground rock band». Ako vam to nešto znaci…
Što se zvuka tice, ovo je Gone Bald kakav volimo ili ne volimo: ishodište benda i dalje je cikaški noise rock s pocetka 90-ih s primjesama math rocka, proširen utjecajima psihodelije, sa snažnom i energicnom ritam sekcijom iznad koje se sudaraju rojevi paranoicnih i bucnih gitara. Eksperimenti sa zvukom, strukturom, tempom i trajanjem pjesama te kompleksnim aranžmanima rezultirali su predugackim i prenatrpanim pjesmama «punog zvuka» koje uopce ne odaju utisak da su za njih odgovorna samo dva covjeka (dvije pjesme opasno su se približile trajanju od 10 minuta). Pretjerano inzistiranje na eksperimentiranju s aranžmanima i lomljenjem strukture pjesama pretvorilo je album u neku vrstu kolaža gdje imate utisak da slušate više razlicitih pjesama unutar jedne. Svako pojavljivanje melodije obicno se brzo i brutalno uguši, osim u laganijoj "Christmas Song" s mracnom, gotovo Goriborovskom atmosferom. Ljubiteljima starog noisea i onima sklonima bucnoj eksperimentalnoj glazbi ovo bi se moglo dopasti, ali za neupucene uši poput mojih ovo je jednostavno mucenje.
soundguardian
march 22 2011
by krunoslav kneževic
Razorblade Jr., punim imenom Ivica Košavic, više od deset godina živi i radi u Nizozemskoj. Sa svojim bendom Gone Bald ove godine je objavio deveti studijski album nazvan Waiting It Out. Na novom izdanju uz Razorbladea na albumu svira tek bubnjar Sultan Battery. Pitate se na što lici situacija u kojoj Košavic glumi basista, gitarista i pjevaca?! Reci cu vam ja, lici gotovo na one-man band.
Po pitanju zvuka ništa novo i neocekivano… Noise-rock zamaskiran u gomilu eksperimenata i kojekakvih alternativnih zvukova donosi nam glazbenu cjelinu koja nece naci fanove nakon prvog slušanja. Album je teško probavljiv pogotovo za one sa "slabim glazbenim želucem". Do 5. – 6. slušanja ne možete si stvoriti gotovo nikakvu sliku. Kompleksni i raznoliki aranžmani dosežu u nekim pjesmama i po 10 minuta. Gledali vi na to subjektivno ili objektivno, cinjenica je da su pjesme predugacke (tek jedna je nešto kraca, ako je uopce možemo tako nazvati). Slijedeci problem s kojim se susrecemo je svakako cekanje vokala u nekim pjesmama, predugo traju "uvodi" pjesama.
Gledajuci pozitivnu stranu možemo uvidjeti da je donekle impresivno kako su Gone Bald pronašli nacin postizanja punog, razradenog zvuka iako imaju na prvi pogled nedovoljno instrumenata i clanova na raspolaganju. Isto tako onima koji vole pokuse i eksperimente, koji od glazbe traže izazov, naci ce svoj komad kolaca i zadovoljiti se jer svakako ovo nije propao pokus u potpunosti.
Intro i Outro su su samplovi iz filmova Sideways i Revenge Of The Pink Panther. Osim njih, jedino bih izdvojio upravo onu "kratku" stvar Christmas song buduci da je bazirana na zanimljivom zvuku gitare.
Neobicno… Ekspresivno… Sirovo… Grubo… To su samo neke od rijeci koje bi ukratko opisale ovo izdanje. Kao eksperimentu dao bih mu nešto višu ocjenu, ali sa glazbene strane, u vidu onog što glazba predstavlja, za što se razvijala i stvarala godinama, sam vidno razocaran… No, nije sve tako crno, kad stavim to sve u odnos, u mom dnevniku dovoljno je za prolaznu ocjenu.
helly cherry
march 22 2011
Zaturio nam se ovaj album pa ga sa malim zakašnjenjem pominjemo pa se eto izvinjavamo ekipi koja ga je poslala i brzo krecemo da vidimo o cemu se ovde radi. Gone Bald traju još od 1994. Nastali su u Hrvatskoj a Ico Košavic (tj Razorblade Jr) je pokretac cele price, alfa i omega i jedini stalni clan. Vremenom Razorblade se seli u Amsterdam gde ce bend poceti da trpi brojne promene clanova. Ovo im je deveti (da deveti po redu) album. A do sada su izmedu ostalog svirali i sa The Jesus Lizard, Butthole Surfers, Today Is The Day, pa vi sad vidite da tu nema zajebancije. Album "Waiting it out" u potpunosti nastavlja Gone Bald pricu na najbolji moguci nacin. Ico ga je snimio sa još jednim momkom za bubnjem i te varijante gitara plus bubanj znaju biti zajebane ali su ova dva momka vešto uspeli da izbegnu sve zamke i naprave prilicno popunjen zvuk. Skoro sat vremena sirovog beskompromisnog gitarskog garažnog noiz zvuka. Napetost od prvog do poslednjeg zvuka. I to je to. Pravi primer kako je nekad floskula "manje je više" zaista istinita. Više informacija na narrominded.bandcamp.com/album/waiting-it-out
zurnal
march 14 2011
by denis modri
Gone Bald su napravili perfektan noise album koji zvuci savremeno i pored toga što je zlatno doba noise muzike odavno prošlo
Bend Gone Bald osnovan je 1994. godine u Zagrebu ali se njegov rad i djelovanje uglavnom vežu za Amsterdam i Holandiju. Pokretacka snaga benda je Ivica Košavic – Razorblade Jr. koji je uvijek imao uz sebe nekoga ko je odlicno odigravao sporednog igraca (bez uvrede za ostale), a da je to zaista tako potvrduje i posljednji album pod nazivom Waiting It Out gdje Razorblade Jr. ostaje sam na gitari sa novim bubnjarem imena Sultan Battery.
Njihov prvijenac "Little Song of Love" koji je objavljen 1995. godine za izdavacku kucu 100% Recordings ostavio je na mene izuzetan utisak. Tim albumom su samo potvrdili da je Hrvatska u to doba imala najjacu noise scenu u bivšoj Jugoslaviji. Pomenimo još i Sexu i Why stakla. S "Little Song of Love" su se vec na pocetku svog djelovanja u potpunosti približili svjetskoj noise sceni, album je zvucao u potpunosti kao Rapemanov legendarni Two Nuns and a Pack Mule sa Steve Albinijem na celu.
Posljednji album snimali su u zagrebackom studiju Kozmo. Više ne zvuce kao Rapeman ili Big Black, ovaj put su se više muzicki približili Albinijevom projektu Shellack. Tempo je nešto sporiji, a sve pjesme i pored samo dva instrumenta zvuce izuzetno kompleksno. Moguci nedostatak dvoclanog banda je lako premošten spajanjem konceptualno razlicitih dijelova u istu cjelinu.
Album otvaraju i zatvaraju sa semplovima iz filmova "Sideways" i "Revenge Of The Pink Panther". Nakon laganog uvodnog sempla kao cekic u glavu udara The Art Of Sideburns koja je ranije objavljena kao promo-demo snimak. Uz kasniju Christmas Song ova pjesma predstavlja sami vrh albuma. Ico majstorski balansira izmedu donekle harmonicnog koncepta i teškog noise zvuka koji na srecu preovladava ne samo u ovoj numeri vec i na cijelom albumu. Na numeri Fracture Of Radius se odvajaju od brze i žestoke prezentacije i uz tromi i teški zvuk bas gitare otvaraju pjesmu, cemu se kasnije efikasno prikljucuje režuci zvuk gitare koji popunjava sve moguce praznine koje bi mogle nastati.
The End of Symphonies je jedna od dvije skoro 10 minutne numere koja sa svojim mljevenjem svega što se nade na putu stvara privid da ju je nemoguce preslušati u komadu. Medutim, lako se može primijetiti da je isparcelisana na zasebne cijeline koje stvaraju muzicki omnibus. Christmas Song krece sa predivnim garage-blues-noise rifovima i umornim i depresivnim ritmom. Modulisani glas odlicno joj pristaje, a u posljednjim minutama klasicni noise zvuk gitara pokazuje svu ljepotu ovog zvuka.
Vengeance Is A Lady Form Of Grief je numera koja ne odstupa od onoga što smo vec uspijeli cuti. Tu su, opet cvrsti i teški gitarski zvuk sa jakom i naizmjenicnom grmljavinom bubnjeva, i ovdje podsjecaju na Girls Against Boys. Importance Of Symmetry odradena je na Sonic Youth nacin sa brzim i na momente plesnim ritmom i naknadno dodatim haosom koji preovladava vecinom pjesme.
Tromi i depresivni zvuk bas gitare zapocinje Diving For Oysters koja nas približava završnici albuma. Kroz pjesmu vodi fantasticni zvuk bas gitare odsvirane na The Jesus Lizard nacin. Za kraj ostavljaju devetominutnu Eddie's Son sa sporim i rastrzanim prebiranjem po žicama.
Gone Bald su napravili perfektan noise album koji zvuci savremeno i pored toga što je zlatno doba noise muzike odavno prošlo.
new noise
april 2011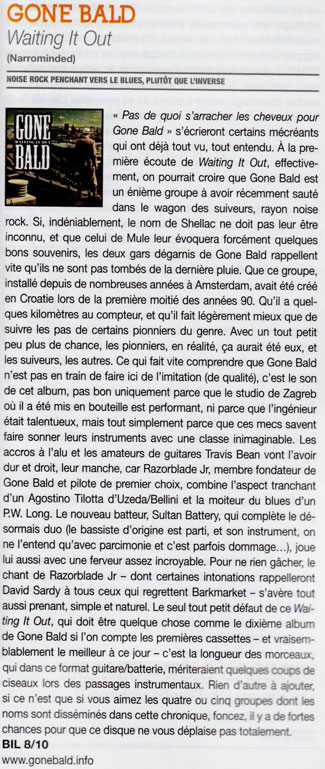 radio student ljubjana
march 17 2011
by robert suša
Na Waiting It Out, nov prispevek amsterdamsko-zagrebškega benda Gone Bald, smo cakali kar nekaj casa, a medtem kljub temu nismo izgubili lasnega pokrivala. Kaj hitro pa se lahko zgodi, da nas ta proces caka po poslušanju najnovejših nojzerskih eskapad Razorblade Jr.-a. Preverite! Še prej pa se posvetujte s svojim zdravnikom.
Ceprav se je bend transformiral iz tria v duo, cesar bistvena sprememba je bila izpad bas kitare in snovanje komadov le na osnovi kitare in bobnov, le ta ni prinesla manjka energije v izrazu Gone Bald. Razorblade Jr., ki je v lepem casovnem kosu delovanja benda edina zvezda stalnica, je v novi razdelitvi kart skoraj one man band, saj zastopa tri cetrtine snovi – kitaro, kitaro, ki je surogat basu, in glas. Za družabnika si je tokrat izbral bobnarja Sultana Batteryja, katerega grmenje njegovih sodov krha kamen in odkopava zaklad brez bas lopate. Le s kitaro in bobni sta Gone Bald oborožena do zob!
"And pay attention who your friends are, 'cause lately they'll be dancing with your enemies".
Ivica Košovic, zabeleženo od rojstva oziroma s psevdonimom Razorblade Jr., se je od nekdaj izogibal koketiranju z mainstreamom in ga celo mocno zaniceval. Tudi na pricujocem, že devetemu albumu benda, so opazne deviacije od strogo zacrtanih, nepisanih formul izdelave rokenrol komadov. Ni dvakrat za reci, da mu je prav ta odmik od ustaljenih fraz omogocil preživetje na amsterdamski underground sceni, katere prve perjanice so kultni The Ex. Nepošteno pa bi bilo pozabiti na korenino Gone Bald, ki je poleg korenin Sexe, Why Stakla in Coga pokonci držala drevo nojza na Hrvaškem.
V primerjavi z nekaterimi prejšnjimi plošcami je tempo na najnovejšem izdelku pocasnejši, a kljub temu temelji na energicni ritem sekciji na katero se lepijo kovinsko umazani rifi bucne kitare, ki, kot smo že omenili, obcasno prevzema vlogo basa. Prvi in zadnji komad – Intro ter Outro – sta, kot je bila praksa tudi na nekaterih prejšnjih albumih Gone Bald, izseka dialogov iz filmov. Preostali komadi so izjemno dolgi, dostikrat skrajno predolgi. Povprecje se giblje od sedem do desetminutnih znamk. Pri nekaj njih dobi poslušalec zaradi dolžine in neobicajne fragmentiranosti strukture obcutek, da je v enem komadu slišal vec njih. Podoben obrok nam je na naših tleh v osemdesetih ponudila že Polska malca, v aktualnem casu pa deloma tudi dirkac Nikki Louder. Atipicno strukturo tketa boben, z menjavanjem dinamike, in kitara, ki se iz repetitivnih rifov shizofreno prelevi v bas melodiko, ki se nato nenadoma zopet razlomi na prafaktorje. Razorblade Jr. nima zadržkov pri odkrivanju novih glasbenih prostranstev, katera so naskakovali že Steve Albini pri Rapeman in Big Black ter Duane Denison pri Jesus Lizardih. Konvencija mu je bila vedno tuja in raje se je oprijemal nicejevskega »kar ne ubije – krepi«. Tavanje v kompleksnih strukturah je njegov fetiš in prepoznavni produkt faktorjev math rocka, nojza, eksperimentala in postpunka. Dolgometražni komadi ponujajo obcutek improvizacije na vajah, pri cemer se surovost bobnov spoprime s hrapavostjo kitare. Zvok brutalne abstraktnosti ušesa nevajena njihovih prejšnjih albumov prej odbije, kot magnetno pritegne, saj zahteva ustvarjalni kaos veckratno poslušanje. Intenzivnost glasbe vas vrže do stropa, kjer ostanete prilepljeni vse dokler sonicno hrupna sveca v vsej svoji velicastnosti ne dogori do konca. Za marsikoga bo poslednji, šibak dim te svece pomenil odrešitev, balzam za ušesa, in bo še bolj cenil zvok tišine. »Silence is sexy« je nekoc dejal Blixa Bargeld, ta destruktor komadov, ki se je posluževal še drugih raznolikih glasbenih orodij, ne le kitar.
Stare mašine potrebujejo nekaj casa, da se ogrejejo, ko pa so enkrat na delovni temperaturi, se ne znajo ustaviti. Podobno je s komadi Gone Bald, ki se po treh, štirih minutah uvodne igre strgajo z verige. Takrat stvar nekontrolirano spolzi iz rok in se kot božicu antipodni komad Christmas Song sesuje pod lastno težo. Parodija se kot tanka pajkova nit vlece pri besedah simfonija in simetrija v komadih The End of Symphonies in Importance of Symmetry. V poplavi ekshibicijskih posegov je simetrija pravzaprav utopija, besedila pa so redka – so voda v pušcavi. Glasbo prevevajo opozicijsko nastrojeni si elementi. Ta je brez refrenov, mehkih prehodov, kaj šele hitov, vendar pa z detajli in garnirana z jasnimi horizonti eksperimentiranja, z distorzijo hardkora zgodnjih osemdesetih, iregularnimi stopi ter frakturami, katere ne zaceli sedem operacij. Težko prebavljiv obrok na drobno nasekljanega mesa, katerega je potrebno dodobra prežveciti. Kitare niso previsoke in ne vrtajo v bobnice, so pa na preizkušnji živci zaradi mnogoterih preobrazb in splošne zapletenosti, kateri je ekvivalent lahko le gordijski vozel. Kdor ga razvozla, zavlada svetu in Razorblade Jr., nojzerski Kihot, ki krmari po svojem oceanu, na kopnem pa se bori z mainstreamovskimi mlini, je blizu rešitve. Ta dolgorocno gledano ne bo prinesla nic presenetljivega, za kar pa je njemu ravno, kot je ravna Nizozemska. Ce hoceš biti drugacen, ne smeš dati priložnosti vplivom, zato je popolno ignoriranje scene nuja. Le izolacija rodi unikat!
incendiary magazine
feburary 27 2011
by richard foster
A brutal, exhilarating record and one you should be prepared to give some welly to, speaker-wise. Gone Bald are a duo who are nothing if not driven, and their riff-led muse on Waiting it Out is almost abstract in its visceral nature.
The band's music has that rare quality of sending the listener up the wall, in that you can feel boxed in and nervous after being assaulted by so much metal intensity. The Intro doesn't really give much away; it's a quick tribute to drinking wine though it hints at something Croatian I'm sure. Following that, The Art of Sideburns is a strange, jubilantly menacing collection of thrashy electric runs and off the cuff reflections. There is an agenda, and again, I'm sure it's about Croatia, but I can't real comment further. No matter, things work themselves up into a deliciously noisy stew about four minutes in (that's another thing to watch out for on this album, most of these tracks don't really "warm up" till they're about four minutes old). Fracture of Radius is more meditative but equally crushing in parts; there's a nice break four minutes in that allows the track to become quite elegiac by the end. The stop-start (and exhilarating) End of Symphonies sounds exactly like its title. It's also about nine years long. Following that is the bizarre and slothful Christmas Song, a slacker lament par excellence (though I think the actual subject matter that drives this song is darker than I'm giving credit for)…
The straighter songs are showcased on the second part of the record. Vengeance is a Lazy Form of Grief starts off as a song of sorts before careering off into riff territory. It's a powerful piece; as is Diving for Oysters, which is driven by a chugging bass line. Eddie's Son is a mournful but powerful track seemingly with a subtext that is personal to the band. The outro is an ironic sample and brings us full circle.
You'll be severely caned and bruised listening to this, but there's no denying the record's quality.
rockline
feburary 14 2011
by sandi sadar soba
Pisalo se je leto 1994 in na pogorišcu nekdaj cvetoce države, v z vojno žigosanem Zagrebu, je bilo vse manj prostora za svoboomiselne in umetnosti tersanjam vdane glasbene vizionarje. V sivini zagrebškega granatiranega betona se povije zasedba Gone Bald, ki je bila svojo opozicijo ideološkemu enoumju s hrupom ter uporništvom, z nacionalizmom prepojeno domovino pa kmalu zamenjajo z Nizozemsko. Od tedanje zasedbe je v konglomeratu hrupa ter prvinske gonje za glasbenim purizmom ostal le pevec in kitarist Razorblade Jr., po pogostih menjavah ter odhajanjih in razhajanjih v idejah ter dolocanju definicijskega polja njihovega univerzuma pa drugo determinanto doloca bobnar Sultan Battery. Doslej so svojo ustvarjalnost vtkali v ducat stvaritev, poleg obicajnih kaset, CD-jev ter vinilov pa so kot sprejemljivo formo sprejeli tudi internet, prostemu pretoku idej, zvokov ter vse pogostejšemu informacijskemu polnenju vrzeli v navidezno svobodnem virtualnem medsvetju pa se niso odrekli vse do danes.
Korak v smeri popolnega glasbenega artizma je tudi dejansko zacuda le deveta celovecerna plošca Waiting It Out, ki po zadnji audio-vizualni provokaciji izpred treh let, sklopu knjige, CD-ja ter DVD-ja 100 Ways To Become Cool nadaljuje hojo po paradigmah osebnega, neposrednega ter intimno dramaticnega rocka. Gone Bald po desetletjih prostovoljnega izgnanstva v Amsterdamu se tokrat predstavljajo v formi navidezno oguljenega ter oklestenega spektra le dveh gonilnih motorjev, ta dvomotorni trust pa številcni podhranjenosti navkljub servira popolno glasbeno tempirano bombo. Nekoliko upocasnjen tempo ter bogate zvocne kulise so produkt sodelovanja z Mihaelom Beletom v zagrebškem Kozmo studiju, po bogatih odtenkih pa presegajo primat ameriških lo-fi noizerjev No Age kot tudi zdaj že nekdanjih nosilcev rockovskega odrskega dualizma White Stripes. V kolikor vam v spektru auditivne zaznave manjka kricecih melvinovskih ali pixijevskih kitar ter priokusa zgodnjega izteka prejšnjega stoletja, potem so Gone Bald prav primerni substitut. Navkljub odsotnosti donedavno še aktivnega basista ter bivšega bobnarja (ali ravno zavoljo tega) je zvok poln ter koncentriran ter rušilen, polni razmah noizerskega DIY oponiranja visokim standardom preproduciranih glasbenih izdelkov sodobnega casa pa daje obcutje presežne vrednosti. Ceprav tudi sami izpostavljajo, da gre morebiti za izgubljeni boj z mlini na veter, je bivanje v spektru subverzive ter scanje proti umetnim vetrovom pricakovanega precej bolj prepricljivo ter poslušljivo kot bi bilo podrejanje imperativom precej puhlega itinerarija že slišanega in pricakovanega.
Že naslovna fotografija da vedeti, da gre tokat za potencialno samomorilski skok v neznano, padec v bodisi odrešitev bodisi nicenje pa je odvisen povsem od dojemljivosti precej razvajene publike ter niza okolišcin, zaradi katerih lahko pade lahko plošca na plodna tla. Sam sem bil že po prvem poslušanju preprican, da je po momentu navidezne popoidne ocaranosti ter naslednjemu momentu zapadnja v stanje rahle depresije ter melanholicnega hrepenenja po casu odcvetelega cvetja, cas za percepcijo dela v njegovi celovitosti. Sedem polnokrvnih kompozicij, ki se razpredejo med s filmom Sideways navdihnjenim introm ter s humorjem The Revenge Of Pink Panther prepojenega outra tvori organski ustroj kvalitetne rockovske mojstrovine. Precej suhe, a surove rifovsko zastavljene kitarske linije se z ostrino prefinjene žiletke zarezujejo v socno tkivo masivnih in alternativno preprostih, a udarnih bobnov. Vokali so minimalisticni ter spominjajo na vokalni razpon Jon Spencerjeve bluesovske eksplozije, že skladba The Art Of Sideburns pa razkrije domala vse glavne argumente, ki vam jih surovo servirajo med obe ušesi. Srd je nesmrten, jeza neminljiva, kritika brezumnih zombijev današnjega dne pa preglasi monotone odmeve popoidnih receptur. Teh na tej plošci (hvala bogu) kronicno primanjkuje, zato pa ne manjka inteligentne ostrine ter osti prikritih presenecenj. »It Took A Long Time To Find My Way To Oysters / It Took Even Longer To Cry Away From Them / Sometimes The Good Things Bring Out The Bad Things On Surface / And This Is How I Learned To Dive« prepeva Razorblade Jr. na skladbi Diving For Oysters in to dostojno povzame 15-letno iskanje lastnega izraza. Veliko je tako minimalizma kot tudi epskega praznenja v vaš lobanjski svod, zaradi cesar je plošca vse prej kot enostavno ter sprošcujoce poslušanje. Menjave ritma ter zvocna suhost sta glavni stalnici precej preproste strukture plošce. Sprememb v pristopu od prvih dni dalje je malo, ples na tenkem ledu hrupnega nasprotovanja lagodnejšim linijam pa jim je doslej služilo dobro. Skupina ostaja nepokorljiva ter artisticno svobodna, album pa le nadaljuje granitni niz idejnih nadgradenj od prvenca dalje. Celota je preobilna za požiranje na en mah, zato vam vsekakor svetujem poleg enournega preobžiranja še konzumiranje na obroke ter v kontroliranih manjših odmerkih.
Ce je debi napovedoval skorajšnji prihod Jezusa, nato pa so sarkasti prek demistifikacije pripovedk (politicnih in ideološko blažilnih) iskali uteho v morju navidezne ljubezni, se po ogolelosti forme Gone Bald vracajo iz rehabilitacijske klinike preteklosti z novim direktom ter dvema udarnima krošejema ter s prenovljeno formo. Manj je lahko vec in kar ne ubije, jaca, že sami pa so že leta 2002 poudarili nespregledljivo dejstvo – It Takes Guts To Tango, Gone Bald pa so lahko razredcenim priceskam navkljub tudi po 16 letih osvežujoci faktor obnovljenega smisla vašega alternativnega obstoja vsej evoluciji ter hlinjeni mentalni revoluciji navkljub. Hrup je tokrat odrešujoc, saj se pod zvocnim balastom poleg glasbe skrivajo tudi ideje vredne ponovnega degustiranja ter popolne domislitve. Gone Bald so dokazali, da zmorejo letom navkljub odpreti še tako zatesnjene koticke alternativi nagnjenih duš ter dokazati, da so nekatera sosledja tonov ter akordov preprosto brezcasna in vecna!
4.3 / 5
pot lista
feburary 11 2011
by davor roncevic/emir fulurija
Emir: Vremena se mogu mijenjati, ali legendarni Ico sa svojim Gone Bald je i dalje tu. Sada vec deveti (ako ne laže internet) studijski album za ovu amsterdamsko-zagrebacku grupu je vani, a objavljen je za izdavacku kucu Narrominded. I prije ngo bilo što kažemo o samom albumu, zanimljivo je vidjeti kako Nizozemci u promo materijalima za ovaj album Gone Bald usporeduju s može se reci kultnim The Ex. Ono, samo su dvije grupe preživjele na amsterdamskoj underground sceni toliko dugo – The Ex i Gone Bald. Ne znam koliko to može imponirati Ici, ali zvuci zanimljivo.
Davor: Meni je Gone Bald zanimljiviji kao hrvatska nego kao nizozemska pojava. Jer unatoc tome što noise rock u užem ili širem smislu nije domena s kojom sam na ti, dojma sam da uzevši bendove kao što su SexA, Why stakla, Cog i Gone Bald (ne želim nikoga nepravedno izostaviti pa cu tu i stati), Hrvatska ima roster nojzerskih bendova dostatan za u najmanju ruku poštenu antologiju. A Gone Bald bi, kako zbog cinjenice da medu nabrojanima (i nenabrojanima) jedini ima diskografski uvjerljiv katalog, kako zbog toga što jedini još uvijek postoji, trebao po defaultu biti u prvom planu. No možda ne bi bilo primjereno pretvoriti ovu recenziju u tekst o hrvatskom nojzu. Uostalom, Gone Bald djeluje u Amsterdamu. Ali morao sam to spomenuti jer mi se cak i kao autsajderu, cini da hrvatski nojz kao pojava zaslužuje biti cešce spominjan.
Emir: Antologija hrvatskog nojza? Zvuci kao dobra ideja. Gone Bald svakako spada u tu našu scenu, a naveo sam usporedbu s The Ex samo da bih pokazao kako je Ico napokon dobio i neko priznanje u Nizozemskoj. Ali to nije ni važno. Važno je samo da "Waiting It Out" nastavlja tamo gdje je Gone Bald u dosadašnjem dijelu karijere stao. Iako je Ico, odnosno Razorblade Jr., ovaj album snimio samo s još jednim clanom (bubnjarem), energija je više nego osjetna. Od samog pocetka allbum nosi snažna ritam sekcija preko koje su nalijepljene uobicajeno bucne gitare. Svi ljubitelji dobrog starog noisea morali bi se naci u ovom albumu.
Ono što se meni posebno svida na "Waiting It Out" u odnosu na neka ranije Gone Bald izdanja je ta neka lakša slušljivost. Iako to možda ne ide s gore recenim (da se radi o klasicnom noise albumu s puno bucnih gitara), cinjenica da je album lakše prohodan meni potpuno odgovara. Uostalom, pjesme koje su mi se najduže zadržale u pamcenju su "Fracture Of Radius" i "Christmas Song". Radi se o pjesmama koje bi se mogle nazvati i 'laganicama', barem u kontekstu Gone Balda, ali i pjesmama koje imaju sasvim jasnu strukturu koja se odlicno nadovezuje na sve ono što je Gone Bald do sada radio.
Davor: Moram priznati da sam ja bio skeptican kad sam cuo da je album snimljen u formatu 'bubanj+gitara'. Jer pretpostavio sam da ce mi nedostajati one i inace kod nojzerskih bendova ceste izmjene i preklapanja uloga instrumenata unutar stvari. Kada na primjer gitara ima svoj repetitivni rif, a bas vodi melodiju i/ili polako plete netipicne teksture, cas disonantne cas trijumfe melodicnosti, pa se na bridgeu ili refrenu bas razlomi a gitara i bubanj mijenjaju dinamiku ili obrnuto i slicno. I skepsa mi se pokazala donekle opravdanom, osim u trenucima u kojima su stvari, kao što si rekao, polaganije. "Christmas Song" je i meni, definitivno favorit na albumu. Dodao bih tom popisu i "Vengeance Is a Lazy Form of Grief", na kojoj (kao i na prethodno spomenutoj) Gone Bald kao power-duo meni osobno zvuce najuvjerljivije. Iako, moram priznati da su mi dobro sjeli i trenutci u kojima je Ico, radilo se o nuždi zbog odsustva basa ili druge gitare ili pak (vjerojatnije) o ispitivanju novih terena, svira tehnicki 'gušce' nego što smo kod Gone Balda navikli cuti. Na prvom mjestu mislim na upecatljive skokove i legato-e na uvodnoj "The Art of Sideburns", iako su sve stvari osim vec dva put spomenute "Christmas Song" dosta kompliciranih struktura i imaju takvih trenutaka. Uostalom, album je na bandcamp stranici Narromindeda tagiran pored 'noiserock' i kao 'mathrock'. To i ne iznenaduje previše, jer ako gledamo pocetke math rocka iz današnje perspektive, on i je nastao izmedu ostaloga i iz noisea i od njega u pocetku bio teško odvojiv. A Gone Bald je unatoc osjetnim promjenama s ovim albumom, bend stare nojzerske škole. I kao takav, meni funkcionira, makar mi moram priznati bolje odgovara onaj stariji.
kwadratuur
feburary 10 2011
by jonathan ramael
De Amsterdamse noiseband Gone Bald werd onlangs tot een duo herleid. Ondanks de vele bezettingswissels die de groep rond de Kroaat Razorblade Jr. doorheen de jaren moest ondergaan, brengen ze met 'Waiting it Out' toch maar mooi hun zevende cd uit. De leuke bandnaam, mooie hoes en de gesproken, filosofische intro over wijn deden het beste vermoeden.
Het eerste dat tijdens het luisteren opvalt, is dat het volstrekt onhoorbaar is dat er maar twee muzikanten aan het spelen zijn. De muziek klinkt snoeihard, metalig en vol. Daar hebben we het beste echter onmiddellijk mee gezegd. De meeste songs zijn echt ongelofelijk lang, bieden weinig variatie en lijken nergens heen te leiden. Het openingsnummer met de overigens geniale titel 'The Art of Sideburns' begint met een stevige riff op een roestig klinkende gitaar. Tot dusver is er geen probleem. Wanneer die intro echter minutenlang opbouwt zonder echt te evolueren of in een climax uit te barsten, vallen er toch vragen bij te stellen. De instrumenten klinken vaak ook rommelig en slecht gestemd. Op 'Fracture of Radius', dat wat trager begint, komt de zang er meer door. Het nummer voelt grungy aan (niet op een goede manier) en komt net als de meeste van zijn lotgenoten op deze plaat vrij ongeïnspireerd over. 'The End of Symphonies' dat hierop volgt, is jammer genoeg langer dan de meeste echte symfonieën. Het vierde nummer 'Christmas Song' is het eerste dat met een echt leuke intro begint, maar het duurt niet lang alvorens ook deze song bezwijkt onder zijn eigen gewicht. Wil dat zeggen dat er op de hele cd niets aangenaams te horen valt? Zeker niet. 'Importance of Symmetry' is bijvoorbeeld gebaseerd op een heel goed gevonden gitaarlickje, maar over het algemeen is dit geen spek voor de bek van de gemiddelde rockliefhebber.
Voor de fans van noise zou dit een schitterende plaat kunnen zijn, maar de meeste andere muziekliefhebbers zullen zich misschien wel terecht afvragen waarom iemand nummers maakt van negen minuten en meer, terwijl ze eigenlijk nergens heengaan. Voor sommigen zal de outro dan ook als een verlossing hebben geklonken.
terapija.net
february 7 2011
by horvi
Razorblade Jr. na vrhu nebodera u otmjenom safari odjelu, sa šeširom i kaubojkama promatra kaos i zbrku. Roden da govori o intimnom užasu. Ekspresionist. Inovator noise-rocka. Avangardist?! Možda. Izuzetan je.
Gone Bald je prakticki oduvjek bio Ico Košavic – Razorblade Jr. plus još netko, a na najnovijem albumu to je samo bubnjar Sultan Battery. Elem, Ico u funkciji gitariste, basiste i pjevaca, skoro pa oneman bend. Tehnicki ništa novo od njega. U zvucnom pogledu je i dalje skoro pa bracnim sponama privržen noise-rocku s kompleksnim aranžmanima koji u dva navrata dosežu skoro i po 10 minuta, pjesme su predugacke (samo je jedna 'kraca'), pune su tehniciranja, a docekati vokal, primjerice u najduljoj "The end of symphonies" je kao da cekate konac recesijske krize. Šala, ali to je r'n'r… Ozbiljan je Ico, ne opterecuje se sa trivijalnostima.
Ico nikada nije pokazivao sklonost ka klasicizmu i standardnim obrascima, vjecito je šetao i vrludao sa ekspresivnošcu na teritoriju opozicije tradicionalnim formatima, pa je Gone Bald prilicno težak i mucan bend za svakodnevnu probavu, cak i u jednoj od najkracih pjesama "Christmas song" koja je po lirskim karakteristikama svojevrsna balada. Nalazi se na sredini albuma, neuroticno je rastrganog tromog blueserskog tempa i stvara osjecaj da bi ste najradije pobjegli od takvog Božica premda je u temi ljubavni zov. Melodija je elegicna, vrlo tužna, puna melankolije i u njoj nema niti malo blagdanskog raspoloženja. Hocu reci, klasicnog svecarskog praznikovanja kakvo se ocekuje; kod Ice sve mora biti neobicno i drugacije, jer kada to ne bi tako bilo, onda bi se Gone Bald pretvorio u mainstream kojeg prezire iz dna duše. Na svu srecu, dobro je što i nakon 17 godina konstantne karijere Gone Bald, tj. Ico i dalje ima neprikosnoveni underground svjetonazor koji se s vremenskim odmakom relevantno razvio u nešto profinjeniji sklad. Neznatan, ali vidljiv i upecatljiv.
Pjesme, njih 8, ne racunajuci kratke "Intro" i "Outro" koji su samplovi iz filmova "Sideways" i "Revenge Of The Pink Panther", su neuroticni komadi kakvi se ne susrecu cesto. Produkcijski su vrlo prljavi sa snažnom ritam sekcijom koja dušu daje za dobro znane Steve Albinijeve šuseve (tu se može pobrojati gomila bendova od The Jesus Lizard sve do Nirvaninog "In Utero"), gitare su u specificnim srednjim registrima i vrlo je interesantno da nema mnogo izleta u visoke noiserske frekvencije. Skladbe su prvenstveno orijentirane na vrlo kompleksne gitaristicke strukture koje frcaju sa melodijama i neocekivanim preobraženjima s mnoštvo breakova i razlicitih intervencija, te djeluju kao da su sljepljeni kolaži od nekoliko zasebnih pjesama utrpanih u jednu kompoziciju.
Uvodna "The art of sideburns" odranije je poznata jer je objavljena kao promotivni demo još tokom ljeta 2009., a u njoj se bend malcice primaknuo indie-rocku, mada samo u figurativnom pogledu. Sve frca eskapadama, gitaristickim tehniciranjima s mnogo math-rock sintagmi, razbijenim ritmovima, neuravnoteženim aranžmanom i opcim kaosom kakvog na albumu ima u izobilju. Kada se Ico na momente pribere i pocne raditi neku konkretniju melodiju, cesto namjerno ili ne, izabere opciju da ju razbije na tanane i odvede u nekom skroz drugom smjeru. Jedan od rijetkih primjera kada to nije napravio je tromija "Fracture of radius" koja je vodena minimalistickom bas melodijom na koju je vrlo fino ugradio cijeli serijal gitarskih minijatura, ekspresija, psihodelicnih detalja, dinamickih tenzija i ocito se prepustio uživanju u improviziranju na zadanu melodiju koja tematski, tj. lirski progovara o slobodi umjetnosti. No, konac skladbe finišira u neocekivanom brzancu. Teško da bi se to moglo vrtjeti na klasicnoj radio stanici… Spomenuta "The end of symphonies" je puna math-rock tehniciranja s nekakvim težnjama kao da se iz petnih žila trudi osmisliti što kompliciraniji aranžman skoro zapetljan poput jazza; breakova ima koliko ti srce hoce i ne znaš hoce li pjesma ritmicki krenuti ili ce se svakog trenutka zaustaviti. U takvom povuci-potegni tempu, pjevanje se pojavljuje tek nakon 5 i pol minuta, a onda do kraja (skoro pa 10 minuta) slijedi cijeli niz besomucnih egzibicija i rastrganih dionica koje se u pojedinim momentima sukladno sjedinjuju tvoreci nekakvu smislenu cjelinu. Uf, vraški teška parodija na simfoniju… Da Ico ima posve uvrnuti smisao za kompoziciju dokazuje "Vengeance is lazy form of grief" gdje se cas izmjenjuju fine grunge melodije, cas neuroticni detalji, cas Shellac/ The Jesus Lizard fragmenti što sve rezultira opcim cušpajzom tempova, razlicitih zvucnih nivoa i promjenama percepcije po progressive sistemu kojeg uistinu nije lako pratiti. Onda, tu je sasvim poremecena "Importance od symmetry" koja prvo pocinje s polueksperimentalnim ambient uvodom u kome se uistinu ne može odrediti hoce li pjesma biti brza, spora, elegicna ili 'štatiligajaznam', da bi nakon 45 sekundi krenula u gotovo komercijalnom indie-rock ritmu koji se iznenada pretvara u brzi tempo s nekoliko šuseva, pa se opet vraca na mid-tempo sa kratkim pjevanim dijelom od samo tri stiha ('ti si mi u mislima/ ti si mi previše u srcu/ nemoj otploviti…') i tako sloj po sloj koji katkad zamiriše i na Cobainove urlike sa "In Utero" albuma. Majko mila, koja je ovo ludacka igra… Da je Ico metalac, svirao bi najzapetljaniji black/death sa symphonic/ progressive strukturom, a to bi bila abnormalno zapetljana glazba. Lizardovska "Diving for oysters" u pocetnom tromom tempu nosi dobre tri i pol minute minimalisticke vožnje melodijom basa sa mnogobrojnim gitaristickim fragmentima gdje su gotovo ogoljeni do srži Albini i Duane Denison (gitarist The Jesus Lizard) kojima Ico skoro da porucuje – 'bolji sam tehnicar od vas'. Ovdje se uistinu ima šta za cuti – niska fantasticnih melodija, dosjetki i improvizacija koje podsjete na najbolja ostvarenja ova dva velikana, a onda pocinju petljanja s još tromijim ritmom u kojega se nadograduje nekoliko promjena, pa se dižu tenzije gore-dole, levo-desno, drž-udri, zgrabi-nedaj, hocu-necu, da bi tek u šestoj minuti došao vokal i to u jednom posve drugacijem zvucnom okružju kao da je izvaden iz nekog poremecenog lo-fi noise-punk/grungea nalik na Sonic Youth. Miš-maš nabacan aranžman, nema šta. Ovako zbilja nikoga nisam cuo da je radio kompoziciju… Ufff, moram priznati da mi je u nekim momentima došla muka od ove pjesme i ovakvog vraški opicenog stila kojeg Ico preferira. Zapetljan je, nesimetrican i posve nelogican. A k tome još i tekst koji je metaforicka prica o izranjanju kamenica – školjaka…. Zadnja "Eddie's son" traje punih 9 minuta, te je još jedna prezentacija abnormalne kompleksnosti (elegican uvod, tiho/glasno kombinacije, minimalisticki raskrzani tempovi, procesuirana dinamika, sonic youthovska atmosfera beznada…), te ima melodican pjevani dio i nekoliko uspjelih grlenih krikova punih paranoje i ludila. Ali aranžman je košmaran san za konja ubiti sa pricom o jednom Icinom realisticnom snu o ženi Eddie (elem, nije muško) koja krije svojeg sina od oca koji ocajnicki pokušava doci do njega i saznati pravu istinu. Stih 'držim oci otvorene' je grozno buncanje. Paranoja… Na samom kraju pjesme gotovo neprimjetno se pojavljuje Icina sestra Andreja s nekoliko back vokala i sitnom trubackom dionicom doprinoseci de-kompozicijskoj psihodelicnoj atmosferi. Šteta, mogao joj je dati više prostora, veoma artisticki zvuci u tih par sekundi…
Možete slobodno pricati i komentirati da ste u životu slušali svakojake glazbe, ali ovako zapetljane se uistinu malo može pronaci. Ico je u jednoj sasvim drugacijoj dimenziji mada živi u istom svijetu kao i mi obicni smrtnici, neprestano se trudi iz takta u takt biti drugaciji i kadra je sve mijenjati za dobar gitarski 'šus' i dobro pogoden trenutak. Njegova velika prednost (ili problem, kako hocete) je kompleksnost nabacane grade od koje namjerno radi opci kaos, nered i metež kojeg pretvara u najsiroviji, gotovo apstraktni art. Izuzev dvije-tri kompozicije u kojima je pokazao smisao za 'tradicionalni' sklad i uravnoteženost, ostatak materijala je ogromna zapetljana zbrka poput gordijevog cvora. No, to i ne bi bio tako veliki problem da je publike koja kapira ovakve eskapade. Probajte zamisliti šok kakvog je doživjela rock publika koja je primjerice slušala Stonese, Beatlese i Presleya, a onda je naletjela na Yes i Genesis sa Peter Gabrielom. Mnogima tu ništa nije bilo jasno – kakve su to pjesme, kakvi su to ritmovi, cemu sve te promjene – cas glasno, cas tiho, sve se non-stop mjenja, ništa nema metronomski ugoden tempo, nema refrena, nema klasicnog rock obrasca, nema hita, radiofonicne pjesme itd. Otprilike nešto slicno se nalazi na ovome albumu samo u daleko nabrijanijoj varijanti koja na momente dosegne i posve neobican progressive šlih kojeg je jedino moguce pratiti s one razine na kojoj se Ico nalazi. Zato nije uzalud na omotnici upravo on na vrhu zgrade u otmjenom safari odjelu, šeširu i kaubojkama.
Produkcija koju je obavio lumen hrvatskog noisea Mihael Bele (Peach Pit, Tanker) u kooperaciji sa Icom nema puno veze sa kakvocom pjesama; tu niti Albini ne bi mogao puno doprinjeti osim ako se ne bi petljao u aranžmane, a to je onda sasvim druga prica.
Realnost je – ovo je sirov, tvrd, teško probavljiv album koji na prvu loptu ne sjeda nikako. Potrebno ga je slušati barem desetak puta i prvo se sukobiti sa cinjenicom vlastitog diskofilskog poraza da ovakvu kompleksnu gitaristicku noise-rock glazbu u ovome fahu koja se temelji na ucestalim vratolomnim breakovima nikada niste slušali premda ste veliki fan Lizarda, Killdozera, Shellaca i kompanije. A potom ce doci melodije kojih ima u izobilju i analiza fenomena zvanog Razorblade Jr. koji gomilu, naoko nevažnih sitnica radi kontra onoga što bi prosjecan poznavatelj klasicne noise-rock škole mogao ocekivati. Neobican je i ekspresivan gitarist. Na momente eksperimentalan kompozitor. Detaljan i preopširan s dalekosežnim horizontima. Svaki moment mu je bitan, svaki ton, ništa nije baceno u vjetar radi 'popune prostora'. Sa detaljnim preslušavanjem otkrivati ce te uistinu nevjerojatne gitarske pasaže i cvrstu konstrukciju fantasticnih melodija. A tek na kraju vrijednost pjesama i posve neobicne lirske preokupacije koje su cesto vodene dinamikom misaonog procesa poput nabacanih slicica, kratkih ekspresija i povika koji cine komplementarni tijek fabule.
Ovo je fantasticno.
9 / 10
fret
january 2011

perte et fracas
december 23 2010
by skx
En 2007, Gone Bald fêtait ces douze ans et demi dans l'indifférence générale. Trois ans plus tard, Gone Bald s'accroche. Razorblade Jr, fondateur et unique membre d'origine d'un groupe crée en 1994 en Croatie, a ça dans le sang. Envers et contre tout, il ne peut faire autre chose que prendre sa guitare, sa voix pleine de ressentiment et épancher son blues dans un noise-rock viscéral, un son qu'il poursuit depuis près de vingt ans, bien qu'on se demande à force, si ce n'est pas lui qui est poursuivi. Comme ce type sur la pochette dont on ne sait pas si il est prêt à dominer le monde ou prêt à se faire la malle pour de bon.
Alors oui, Gone Bald fait du Gone Bald, creuse l'ornière comme d'autres creusent leurs tombes mais Waiting it out est le plus beau des trous qu'il ait creusé, dans ce noise-rock qu'il aime malaxer, cette guitare qu'il triture sans cesse jusqu'à lui extirper le meilleur. C'est pas demain qu'on va l'enterrer.
Seulement aidé par un nouveau batteur (Sultan Battery, on a le pseudo qu'on peut), Gone Bald se mue en duo et se dote d'une force de frappe insoupçonnée. Je crois bien (de mémoire… ça fait quand même son huitième album) que je n'avais jamais entendu un son aussi plein, aussi charnel de toute leur discographie. La disparition de la basse donne un nouvel élan, comme si Razorblade était obligé de trouver des trésors de créativité avec sa fidèle guitare pour palier l'absence. Chaque riff, chaque coup de grosse caisse frappe juste et en parlant de batterie, Sultan mérite bien son prénom. C'est propre, carré, sans fioritures, en osmose totale avec son maître guitariste, comme si ils avaient formé ce couple depuis des décennies. Hormis l'intro et l'outro dont des samples de films sont le ciment, la mise en température, le duo forge un répertoire de huit titres plein à rabord, de longues tirades dépassant allégrement les six minutes. Du péplum The End of Symphonies, morceau quasi instrumental titillant les dix minutes et à multiples facettes mais dont la virulence constitue le fil rouge aux morceaux plus mesurés dans le tempo et poignants tout en restant tendu en son sein (Christmas Song et Eddie's Son avec son bout de trompette), Gone Bald a retrouvé un second souffle et l'inspiration qui va avec. Razorblade Jr (Ivica Kosavic de son vrai nom) multiplie les riffs lumineux, des attaques de cordes Big Blackienne quand il taquine les aigues, des harmonies cinglantes, n'abandonne pas totalement la basse (sur Diving for Oysters), se démène comme un dingue et si tout ça ne suffira pas/jamais pour faire le grand groupe reconnu dont il rêve, la poisse en bandoulière, Waiting it out est le meilleur album de Gone Bald. Alors faites vous une faveur et écouter, célébrer Gone Bald, donner une chance à Waiting it out. Cet album est tout simplement bon et porté par une rage bien perceptible de ceux qui galèrent depuis des années, qui sacrifient tout pour leur groupe, qui n'ont jamais pris le train de la mode en marche, qui de toute façon ne voudront jamais, c'est tout à leur honneur, préférant s'obstiner à sortir ceux qu'ils ont dans les tripes, alors que des centaines de groupes merdiques réussissent, ce dernier verbe ne signifiant strictement rien. On préfèrera toujours un groupe comme Gone Bald, losers magnifique de la cause rock'n'roll.
dark entries
december 19 2010
by didier becu

built on a weak spot
december 16 2010
It always seems to slip my mind that Gone Bald has been pounding away for so many years now. I guess in my case I came about them later and for whatever reason have always seen them as a newer band channeling the high points of mid-90's Chicago styled noise/math-rock. However they've actually been right alongside that whole crop the entire time…albeit with an ocean between them seeing as how they are from Amsterdam. It hasn't necessarily been easy though as there have been numerous lineup changes over the years, leaving Razorblade Jr. as the lone original member of the group. In fact their latest disc Waiting it Out was recorded as a duo with new drummer Sultan Battery. However, the album also serves as their ninth, so they've kept it rolling right along despite the merry-go-round effect that has plagued them through time.
Waiting it Out in pretty much every way represents what the band has been doing for over 15 years now. Little has changed in their approach and this was pretty evident from just taking one glance at the run length for some of the tracks. It's interesting to me for bands like Gone Bald that aren't necessarily afraid to gamble in this manner and for years now it has generally worked in their favor. Although there are moments where I listen to a track like "The End of Symphonies" that is nearly ten minutes long and think I have listened to two different songs by that point. But the fun of listening from beginning to end of how they in fact got from point A to point B is something that has made them enjoyable to listen to, that and they've always kind of reminded me a bit of the UK group Ligament. That certainly doesn't hurt. However, with Waiting it Out it shows that Gone Bald are still overflowing with ideas, even if the presentation hasn't necessarily budged.
stubby's house of christmas
december 16 2010
Not my cup of tea, to be sure, but somebody's going to think its the greatest thing since sliced cheese. (Was sliced cheese really all that great? Or maybe they meant "grate". Hey, this is your brain on no sleep, what can I say?) The current incarnation of Gone Bald, the underground Dutch rock band, is just two people–original member Razorblade Jr. on guitar and vocals and newbie Sultan Battery on drums. That's his name, folks, I don't make this stuff up. For two people, they sure make a lot of noise. Must be why they call it "Noise Rock". Gone Bald has also been labeled Post Punk, Alternative, and Experimental. Their new album is "Waiting It Out" and smack in the middle of that is "Christmas Song". Which it just so happens is available as a free download from Narrominded Records. Stroll around the grounds until you feel at home and you might even pick up last year's Christmas single from Spoelstra.
festivalinfo
december 11 2010
by ruud de zwart
Na de release van 100 Ways to Become Cool in 2007 verlieten de bassist en de drummer het trio Gone Bald. Frontman Razorblade Jr. bleef alleen achter, maar dat betekende niet het einde van de eigenzinnige Amsterdamse band. Vanaf de oprichting in 1994 wisselde de band al menig keer van bezetting, dus het vertrek van de twee werd ook deze keer opgevangen. Alleen drummer Sultan Battery kwam de gelederen versterken, waardoor Gone Bald tegenwoordig een duo is. Afgelopen winter werd er gewerkt aan alweer het negende album van Gone Bald. Ze reisden hiervoor af naar Zagreb, waar ook de roots van Gone Bald liggen.
De stijlvolle hoes van Waiting It Out ademt de stilte voor de storm. Dit is dan ook precies hoe het album start. Na een rustig intro met een vrouwenstem barst Waiting It Out los met het rauwe 'The Art of Sideburns'. De track laat meteen horen dat de nadruk van het album vooral op de muziek ligt. Er wordt nauwelijks gezongen en wat er gezongen wordt is meer geschreeuw. Het past echter prima bij de confronterende gitaarrock die we voorgeschoteld krijgen. Hoewel 'Fracture of Radius' een stuk rustiger is dan het voorgaande nummer, blijft het recept gelijk. Met messcherpe gitaarklanken en botte drums strooit Gone Bald een bak herrie over zijn luisteraar, waar de gemiddelde popliefhebber gek van zou worden. De songs op Waiting It Out zijn langgerekt, de vijf minuten grens wordt meestal zonder moeite gehaald. Het hoogtepunt van het album 'The End of Symphonies' haalt zelfs de tien minuten. Alleen al vanwege de geweldige titel, mag ook 'Vengeance is a Lazy Form of Grief' gezien worden als een zeer fijne track, waarbij de tempowisselingen je om de oren vliegen. De vele tempowisselingen tijdens de tracks zijn tevens karakteristiek voor Waiting It Out.
Ondanks de 'Christmas Song' is Waiting It Out geen album voor de gezellige winterse kerstdagen. Gelukkig hoeven we dat ook niet te verwachten van Gone Bald. Het gitaarwerk is vlijmscherp en de drums zijn rauw en agressief. Het is een knappe prestatie dat het tweekoppige Gone Bald kan klinken als een volledige band. De gemiddelde muziekliefhebber zal niet vrolijk worden van de muziek zonder concessies van Gone Bald, maar de liefhebbers van stevige noiserock komen bij Waiting It Out gegarandeerd aan hun trekken.
3,5/5
musicfromnl
december 3 2010
by eric rijlaarsdam
Gone Bald wordt in 1994 in Zagreb opgericht door zanger/gitarist Razorblade Junior. De dag na de oprichting verhuist de band echter naar Amsterdam en sindsdien wordt van daaruit geopereerd. Door de jaren heen heeft Gone Bald veel bezettingswisselingen ondergaan en momenteel bestaat de band uit Razorblade Junior en drummer Sultan Battery. 'Waiting It Out' is het derde album van Gone Bald op het label Narrominded.
Ondanks het feit dat Gone Bald dus slechts uit twee personen bestaat, heeft 'Waiting It Out' een stevige sound. Het geluid klinkt nergens iel of te kaal. De songs zijn uitgesponnen en vaak lang. Van de acht echte songs op het album klokken er slechts twee onder de zes minuten en twee nummers duren zelfs langer dan negen minuten. Het nadeel hiervan is dat Gone Bald, ondanks de vele tempowisselingen, de aandacht niet altijd het hele nummer weet vast te houden. Dit geldt zeker voor 'The End Of Symphonies' dat echt veel te lang gerekt wordt.
Na een gesproken intro over wijn gaat 'Waiting It Out' echt van start met het nummer 'The Art Of Sideburns'. Achter deze geweldige songtitel gaat een compositie schuil met grungy gitaren en veel tempowisselingen. Het nummer is grotendeels instrumentaal, maar bevat wel een beetje zang en bovendien een stukje gesproken tekst. Dit had wel van de dEUS EP 'My Sister = My Clock' afkomstig kunnen zijn. 'The Art Of Sideburns' zet de toon voor het album en vormt meteen één van de hoogtepunten.
Een andere uitschieter op 'Waiting It Out' is 'Christmas Song'. Dit relatief korte nummer is vrij zwaar en bovendien slepend. De meeste andere songs zijn wat sneller, al ligt het tempo over het algemeen wat minder hoog dan op de eerdere albums van Gone Bald. Ook 'Importance Of Symmetry', de andere relatief korte song op 'Waiting It Out', is één van de betere songs. In tegenstelling tot 'Christmas Song' bevat dit nummer wel veel tempowisselingen en het tempo ligt bovendien hoger.
Op zich is de muziek van Gone Bald prima, maar de songs duren over het algemeen gewoon te lang, waardoor de verveling na een tijdje toeslaat.
file under
november 29 2010
by storm
Toen twee van de drie bandleden van Gone Bald het voor gezien hielden had ik verwacht dat het einde oefening zou zijn voor deze geniale Amsterdamse noiseband. Ik had duidelijk buiten Razorblade Jr gerekend. Dit van oorsprong uit Kroatië afkomstige noisekonijn laat zich niet zo maar uit het veld slaan. Hij bedacht dat je ambachtelijke noise ook prima met zijn tweeën kon maken en rekruteerde alleen Sultan Battery als nieuwbakken drummer. Waiting It Out laat horen dat Razorblade Jr. daar helemaal gelijk in had. Je hebt genoeg hippe tweepersoonsbandjes tegenwoordig, maar zo'n bak geweldige herrie over je heen storten zoals Gone Bald op deze nieuwe cd laat horen, dat kan ik me van een ander niet heugen. Gone Bald klinkt op Waiting It Out weer als tot op de tanden bewapend. Wat echter wel opvalt is dat de in de langere stukken op de cd Razorblade Jr. wat meer ruimte geeft aan zichzelf door net iets minder vol gas zijn scheermessen over je heen te storten. Dit geeft je als luisteraar overigens niet gelijk meer bewegingsruimte hoor, de druk die de twee op je uitoefenen wordt gewoon wat gevarieerder ingevuld. Daardoor wint Gone Bald alleen nog maar aan meer aan kracht. Want aan de andere kant zijn de messen vlijmscherp geslepen en snijdt de immer tot op de tanden gewapende sound van de gitaar van Razorblade Jr. lelijke papercuts in je trommelvliezen. En dan krijg je er gratis nog niet eens de donderende drums van Sultan Battery overheen. Wat een band. Wat een plaat. Wederom.
dark entries
november 12 2010
by didier becu
Nederland heeft steeds een mooie relatie gehad met noiserock. Naast de vaandeldragers van The Ex bestaat er zelfs ook een prachtig woord voor, "pokkeherrie" genaamd. Een van de groepen die het langst bezig zijn in dit genre is ongetwijfeld Gone Bald, een groep die ondertussen reeds van 1994 de podia bestookt met melodieuze noise dat niet zou misstaan in platenkasten die uitpuilen van het soort alternatieve gitaarrock waar ene Steve Albini zo'n patent op heeft. Wat ooit begon in Zagreb als een noiserock bigband is ondertussen na negen albums gereduceerd tot een duo bestaande uit Razorblade Jr en Sultan Battery. Van nood is er echter geen sprake zijn want deze twee weten hoe ze de volumemeter in het rood moeten doen lopen zonder dat het ooit te chaotisch wordt. Gone Bald omvat dezelfde gedrevenheid die The Birthday Party kenmerkte en waarbij elk nummer je door het intens gitaargeluid een claustrofobisch geluid geeft. Op zich doet Gone Bald niks nieuws maar wat ze doen getuigt van groot vakmanschap.
7/10
subjectivisten – caleidoscoop
october 22 2010
by jan willem broek
Het Nederlandse, sublieme label Narrominded bewijst keer op keer één van de meest open minded labels van Nederland en eigenlijk de hele wereld te zijn. Niet alleen innovatieve elektronica vindt er onderdak, ook de meest creatieve noisebands als Fine China Superbone, Boutros Bubba en Katadreuffe kunnen er terecht. Sinds 2005 geldt hetzelfde voor de beste noiseband van ons land en ver daarbuiten Gone Bald, die 3 jaar geleden nog hun 12,5 jarig bestaan vieren met de geweldige cd+dvd en het boek 100 Ways To Become Cool. De band rond Razorblade Jr. (alias van Ivica Kosavic) varen hun eigen koers en brengen op die wijze hun unieke noise aan de man. Hij is ooit gelift van Zagreb naar Amsterdam waar hij het net gestarte Gone Bald gelukkig voor ons heeft voortgezet. Daarnaast houdt hij er projecten als Blisters, Pink Noise Quartet en De Reizende Verkoper op na. De Kroaat is één van de meest markante figuren uit de Amsterdamse undergroundscene geworden en in een rechtvaardige wereld zou hij nu de God van de noise zijn. Wellicht dat het uitblijven van de meer dan terechte waardering gezorgd heeft voor de titel Waiting It Out, hun zevende cd; de aanhouder wint per slot van rekening. Het album is in Kroatië opgenomen en Gone Bald is nu gereduceerd tot het duo Razorblade Jr. (gitaar, zang) en het nieuwbakken lid Sultan Battery (drums). Dit maakt hun songs alleen maar puntiger en feller, met vlijmscherpe gitaarpartijen, pakkende en toch felle zang en opzwepende drumstukken. Net als het verwante duo Godheadsilo klinken ze gewoon als een vijfmansformatie. Toch is er ook meer ruimte voor bezinning en zijn een groot deel van de songs iets rustiger en meer uitgesponnen van aard, inclusief de zang. Iets meer wave invloeden en nostalgische gevoelens steken hier de kop op. Voor de rest is het gewoon noise zoals noise bedoeld is, intens en heftig. Het heeft kenmerken van de latere Killing Joke, Karate, Big Black, Steve Albini & Zeni Geva, Jesus Lizard, Unsane en Don Caballero verenigd in één totaalgeluid. In 10 nummers en bijna een uur tijd krijg je het beste voorgeschoteld dat de hedendaagse noise te bieden heeft. Ondanks de titel, wacht niet langer en ontdek het geniale Gone Bald zelf!
kfuel (christmas song track review)
october 14 2010
Cet excellent extrait du nouvel album de Gone Bald qui ne devrait pas tarder à voir le jour nous réconcilie presque avec cette formation étrange, capable du meilleur comme du pire, sur scène comme sur disque d'ailleurs. Ce sublime titre évoque une rencontre au sommet entre Collossamite et Birthday Party. Si l'album est du même niveau, leur neuvième à ce jour, nous n'avons pas fini de le diffuser, encore et encore comme le dit si bien Francis.