format: cd-r / digital
released: june 13 2009
tracklisting
1.under trees it rains twice
2.the language of mountains is rain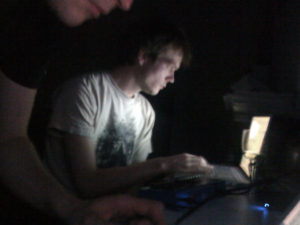 info
Narrominded presents three new releases by Coen Oscar Polack. This exciting triptych takes you on a journey from a sultry nature reserve in the Dutch province of Utrecht to the rain soaked mountain slopes of Northeast India. These three cd's have in common that they are all based on field recordings. On The Language of Mountains Is Rain Polack, together with Herman Wilken (half of electronica duo Hydrus) works these recordings into a musical context. Geluiden uit De Blauwe Kamer is a recording of a performance/installation in a nature reserve and The Skipping Monk is a collage of recordings of nature and culture that Polack made in India.
For The Language of Mountains Is Rain Wilken and Polack made two long improvisations based on field recordings and custom-built software. They started working together after they were programmed to do a performance together at Amsterdam's Zaal 100. The result is an intriguing game of frequencies in which music and noise fight for higher ground.
Coen Oscar Polack is one of four people behind the Narrominded label. His musical career started in Psychon Troopers (later known as Psychon) and since 2002 he makes electronic music with Lars Meijer as Living Ornaments (with releases on Narrominded, Skam and Scarcelight). He performs regularly as a solo musician using field recordings, saxophone and electronics. In 2007 Narrominded released his first solo effort Psychic Investigations.
During his studies at the Sonology department of the Royal Conservatory in The Hague, Herman Wilken started the group Hydrus together with his then-classmate Almer Lücke. He is a member of the post-rock group Fire Walk With Us. Narrominded released three Hydrus records: Split LP #2 (b/w Kettel), the EP Postcards and the wonderful album Interleaves.
[youtube https://www.youtube.com/watch?v=47CUfBgbzVA]
press downloads
hi-res image of cover
press release (english)
press release (dutch)
reviews
sonomu
november 10 2009
by stephan fruitman
"Under trees it rains twice". A zen banality, a philosophical sophism? Perhaps, but here, a simple observation and preparatory remark.
On this release, it does indeed rain twice. In the wonderful set of four black-and-white photographs covering each side of the gatefold package, and in the processed environmental recordings at the heart of the music.
Precipitation fills the sound, undodgeable drops and engulfing sheets of it. The first track begins as a calming drone, out of which rises very well-crafted detail, melodious and attractive, growing more so with each breath.
We go cloud-sailing, gazing into the far miles of the sky ahead with a delicate, heavenly spray on our faces, which soon overwhelms and overtakes the earspace. A downpour! A heavenly organ, a very earthy sax, its bleating treated and strange and offered almost as an extended coda to the first twelve minutes.
The second piece begins with a recording of rain beating down – on a corrugated tin roof? It becomes louder and seemingly solidifies into hailstones of underwater radio static – if it can be imagined, it can be made – which eventually have a kind of sandblasting effect – you find yourself comfortable and smooth within the great blanket of noise.
Oversize wind chimes disturb this revery, the sax comes back. Somehow this all only serves to heighten the sense of relaxation as it all combines and resolves itself into the foamy waves lapping at an ocean shore.
A successful experiment in how to combine the most disparate of elements into something beautiful.
gonzo (circus)
september 7 2009
by bs
Narrominded presenteert drie nieuwe releases van Coen Oscar Polack, één van de drijvende krachten achter het Nederlandse label en tevens actief in Psychon en Living Ornaments. 'The Skipping Monk' kreeg als ondertitel 'Recordings Of Nature And Culture In India' mee, en dat dekt inderdaad de lading. De plaat bestaat uit 22 veldopnames die Polack verleden jaar tijdens zijn reis door India maakte. De tracktitels zijn korte omschrijvingen van het onderwerp dat vastgelegd werd, aangevuld met een aanduiding van plaats en datum van opname. De variatie in de selectie opnames en uitstekende kwaliteit van de opnames (opgenomen met de kleine, handzame digitale Zoom H4 recorder) zorgen ervoor dat deze plaat zich als een ware auditieve trip laat beluisteren. Ook 'Geluiden Uit De Blauwe Kamer' is gebaseerd op field recordings, ditmaal van natuurgeluiden in het rivieroeverreservaat De Blauwe Kamer in Utrecht. Deze keer worden de veldopnames echter verwerkt tot een compositie van 34 minuten die werd uitgevoerd ter gelegenheid van de opening van een nieuw informatiecentrum in het gebied. De bewerking beperkt zich hier nog tot het schikken en organiseren van de originele veldopnames. Op deze manier componeert Polack een fascinerend geluidslandschap als ode aan het natuurlandschap waaruit hij zijn basismateriaal haalde. De derde plaat, 'The Language Of Mountains Is Rain', waarvoor Polack de handen in elkaar slaat met Herman Wilken, gaat nog een stapje verder. Hier worden veldopnames als ruw geluidsmateriaal gehanteerd voor twee lange improvisaties. In het eerste improvisatie-stuk 'Under Trees It Rains Twice' worden de veldopnames radicaal door de software-mangel en een batterij effecten gehaald, waardoor ze hun specificiteit en ruimtelijke klankkleur verliezen en tot typische, cliché-matige ambient-geluiden verworden. Wat best jammer is. Neen, dan is 'The Language Of Mountains Is Rain' waarbij minimaal bewerkte opnames gecombineerd worden met abstractere geluiden veel interessanter, ook al verglijdt ook dit stuk naar het einde toe naar al te middelmatige ambient. Slotsom: Polack brengt op Narrominded drie platen uit die met name als drieluik behoorlijk weten te intrigeren.
file under
august 10 2009
by storm
Ik ben totaal niet jaloers aangelegd als het om het materiële gaat. Ik geef geen fluit om auto's, grote huizen, peperdure vakanties of luxe goederen en gadgets waar ik anderen wel eens mee zie pronken. Ik ben wél jaloers aangelegd als mensen de tijd hebben (of nemen, het is maar hoe je het ziet) om dingen te doen die ik zelf graag zou ervaren. Neem bijvoorbeeld Coen Oscar Polack. Erg rijk zal hij vast niet worden van de muziek die hij uitbrengt. Sterker nog, het is vaak helemaal geen muziek die hij releaset via Narrominded, het is het vastleggen en in digitale vorm verspreiden van opnames die hij doet in het veld. En dat veld is dan niet de drukke stad, nee dat veld is in dit geval het natuurreservaat de Blauwe Kamer en een collage van opnames die hij maakte in de bergen in India van zingende monniken en het dagelijkse leven aldaar.
Dan houdt het voor mij op qua praten van dit is een mooi liedje, of een mooi lickje, dan ga ik er gewoon voor zitten en luister geboeid. Het contrast tussen de in mij oren chaotische situatie in India (op The Skipping Monk) en de oase van semi-ordelijke rust in de opnamen in het Utrechtse natuurgebied vind ik dan wonderbaarlijk. Ja, je hoort mensenstemmen in die laatste, maar ze zijn gedempt. Als je geconcentreerd luistert hoor je de insecten om je heen zoemen, maar hoor je ook dat de tweeëndertig minuten geluid weldegelijk geknipt en geplakt zijn en geen gemakzuchtige knop-aan-knop-uit opname. Het maakt Geluiden uit De Blauwe Kamer tot een boeiend en dynamisch stilleven waarin je steeds weer nieuwe geluiden ontwaart.
Het verschil tussen deze twee releases en The Language of Mountains Is Rain de cd die Polack samen met Herman Wilken (ook de helft van Hydrus) is best groot. Het organische van de veldopnamen is hierin echter voor een fors deel vervangen door het elektronische van zelfgeschreven software. De twee laten in twee lange uitgesponnen tracks deze twee tegen elkaar opbieden. Het brengt me soms zelfs aan het twijfelen, of ik nu luister naar door software gecreëerde noise of naar kletterende regen. Bijzonder knap hoe de Polack en Wilken me steeds weer op het verkeerde been weten te zetten terwijl ze je heerlijk doen wegdromen.
subjectivisten – caleidoscoop
june 18 2009
by jan willem broek
Coen Oscar Polack is één van de personen achter het fijne Narrominded label. Hij is net als de anderen ook muzikant, te weten in Psychon Troopers, Psychon en Living Ornaments. Onder zijn eigen naam debuteert hij vorig jaar met het sterke Psychic Investigations waarop hij eigenzinnige electro-akoestische muziek ten gehore brengt. Nu is hij terug met maar liefst 3 releases.
Als eerste Geluiden Uit De Blauwe Kamer, waarvan de opnames gemaakt zijn in het gelijknamige natuurgebied. Dit heeft hij gedaan in opdracht van het Utrechts Landschap bij de opening van een nieuw informatiecentrum. Hij heeft er één lange soundcape van gemaakt, waarin veldopnames van het natuurgebied in een nieuwe, elektronische habitat worden geplaatst. En daar passen die geluiden wonderwel. De vogels en insecten nestelen zich met gemak op de in het elektronische landschap opgetekende natuurschoon, net als al die andere geluiden van Moeder Aarde. Polack laat loops van die natuurgeluiden door de muziek lopen, waardoor er een repetitief patroon in de muziek ontstaat. De electro-akoestische muziek zou eigenlijk heel ambivalent moeten zijn, maar kabbelt op natuurlijke wijze als water zelf op de achtergrond. Een fraaie soundtrack voor en uit de natuur met het avontuurlijke van een elektronische compositie.
Op The Skipping Monk gebruikt Coen Oscar Polack heel ander materiaal. Hij is in oktober en november 2008 zes weken naar India geweest. Daar heeft hij, naast hoogstwaarschijnlijk genoten te hebben van de pracht die het land biedt, regelmatig de opnameknop ingedrukt en gevarieerde geluiden opgenomen. Van stadsgeluiden en radiozenders tot zingende sherpa's en monniken, straatmuzikanten en geluiden uit Himalaya en overige natuurgebieden. In tegenstelling tot de cd hierboven gebruikt hij het materiaal meer rauw en maakt er hoogstens een eigenzinnige collage van. Polack neemt je op betoverende wijze mee op zijn reis door zijn geluidsdagboek op deze wijze te laten horen. Met je ogen dicht wandel je door het natuurschoon, de vieze veel te drukke maar toch imponerende steden, schijt je op straat, zie je ratten in je favoriete restaurant en ervaar je de mystiek van het land. Hij komt hiermee wel in de buurt, zij het dat zijn benadering anders is, van Freeform, Loren Nerell en Francisco López. Een heel bijzondere muziektrip!
Tot slot is er nog The Language Of Mountains Is Rain die hij samen met Herman Wilken, de helft van de groep Hydrus, heeft gemaakt. De cd of neem me niet kwalijk de download, bestaat uit twee klanklandschappen van ruim 20 minuten. De beide heren bouwen met veldopnames en zelfgeprogrammeerde software aan intrigerende improvisaties. Je hoort bijvoorbeeld keiharde regen neerstorten, hoewel ik er niet zeker van ben dat het geen elektronische noise is, die dan weer gevolgd wordt door opklaringen met meer sereen materiaal. Maar ook dreigende atmosferen en klokkengelui komen voor in dit spannende hoorspel. Ambient en noise vormen de twee natuurmachten die hier de strijd aangaan. Het resultaat daarvan is meeslepend en tot de verbeelding sprekend.
Polack heeft het gepresteerd 3 albums met omgevings- dan wel natuurgeluiden te maken, die niet alleen anders klinken maar ook anders tot stand zijn gekomen. Alleen dat is al indrukwekkend te noemen, De albums zijn voorzien van prachtige artwork, maar als je dat niet wilt kun je ook gewoon de releases downloaden bij dit sympathieke label.
vital weekly
june 16 2009
by fdw
Its not a big mystery why Narrominded would want to release three works by Coen Oscar Polack: he is one of the four people behind the label. Polack used to be a member of Psychon Troopers (later called Psychon), and together with co-label boss owner Lars Meijer, one half of Living Ornaments. All three releases here deal with environmental recordings and the process thereof. The first release here is the only non-solo work, which he recorded with Herman Wilken, whom we know as one half of Hydrus. What kind of field recordings they use here (rain I thought in the beginning of the title piece), I don't know, it can't be heard. It is however fed through a bunch of custom built software modules and in two long pieces, which act as mirrors of each other. Where the first starts in a deep ambient texture, the second ends with it. In both there are some louder parts, with the software seemingly going out of control, but they keep things together quite well. The musical texture overall is very ambient, which is quite nice, without many surprises.
The Blue Room is the translation of De Blauwe Kamer, so its sounds from the blue room, a piece of nature in Utrecht, a watery part of The Netherlands. Here Polack went to do some field recording, which was used in an installation piece for the visitors centre of that nature reserve. Unlike many of his peers would do, taking a piece of sound from the environment and process it for the duration, or mix several of those recordings together, Polack chooses to create loops of sounds of water, birds and perhaps insects and he creates a minimal piece of repeating sounds. Here I am not entirely convinced of the result. The sounds are nice, but the sheer repetitive effect is something that didn't interest me very much. Somehow it seemed to simple for me. Its not that these loops go on for too long: there are certain shifts in the material to keep things interesting, but the loop effect works in the end against the material. Perhaps the 'easy' (?) route would have been better.
No processing on 'The Skipping Monk'. Polack spent six weeks in India in October and November 2008 and on this release the raw sound material he recorded over there. Not a place I visited, but it sounds great. Ambient sounds of electrical sounds, shortwave radio, monks performing rituals but also sounds from cities like Kolkata and Mumbai are part of this. It makes an excellent sound diary of what was surely an interesting trip, and no doubt delivered sound material for future use. Hopefully also for others? All three are available as a downloads, but I recommend getting them on CDR. Narrominded has some nice packaging for them, and of course they sound as intended.