format: 7″ / digital
released: december 2007
tracklisting
side one
1.how i wrote the star spangled banner
side two
1.silly me and the homosexuals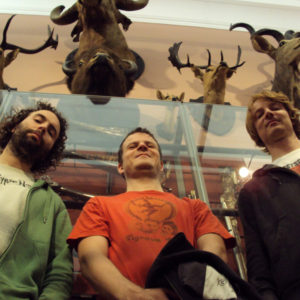 info
After a download/cd release on Narrominded, comes this new 7″. Boutros Bubba is a rock band, consisting of musicians from bands such as Gone Bald, Petrified Host, Morbide Eenheid, SGP and Crowd Surfers Must Die. A good deal of 2007 was spent on the road, playing all around western Europe, refining their sound. Musically and textually absurd, Boutros Bubba give a sample of their very best in the two tracks on this new 7″. The first full length album from Boutros Bubba is now nearing completion is expected later in 2008.
Every 7″ has a different photo on the sleeve. We are using pictures which were uploaded by us and you. Check out the pictures here: www.flickr.com/photos/boutros-bubba
press downloads
hi-res image of cover
press release (english)
press release (dutch)
reviews
the wire
april 11 2008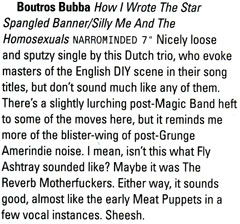 perte et fracas
october 7 2007
by skx
Une bonne semaine que Boutros Bubba est venu se montrer à Rennes lors d'une tournée française d'une poignée de dates avec quelques days off entre. Une arrivée à bout de caisse en provenance de la Belgique pour un groupe au bout du rouleau, ça ne donne jamais de bons concerts. Je préfère garder comme bons souvenirs d'eux ces deux disques que je ramène sous le bras ce vendredi, tard dans la nuit.
L'aventure des hollandais de Boutros Bubba a commencé à deux. Classique duo batterie / guitare-voix pour une musique pas si classique que ça. Le témoignage de cette période (très proche) se fera sous la forme d'un cdr 4 titres, par le label d'un mec de Gone Bald, Narrominded records, label qui se fait une joie de mettre gratuitement ces productions en téléchargement, pochettes comprises. Sur la présente, Boutros Bubba a mis sa correspondance avec le graphiste du dit-objet et c'est à se tordre (As i already told you, we eventually decided not to go with the erect penis concept. / I have a 2000 $ Mac and i'm drawing with a fucking pencil). Le Hollandais est taquin et Boutros Bubba en tire une musique aussi surprenante que pernicieuse. A year in gong therapy commence sans tour de chauffe, un relent de vieux Sonic Youth dans la guitare, composition pop-noise sautillante sans plus avant de couper complètement les ponts au bout de 2 minutes et de partir sur un plan aussi long, tout en lenteur, doucement tordu avant de retrouver son mordant sur un final au cordeau. Pour le reste, c'est plus délié. C'est un rien complexe mais ce n'est pas du math-rock, c'est bien plus malin que ça, privilégiant plus les émotions que la technique, la composition plus que l'exercise de style. Sorte de Oxbow en version light avec des voix limite débile ou sonnant faux (encore plus frappant en concert). Ça ressemble à des tas de groupes et pourtant, ils ont déjà leur petite touche perso, leur truc à eux, subtilement décalé. Rien de dingue mais suffisamment prometteur pour que l'on passe sans transition à leur dernier single.
Pour ceux et celles qui les ont vu sur cette récente tournée, non, vous n'aviez pas la berlue. Boutros Bubba n'était pas un duo. Un troisième larron s'est greffé à l'aventure depuis. Un bassiste pour un apport salvateur. Boutros Bubba passe directement dans la cours des grands. Le son ne fait plus demo améliorée. How i wrote the star spangled banner débute comme un morceau de Shorty avant d'éclater dans tous les sens, de faire cohabiter des ambiances loufoques, directes, accrocheuses sans le moindre effort apparent. La basse était ce petit plus qui manquait, comblant l'espace et apportant le tranchant nécessaire. Face B, Silly me and the homosexuals fini le travaille. Toujours cette manière tarabiscotée sans avoir l'air d'y toucher, ce coté explosé et décomplexé. Captain Beefheart a encore fait des émules et là, ça devient plus que prometteur. Subtil et fracassant. Pour la pochette, une photo différente pour chaque exemplaire. Pour ma part, ça sera le chanteur-guitariste en culotte courte mangeant une banane. Ya bon Bubba !