format: cd / digital
released: march 31 2012
tracklisting
1. buddha box
2. alp-train
3. opa mobile
4. bos en lommer slaapkamer
5. vlucht
6. winkelcentrum
7. vaggh
8. 95th floor
9. ste-001
10.beijingbus
11. ram dom
12. metro
13. zziki street
14. taxi
15. shoe salesman
16. welcome world
17. froger hi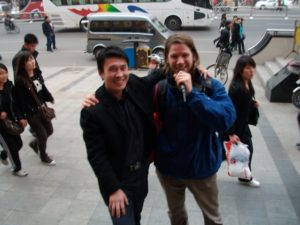 info
Matto Frank is Frank Schouten. China is his debut release on Narrominded. Under the name Hakki Takki he creates improvised techno and made a contribution to the Narrominded release Retro Retry 2: Another Another Green World, a remake of the legendary album by Brian Eno. Schouten also presents the weekly radio show Wasmachine on DFM.nu (formerly Radio 100) and he runs the record label Plattegrond, which releases music by artists such as Reefteef, Bahk and Peter Quistgard.
In February 2009, Matto Frank traveled around China where he recorded sounds with a malfunctioning microphone. What struck him was the huge presence of pop music and other synthetic sounds in public spaces. 'It seems like in China they enjoy turning up everything as loud as possible, even if it results in heavy distortion from the speakers. Sales people use microphones to advertise their goods and in combination with the loud music, sometimes huge feedback erupts, but nobody seems to be bothered by that.' He decided to capture the noise around him 'as raw and blunt as possible'. On China he mixes these recordings with his own work, ambient tracks that allow the listener some breathing room in between the hectic Chinese soundscapes. China is a quirky trip through China just after the 2008 Olympics. The fragments reveal something of the new hospitality of the once closed communist country: conversations with curious passersby, exuberant welcome hymns and pop music made by Western standards.
press downloads
hi-res image of cover
press release (english)
press release (dutch)
reviews
written in music
may 2 2012
by edwin hofman
China is een muzikale impressie van een reis die Matto Frank (Frank Schouten) maakte door de Aziatische grootmacht in februari 2009. Tijdens zijn verblijf in China nam Frank een veelheid aan geluiden op en dit vormde de basis voor een audioverslag dat recentelijk op cd verscheen.
Gezien Franks omschrijving van de geluiden in de Chinese openbare ruimte, lijkt deze cd een getrouwe weergave van alles wat zijn oren destijds te verwerken kregen in het enorme land: "Het lijkt alsof ze er in China plezier in hebben alles zo hard mogelijk te zetten. Muziek komt overstuurd uit de boxen. In combinatie met microfoons ontstaat er soms gigantische feedback, maar daar lijkt niemand zich aan te storen."
Matto Frank mixte de ruwe opnames uit China met eigen werk en creëerde zo een lange trip die uiteenloop van ambient tot industrieel en van musique concrète tot minimale techno. In Ram Dom is Franks rol relatief groot en ontstaat een monumentale techno/industrial track. Het inleidende Beijing Bus sluimert en wordt doorgeprikt door claxons. Het woord sluimering is ook van toepassing op een stuk als Alp-Train dat wat doet denken aan de halfslaapmuziek van Boards of Canada. Het even later opduikende Vaggh onderscheidt zich door zijn pure, tintelende, bijna onderaardse sferen.
Met Zziki Street stuiteren we op onversneden techno om vervolgens opgenomen te worden in de tijdloos zoete muziek van Taxi 45. Hier is het winkelparadijs, stapt u maar uit. De chaos van de straat slaat echter weer toe in Shoe Salesman en de rücksichtsloze kakofonie Welcome World. Niettegenstaande haar Hollandse titel is Winkelcentrum een van de meer typisch Aziatische sfeertekeningen op China.
Matto Frank weet met zijn mix van ruwe opnames uit China en eigen geluiden, gevangen in Nederland, de zoveelste opvallende release aan de toch al niet misselijke discografie van het label Narrominded toe te voegen. Is het een luisterplaat? Zeker. Een innerlijke reis ligt in het verschiet. Toch kunnen de vele levendige sferen op China ook makkelijk tot creatieve dadendrang in de studio leiden. Of tot een soortgelijke audio-reis. Hoe dan ook, Matto Frank weet op dit album het modernere China van na de Olympische Spelen te vangen in een prikkelende trip van een vol uur.
kindamuzik
april 26 2012
by sven schlijper
Als je Matto Frank vraagt een mixtape te maken voor VICE Magazine, dan kan die natuurlijk alle kanten uit gaan. Wellicht is dit niet de allereerste die je op voorhand zou verwachten. Alhoewel, zijn geïmproviseerde techno was eerder al te horen op de Narromindedcompilatie Retro Retry 2: Another Another Green World. Daarnaast runt Frank Schouten (dat is zijn echte naam) ook Plattegrond waarop platen uitkomen van Reefteef tot Peter Quistgard en je kunt hem horen op DFM.nu met zijn programma Wasmachine.
Schouten wil ook wel eens de deur uit en de wijdere wereld in, dus toog hij anno 2009 richting China. Fieldrecordings die hij daar opnam met een stukke microfoon maken dan ook een groot deel uit van China. Wat hem daar opviel, was dat Chinezen popmuziek en vooral synthetisch geluid keihard draaien, ook al vervormt het en leidt het tot feedback. Daarvan kun je een overdonderend geraas maken, zoals de 'Suicide Series' waaraan Anemone Tube werkt.
Muzak zoals die in menig Chinees restaurant uit de luidsprekertjes schalt, is China allerminst, maar ook geen muur aan ruis, rinkelende fietsbellen en op hoge toon kwebbelende Chinezen. Dan reken je buiten de hand van Schouten die de veldopnamen verpakt in zijn eigen werk en en er zodoende een ambient-achtig geheel van weet te smeden dat vredig kabbelt en toch de hectiek van een Chinese metropool weet te behouden.
De fragmentarische documentaire die China feitelijk is, voelt door de deken aan eigen muziek die Schouten over de veelheid aan klanken drapeert niet aan als een kakofonische lappendeken, maar veeleer als een sonische rolprent die meer is dan puur zijn vakantieverhaal van een land dat voortdurend verrast en verbaast, ook in geluid. En dus ga je van zoemende Fennesz- of Machinefabriekklanken naar pompende Chinese anthems die in hun voegen kraken richting drukke straten, om het andere moment weer terecht te komen bij traditionele volksmuziek. Vele malen zo onderhoudend dan het verplicht uitzitten van een te lange diavoorstelling van een overenthousiast uitweidend familielid, dat alleen aan herbeleving doet met niet ter zake doende anekdotes.
subjectivisten / caleidoscoop
april 2 2012
by jan willem broek
Het is een leuk fenomeen, artiesten die hun reis naar verre oorden niet alleen vertellen, fotograferen maar ook in geluid vastleggen om er vervolgens muziek mee te gaan maken. Simon Fisher Turner, Loren Nerell, Machinefabriek, Macha, Francisco Lopez en vele anderen hebben dit al eens op succesvolle wijze gedaan. En het resultaat is iedere keer anders, want de één bewerkt alles terwijl de ander ongeveer letterlijk laat horen wat er zich heeft afgespeeld. Een fraaie is ook de verzamelaar Ho! #1 (roady music from Vietnam) uit 1998, vol met geluiden en muziek van de Vietnamese straat. In 2009 heeft Frank Schouten, ook wel bekend als de impro-techno artiest Hakki Takki, collega DJ Wasmachine op DFM.nu en platenbaas van het label Plattegrond, een reis door China gemaakt. Het is China na de Olympische Spelen van 2008 dat opener en uitbundiger is dan voorheen. Op het immer verrassende en prestigieuze Narrominded label brengt hij nu zijn muzikale verslag uit op de cd China. Hij doet dit onder zijn nom de plume Matto Frank. Je hoort een breed scala aan Chinese geluiden, van lachende en pratende mensen tot overstuurde muziek die her en der uit de speakers schalt en andersoortige verkeers- en straatgeluiden. Frank voorziet die geluiden als een muzikale gids van drones, ambient, glitches en andere smakelijke elektronica waarmee hij een eigenzinnig pad uitstippelt. Hiermee creëert hij dromerige klanklandschappen die zowel iets surreëels als werkelijks met zich meebrengen. Je waant je namelijk in de straten van China, maar dat trekt als een schitterende film of documentaire aan je voorbij. Ik zou Frank tekort doen als ik zeg dat hij enkel een fraaie compilatie van zijn reis heeft gemaakt, want de muzikale omlijsting is ook echt uitmuntend en neemt bij tijd en wijle ook de overhand; luister bijvoorbeeld maar eens naar het adembenemende "Ram Dom", waar hij zoals vaker het geval is op de cd in het vaarwater van Machinefabriek, Celer, Fennesz en Richard Skelton terecht komt. Voor de rest incorporeert hij op prachtige wijze de Chinese geluiden in zijn eigen muziek. The Lonely Planet in wonderschone, levendige soundbites of zoiets. Het is een verbluffend document van en voor de echte liefhebber geworden. Ook zonder stokjes bijzonder smakelijk!
vital weekly
march 27 2012
by frans de waard
Behind the name Matto Frank, we find Frank Schouten. I never heard of him, nor of his previous work with the improvised techno as Hakki Takki, and I don't remember his piece on Narrominded's 'Retro Retry 2: Another Green World'. He also has a radio program and a record label named Plattegrond. In 2009 he traveled through China and recorded sounds over there with a slightly dysfunctional microphone. He became fascinated with the loudness of the Chinese society. These recordings can be found on this CD, but its not an exclusive portrayal of those field recordings. In some of these pieces we hear them, shopping malls, pop music and people talking – it doesn't seem to be of the same loudness as Matto Frank may have encountered on his travel. However the majority of pieces are made from processing those sounds into digital glacier like pieces of music. This is no doubt to form a contrast with that noise-based society, but as said, the pure field recordings aren't that noisy. Digital ambient music, using all the 'right' plug ins on a computer, circa the mid-2000 computer area, like an earlier Stephan Mathieu. In '95th Floor', the eighth piece here, things get considerable louder and in 'Zziki Street', a bit more rhythmical, along with street sounds. These two pieces sort of don't seem to fit on the CD very well, and could have been left off as far as I'm concerned, as it breaks with the more peaceful nature of the other pieces. I'm not sure what to make of this CD. Its not bad, and makes up some nice music for sure, but it walks down roads that have been explored well enough before and doesn't seem something that is his own, which is a pity I think. It certainly does have some potential, I think, and I'd be curious to see in which direction this would go.
vice
march 13 2012
by marten mantel
De sfeer op dit album vol onbekommerde drones en aangenaam onopvallende field recordings verschuift steeds tussen vriendelijk en een beetje chagerijnig, en dat gebeurt nogal subtiel. Je ontwaakt uit een droom waarin je trouwde met een lavendelgeurige zeepbel, kijkt verdwaasd om je heen en beseft dat je je kat in elkaar aan het slaan bent. Terwijl die dat helemaal niet verdient, de lieve schat. Een beetje dat idee. Sommige nummers lijken misschien net iets te veel op elkaar, maar vinden hun onderscheid in de mystieke titels die ze dragen, zoals 'Vlucht' en 'Bos en Lommer Slaapkamer'.