format: cd / digital
released: february 2005
tracklisting
1.eenzame truckers huilend naar de maan
2.BX521, de oprotrobot knijpt er wederom stilletjes tussenuit
3.smell you later tygo de koster uit hazerswoude!
4.het gilde heeft gesproken
info
This is the first release by Quarles van Ufford, when they were still named Morbide Eenheid. The line-up of the band was as follows:
Drums: Jeroen
Bass: Daan
Guitar: Gabry
Theremin, keys and sax: Wiechert
Guitar: J. Russchen
press downloads
hi-res image of cover
reviews
exclaim!
Isn't the language over in the Netherlands fascinating? Words like "oprotobot" and "knijpt" are commonplace and people are given wicked names like Zlaya and Geert as unblinkingly as Bill and Ted. Besides having pretty flexible tongues and throats, the kids in the Netherlands also seem to know how to rock really fucking well, as this self-released debut EP by Morbide Eenheid clearly attests. Even though it's only 20 minutes long, Op een booreiland (say it twice fast!) packs enough punch and promise to instantly catapult these young players to the forefront of that critical "Most Likely to Succeed" list in the sky. The instrumental five-piece band combine the best elements of prog rock, post-rock and experimental metal into one highly palatable sound that is as digestible and entertaining as it is rocking and reeling. Part of the band's success has to do with member Wiechert's contributions, which includes theremins, saxophones and synthesiser, giving the dual-guitar, bass and drums unit beside him a layer of articulate oddness that keeps things interesting while they hammer out the fine riffs and rhythms that will have you excited about their forthcoming full-length. I'm not sure what Morbide Eenheid means, but to me it translates to "extremely promising group."
funprox
Never ever heard from this band until mr. Funprox was nice enough to give me this album. Honestly, I have no idea why the band decided to send promotional material to Funprox. Although covering lots of musical styles, it's about (dark) underground music mostly (but count black metal out). This project plays some kind of improv./jazzy rock/metal with no vocals.
Although the musicians involved know how to play their instruments I find their music extremely boring. I mean, it's well-played but not my cup of tea. It sounds like a fun jam session on a Saturday afternoon. I wouldn't even call the tracks real songs, they don't make a lasting impression and just sound too, well, improvised. I can't find any atmosphere or feeling in the tracks, it just sounds too flat and 'happy'.
What maybe disturbs me most about this release is the title of it and the titles of the tracks. Is it supposed to be poetic? Philosophic? Funny? Ironic? I'd say cheap. Btw. The band is now called Quarles van Ufford.
oor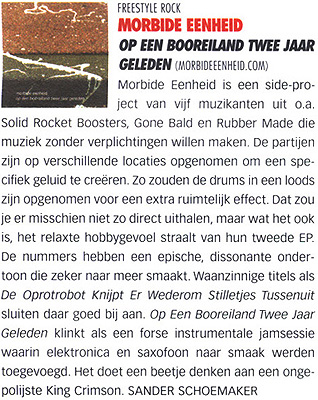 emptyletter
Autoprod-CD-jewel boxes suck but no one seems to get it
That record, as most surprisingly good ones, came unexpected from the post. Surprising it is, and good it also is: sounds like Blind Idiot God with a jazzcore feel and strange Theremins and synths and horns on top. Reminds of This Heat too so I guess one could have worst references. Plus: the record is only 20 minutes long which I hope means these guys have a sense for brevity (the politeness of genius, remember?). A little to 'polished' around the edges so there's almost no edges left is the only complaint one might have but I'm not the one to complain about good music.
mashnote
Well props to the Dutchmen for having the coolest band name since H.O.E.R. and for playing something totally unexpected (read: not goregrind). I was totally caught off guard when i heard the theremin kick in and later totally because of the cool sax. Those two additions make sure this band isn't just another instrumental rockband. These 4 tracks are somewhat in the same line and consist of instrumental rock with mathy breaks. The whole thing has been dowsed in a bath of metal-ish riffing and sound really tight and well-performed (sometimes i even get the impression this is some sort of studio project). Maybe there should've been a bit more variation in the end but i did enjoy these 4 tracks. Morbide Eenheid: interesting name for an interesting band.
vital weekly
In The Netherlands the "Mobiele Eenheid" is used to control and fight against riots, and it doesn't need much imagination to think what "Morbide Eenheid" means. They are a five piece band with no ambitions (their own words), because all the members play more seriously in different bands. The line up is drums, bas, two guitars, theremin and saxophone. From the hasty beginnings in which everything was more fragmented, things have evolved into a more coherent sound, which can be heard on the four pieces of this mini CD. Not unlike the recent releases we reviewed by the Amanita label, Morbide Eenheid plays heavy music. Influenced by the likes of anything heavy in rock music, their main interest however seems to be in combining the weirdness of free rock and improvised, embedded in a tight structure played on the bass and the drums. What itmelancholiac differs with some of heavy free rockers from Amanita is that Morbide Eenheid can also play a more melancholiac tune, such as in 'Enema Truckers Hailed Naar De Maan'. The saxophones in particular reminded me to play 'In The Court Of The Crimson King' again. Though not exactly my coffee, it is a nice one.