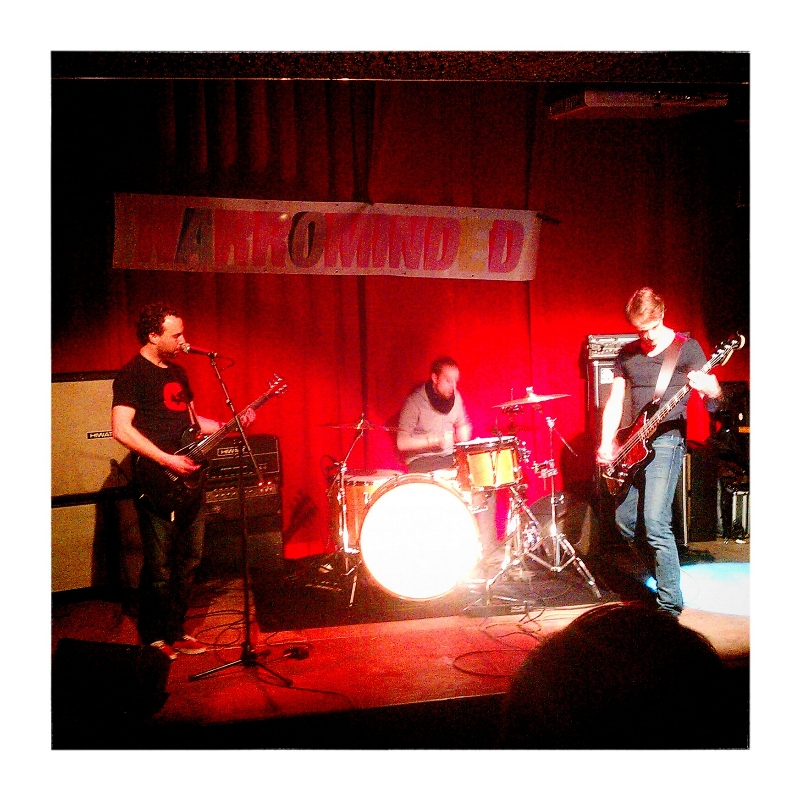 After twenty years full of releases, concerts and festivals the Dutch record label Narrominded is ending its operation. In the coming years founders and owners Lars Meijer, Coen Polack, Stijn Dissen and Gabry de Waaij want to focus on the making of their own music, leaving not enough time to run a record label.
Since its founding in 2000 Narrominded has put forth a catalogue of more than 80 albums with music from – mostly Dutch – underground artists, including Gone Bald, Puin+Hoop, Spoelstra, Katadreuffe, Hydrus, Glice, Fine China Superbone, Matto Frank, Peal, Rooie Waas and Makazoruki. The label also put out a 4-part Split LP series with contributions from Kettel, Cor Fuhler, Mats Gustafsson, Legowelt and Accelera Deck.
While the releases were very different in musical nature – ranging from noise rock to electro and from synth pop to free improvisation -, they all came from the hands of idiosyncratic artists who followed their own path, with little regard for convention. This led to a strong sense of connection between the musicians in the world of Narrominded. Lars Meijer: 'Most of all it was (and it will always be) a journey of meeting like-minded people who try to play their own music and find their own sound and don't give a damn about what is hip or trendy.'
Stijn Dissen: 'I think we succeeded pretty well in providing an independent platform for music that didn't fit in the mould. Our platform could help by giving it some visibility, no matter how modest it sometimes was. It's not that I wouldn't have hoped for wider recognition for some of our releases, but we sure never compromised any of the choices we made with anything like that in mind.'
In the meantime the four owners also worked tirelessly on their own musical careers. Lars Meijer (Hunter Complex) released his records 'Open Sea' and 'Dead Calm and Zero Degrees' in the last few years on the USA and UK labels Death Waltz and Burning Witches. 'White Spider' by Garçon Taupe (Stijn Dissen) appeared on Gooiland Elektro/Enfant Terrible. Coen Oscar Polack made his LP 'Haarlemmerhout' for Moving Furniture Records. Gabry de Waaij's band Life Savings released their debut LP 'The Remote' on Narrominded last november, making it the last release on the label.
Listen to the full Narrominded catalogue on Spotify.
Read personal highlights, memories and thoughts from the owners of the label below.
Gabry de Waaij (guitarist in Life Savings and SGP, drummer in Boutros Bubba, The Union Ares and Burnout Boys, part of Petrified Host):
'Narrominded was up and running by the time Stijn and I joined. I've watched Coen and Lars get it off the ground which was impressive. During those early years, I was connected either by my bands (SGP / Quarles van Ufford / Petrified Host / Boutros Bubba) being released on the label or by sharing random unsolicited advice. Actually becoming a part of it later on felt quite similar to being in a band which is always good, perhaps with less drama, but in general a lot of fun. For me personally it turned out to be a great way of connecting to like minded souls wandering around in the same musical niche: noise- or math rockers whose music avoided subtlety. Finding bands that matched that profile and having them on our platform was sort of a quest for me. Makazoruki, Gone Bald, Fine China Superbone, Peal, Katadreuffe. We did great releases with those bands and we played awesome shows and festivals with these bands that we'd often organize ourselves. But all good things come to an end. I want to put as much time as possible playing and creating my own music but I am very happy and proud looking back on all the stuff we did with Narrominded and also the way we did it. Our final release is 'The Remote', debut album by my band Life Savings. Check it out. Thank you Lars, Stijn and Coen and all the bands / artists for all the good times!'
Coen Oscar Polack (records as a solo artist, part of Psychon and Living Ornaments):
'Narrominded was a cassette label long before we were even allowed to walk to school alone. Lars was already churning out tape releases before I met him in primary school, recording weird synthesizer music on a yellow boombox, collaging sleeve art together from abandoned library books. When I was 16, this also became my way of life and it has been until today. We record with better equipment nowadays and the cover art we make regularly comes from proper artists, but the feeling of it all has not really changed. When we started the Narrominded catalogue in 2000, we did so after examples set by Sun Ra, Guided by Voices, Pete Namlook and Prince. Artists with huge catalogues and a very DIY take on the music business. Now, 20 years along we released more than 80 albums by dozens of artists and we put on dozens and dozens of gigs.
Some personal highlights: the concert series in De Nieuwe Anita we put on for a few years, with awesome music, packed rooms and great cocktails; Mats Gustafsson and Cor Fuhler (RIP) playing in the huge Philharmonie in Haarlem with the audience seated on the stage; the sound installation 'Plantoon' I made together with Herman and Almer from Hydrus that was on show in ArtSite art gallery for the now legendary )TOON) festival; a photo shoot with Fine China Superbone on a beach in Scheveningen with the band posing in ten meter wide burning pentagram in the sand; a photo shoot featuring a 5 pound monkfish for Spoelstra's debut lathe EP; tours through the dark heart of Europe with Gone Bald and Boutros Bubba; seeing other bands run for their money once Katadreuffe takes a stage; collaborating with great musicians and friends; and most of all: seeing Lars, Stijn and Gabry transcend to a whole new level of musical proficiency and absolutely kill it with every new release over the years. We have been each other's quality control department all these years, and Narrominded was a platform for others to profit from our creative chemistry as well.
Narrominded comes to an end, but making weird music and designing sleeves to go with it is what I do. And I will never stop doing it.'
Stijn Dissen (records as Garçon Taupe, bass player in Gone Bald and SGP):
'Before I joined noiserock band SGP, I didn't come to Hoofddorp very often. It always seemed a pretty bleak suburbia near Schiphol. But once I played in SGP I got to know the town better and the level of creative energy it had at that time was simply amazing. A vibrant graffiti and music scene centered around a squatted farm called De Hoeve. It hosted a bar, a coffee shop and concert venue and the outsides served as legal walls for the graff heads. There were hardcore bands, rap acts, hardcore rap crossover acts, funk bands, grunge and avant-gardistic funky stuff. And even though not all to my taste, they were mostly good bands that set a professional standard for themselves. Man in Haarlem, where I was originally from, we had like three serious bands and nothing much interesting from an underground perspective. Amidst all the hiphop, funk and hardcore forces existed an act named Larz, a lanky guy making lo-fi home recordings. He was already running his own tape label Narrow-Minded since the age of 13 and put out an LP on the US cult label Black Bean and Placenta. In 2000, he gave his tape label a second life as Narrominded, without the 'w' and with the addition of Coen as a co-owner. They began their label with a string of strong electronics releases that were quickly picked up by press and distributors. But they were also keen to release SGP material and our debut 7" became the fifth release on Narrominded.
Over the years, Narrominded grew into an outlet of our scene of like-minded creative people and noise- and mathrock became as much of a pillar in the catalogue as electronics, abstract music and avant garde stuff. After SGP, I joined Gone Bald which released albums on Narrominded and through Gone Bald came bands like Makazoruki. Gabry from SGP played in Boutros Bubba and brought in bands like Fine China Superbone. Since we were quite actively involved anyway, with suggesting new music and organising shows and promoting stuff, at some point Lars and Coen invited Gabry and me to officially become part of the team.
What we did over the years was first and foremost an effort to publish stuff we liked, our own work and that of others. Much of which was hard to categorize music or simply anti-commercial music that wouldn't have many alternative places to be released. It was the uncompromising quality of it that appealed to us and we built a catalogue where combining abstract noise, synth pop and math rock made a lot of sense.
I think we succeeded pretty well in providing an independent platform for music that didn't fit in the mould. Our platform could help by giving it some visibility, no matter how modest it sometimes was. It's not that I wouldn't have hoped for wider recognition for some of our releases, but we sure never compromised any of the choices we made with anything like that in mind.
It's been almost ten years since the heydays of the label, where we had a steady output and regularly organized label nights that were some of the best times I've had. Since then, daily life's changed and all of us are pretty busy combining our daily lives with a plethora of bands, projects and releases of our own. There's not enough room for the label anymore. But I'm super proud of what we achieved, and of the fact that all of us are still working so hard on our stuff.'
Lars Meijer (records as Hunter Complex, part of Living Ornaments, Psychon and Petrified Host):
'Looking back at twenty years Narrominded and ten years as the Narrow-Minded tape label before that, I really don't actually remember releasing particular records, but more the stuff around it. Recording music with Psychon Troopers at Jantijn Prins' place in Hoofddorp and burning the midnight oil editing the improvisations on Minidisc down to a proper album. Shooting the SGP cover in an arcade hall and parking garage in Zandvoort. Touring with Gone Bald through Slovenia, Croatia and Bosnia: eating cevapcici in Travnik, sleeping in the Pavarotti Music Centre in Mostar, the seafood of Ston and staying with a porn website host in Rijeka. Recording the Evol cover album in our little studio in Hoofddorp with ten bands. Singing lead together with Gabry de Waaij in Petrified Host at the OCCII. Doing out of the ordinary gigs with Coen Oscar Polack as Living Ornaments: playing dinner music at Peter Bruyn's )TOON) festival at the Patronaat in Haarlem, supplying background music to an opening of an exhibition a the Netherlands Architecture Institute in Rotterdam, playing at the Dutch national tv show Vrije Geluiden and get criticized for not doing anything new by Reinbert de Leeuw (how ironic), get played by the legendary DJ John Peel on BBC Radio. Recording new solo music as Hunter Complex with Stijn Dissen and Coen Oscar Polack as my musical advisors. Doing my first proper gigs as Hunter Complex: not singing along with an iPod, but actually playing live music with synths and getting lots of joy out of it. I could go on forever naming highlights, but most of all it was (and it will always be) a journey of meeting like-minded people who try to play their own music and find their own sound and don't give a damn about what is hip or trendy. Just hit shuffle at this playlist with all our releases (911 tracks, 65 hours of music) and be amazed at the diversity of the music that can come out of a small country like The Netherlands. It was a pleasure being a shelter for all these weird cats.'